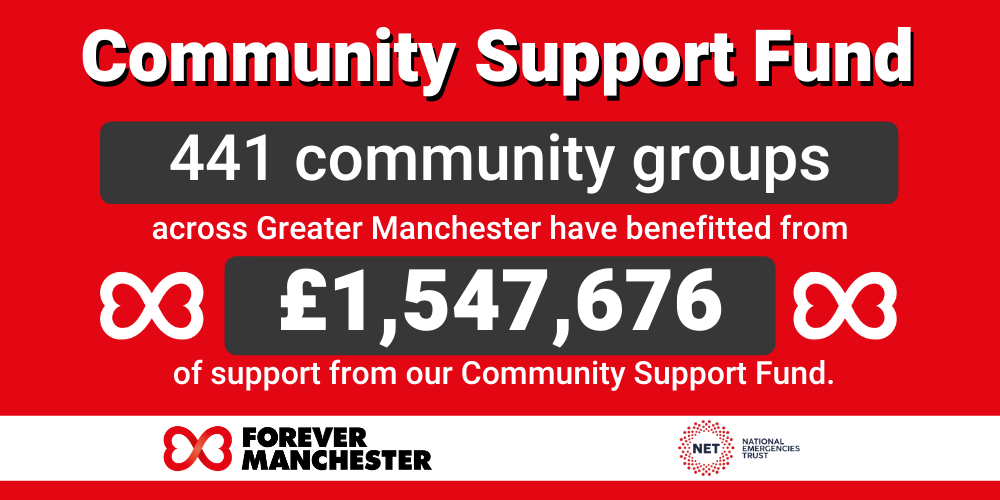 Forever Manchester's Community Support Fund was set up to support the work of grassroot community groups across Greater Manchester responding to the impact of Covid-19 in their local communities and helping those most affected.
We are pleased to report that 441 community groups across Greater Manchester have now benefitted from £1,547,676 of support from Forever Manchester's Community Support Fund.
Forever Manchester is working with UK Community Foundations to distribute funding raised by the National Emergencies Trust Coronavirus Appeal. This money is being distributed via our Community Support Fund.
Recently funded activities include support for families and single parents, providing access to food parcels, toiletries and everyday essentials, establishing helplines that provide support, befriending and information services. There is also support for community foodbanks in all 10 Boroughs of Greater Manchester as well as funding for a range of activities to support people living with mental health problems.
It is also important not to forget all this much needed support significantly helps thousands of local volunteers whose commitment and valued efforts make all this happen.
---
Groups supported by our Community Support Fund include:
Abraham Moss Community School Food Bank – Cheetham Hill, Manchester
Abraham Moss Warriors – Crumpsall
Abram Community Cooperative – Abram
Acton House Resident fund – Scholes, Lower Ince, Wigan
Active Youths Foundation – Baguley, Manchester
Active Youth Zone – Blackley
A Factory of Creativity CIO – Ancoats, Manchester
African & Caribbean Mental Health Services – Moss Side, Manchester
African Community Togetherness (ACT) – Oldham
African Rainbow Family – Gorton
Age UK Bury
Age UK Manchester
Age UK Trafford – Urmston
Age UK Wigan Borough
ALL FM – Levenshulme, Manchester
Anambra Welfare Association – Greater Manchester
Ananna Manchester Bangladeshi Women's Organisation – Ardwick & Longsight
Angels of Hope for Women – Manchester
Ardwick Green Residents Association – Ardwick and Longsight
Ardwick & Longsight Foodbank – Manchester
Aries UK – Ashton-under-Lyne
ARMR CIC in partnership with Urban Collective CIC – Ardwick and Longsight
Asharaf Union Trust – Rusholme
Asian Elders' Resource Centre – Bolton
Atherton & Leigh Foodbank
AuKids Magazine – Stockport and Manchester
Autisk – Adswood, Stockport
Awakening Minds Practice – Rochdale
Banana Enterprise Network, Ellenbrook, Salford
Barakah Food Aid – Chorlton
BASIC (Brain And Spinal Injury Centre) – Salford
Beautiful Mind – Longsight, Levenshulme & Moss Side
Being There – Manchester, Salford, Tameside, Trafford
Belz Communities – Higher Broughton, Salford
Benchill Community Centre – Wythenshawe
Be the Best Community – Bolton
Bethesda Church Royton – Royton & Shaw, Oldham
Better Things – New Islington – Manchester
BHA For Equality – Greater Manchester
Bickershawe Village Residents Association – Wigan
Blackrod Sports and Community Centre – Bolton
Black United Representation Network CIC – Manchester
Bnos Yisroel School Extra Curricular Account – Salford & Bury
Bolton Community Development Partnership
Bolton Council of Mosques
Bolton Deaf Society – Bolton
Bolton Hindus' Age Inspiration
Bolton Hindu Forum
Bolton Mandhata Youth – Westhoughton, Bolton
Bolton Mutual Aid Centre
Bolton Solidarity Community Association
Borough of Bury Veterans Association
Bowen Rocks Community Group – Hindley, Wigan
Branches Community Group – Atherton & Leigh
BRASS Befriending Refugees and Asylum Seekers – Bolton
Bridging the Gap (Manchester) – Hulme
Brinnington Big Local – Brinnington, Stockport
Brunswick Parish Church – Manchester
Burnside Centre – Middleton
BURY2GETHER – Bury
Bury Academy
Bury Fellowship
Bury People First
Bury Red Door
Bury Samaritans
Bury VCFA
Bury Veterans Hub Cafe
Catholics for AIDS Prevention and Support (CAPS) – Greater Manchester
Caribbean & African Health Network Greater Manchester
Caritas Diocese of Salford Hulme, Manchester
Carmel Christian Centre – Tameside
eebee Gold International Foundation – Openshaw, Manchester
Chabad Community Care – Higher Broughton, Salford
Changing Life Directions – Halliwell, Bolton
Chelwood Foodbank Plus – Brinnington, Stockport
Children First Family Mediation – Prestwich
Christians Against Poverty (CAP) Debt Centre – Oldham
Christian Restoration Manchester – Blackley, North Manchester
Chryslis CIC TA Autizma – Bradshaw, Bolton
Clowes Street Tenants and Resident Association – West Gorton, Manchester
Club Tikva – Salford, Bury and Crumpsall
Coffee4Craig – Manchester
Collaborative Women UK CIC – Stretford
Communities for All – Cheetham Hill
Communities United Project (CUP) – Sale West, Trafford
CommUNITY – Little Hulton, Salford
Community Arts – Salford
Community Kitchen – Higher Broughton, Salford
Community Media Crew – Wythenshawe
Compassion Prison Ministry – Moss Side & Rusholme
Connect Youth & Community Centre – Eccles, Winton, Salford
Cornerstone Family Church – Hindley, Leigh
Corrie Gardeners Community Group – Radcliffe
Create and Smile – Stretford
Creative Design & Manufacture – Manchester
Creative Hands Foundation – Manchester
Creative Mind – Horwich, Bolton
Creative Living Centre – Prestwich and Bury
Crisp Communities CIC – Hindley, Wigan
Crossroads Carers Support Group – Wigan
Cruse Bereavement Care Manchester
Daughters of Salford – Weaste, Salford
De Butterfly CIC – Miles Platting, Manchester
Demesne Community Association – Middleton
DIAS Domestic Violence Centre – Wigan & Leigh
Didsbury Good Neighbours – Didsbury
Dipak Dristi – Tameside Borough
Disability Opportunities in Sport UK (DOSportUK) CIC – Salford and Manchester
Domestic Violence Assist – Altrincham
Dor L Dor – Salford , Bury and Crumpsall
DryWave – Stockport & Manchester
Dynamic Support of Greater Manchester – Manchester
Ebony and Ivory Community Organisation – Offerton and Brinnington, Stockport
Edo Diaspora UK – Beswick, Ancoats. Newton Heath, Moston, Miles Platting. Openshaw, Middleton
Embassy – Manchester
Empathy Northwest CIC – Wigan
Endeavour Project/Paws for Kids – Halliwell, Bolton
Ensemble Manchester – Harpurhey and Miles Platting, Manchester
Ephrata Church Community – Bolton
Equal Education Chances – Higher Blackley
Ethnic Health Forum – Rusholme
Europia – Stretford
Everything Human Rights – Wigan
Farnworth & Kearsley Events Team – Bolton
Farnworth and Kearsley Foodbank – Bolton
FC United of Manchester – Moston
Foundation 92 – Salford
Foundation Mama Christine Mongi – Lower Broughton, Salford
Freedom House Church – Great Manchester
Friends of Bury Young Carers
Friends of Hare Hill House – Littleborough
Friends of Hopwood Park – Heywood
Friends of Stretford Public Hall – Trafford
Fur Clemt – Wigan
G-Force – Trafford
Ghazali Trust – Oldham
Higher Folds Community Centre – Leigh
Glittery CIC – Higher Broughton, Salford
God's Reconciliation Garden Ministry – Newton Heath and Moston
Good Companions Bolton
Greater Manchester Law Centre – Longsight
Greater Manchester Poverty Action Ltd – Manchester
Greengate Hollinwood Neighbourhood Watch – New Moston
Greengate Trust – Greater Manchester
Greenslate Community Farm – Billinge, Wigan
Grit Street Aid – Bolton, Manchester & Salford
Growing Together Levenshulme – Manchester
Happy Smiles CIC – Whitley, Wigan
Healthier Heroes CIC – Wigan
Heart & Parcel Manchester – Levenshulme and Longsight
Highway Hope – Longsight, Levenshulme, Gorton
Hindley & Hindley Green Community Action Group
Hobby Lobby – Salford & Bury
Homeless Support Project – Leigh
Home-Start HOST – Tameside
Home-Start Trafford & Salford
Hope Hill Foundation – Oldham
House of Praise – Moston Vale, Manchester
Humans MCR – Gorton
I Learn Smart Start – Stockport
Infinity Initiatives – Tameside
Inspiring Futures Partnership CIC (Inspire Women Oldham)
Islamic Social & Educational and Trust – Longsight, Levenshulme, Rusholme and Burnage
J7 Health and Fitness CIC – Blackley, North Manchester
Jolly Josh – Rochdale
JSENSE – Broughton, Salford
Jump Space – Stockport
Kaalmo Welfare Trust (Kwtrust) – Bolton
Keren Mamosh (Our Future) – Whitefield & Radcliffe
KidsOut – Greater Manchester
Kids Trust -Lower Broughton, Salford
Know Africa Foundation – Wythenshawe, Manchester
KYSO Project CIC – Manchester
Lamet Habayeb Association – Rochdale
Lancashire Lions Visually Impaired Sports Club – Blackley, Manchester
Langworthy Cornerstone Associations – Salford
Lesbian Immigration Support Group – Pankhurst Centre, Chorlton & GM wide
Lev Shomeia – A Listening Heart – Salford, Bury and Crumpsall
Light In The Darkness – Wythensahwe
Leigh Film Society – Leigh
LGBT Foundation – Manchester
Majic Sport and Family Centre CIC – Irlam & Cadishead, Salford
Making Education a Priority (MEaP) – Manchester
Manchester Congolese Organisation – Gorton, Manchester
Manchester Migrant Solidarity
Manchester Parent Carer Forum
Manchester Refugee Support Network
Manchester Sudanese Tree Development Community – Ardwick
Manchester Turkish Community Association – Ardwick, Manchester
Mancunian Way – Manchester, Salford, Trafford
Maqam al Arba'in Women's Centre – Bury
Maverick Stars Trust – Collyhurst, Moss Side, Wythenshawe, Oldham & Chadderton
MedEquip4Kids – Manchester
Menicho Vesimcho – Salford
Middleton Day Centre
Miners Community Arts and Music Centre – Moston, Manchester
Misaskim Manchester – Salford, Manchester, Bury
MODE Rehabilitation – Stockport
Moodswings – Collyhurst, Manchester
Moss Side Fire Station Boxing Club – Moss Side, Fallowfield, Hulme
MS Therapy Centre (NW) – Trafford
MYCOLDHURST – Coldhurst, Chadderton, Royton, Oldham
Myriad Foundation – Ardwick & South Manchester
Nasirulahi Walifathu Greater Manchester – Longsight and surrounding areas
NEON – Oldham
New Springs Community Project – Bury
NIAMOS – Hulme, Manchester
Nigeria Community Association – Rochdale
North Manchester Black Health Forum – Cheetham Hill
North Manchester Community Partnership
OAK Community Development – Werneth, Hathershaw, St Marys, Oldham
Oasis Hub Oldham – Oldham
Odd Arts – Hulme, Manchester
Okusinza E Manchester – Hulme, Manchester
Older Black Africans Day Opportunities (OBADO) – Moston, Manchester
Oldham Foodbank
Oldham Greenhill Community Sports & Recreation Club
Oldham Play Action Group – Oldham
Olive Pathway – Manchester
Open Kitchen MCR CIC – Manchester
Organic Soul Food – Bury
Our Pantry Smallbridge – Rochdale
Our Sale West Big Local – Sale, Trafford
Out There Supporting Families of Prisoners – Trafford
Paperweight Trust – Salford & Manchester
POP Hyde CIC – Hyde
Porch Boxes – Radcliffe
Positive Smiles CIC – Rochdale
Precious Gems – Bolton
Prosper Life Initiatives CIC – Old Trafford & Salford
Proud and Loud Arts – Eccles
Proud and Loud Arts – Stretford, Trafford
Quids In – Withington & Chorlton
Rammymen – Ramsbottom
Reach Family Project – Bolton
Reach North West – Greater Manchester
Reach Out to the Community – Chorlton
Redeeming Our Communities (ROC) – Trafford
Reel Education Empowering Lives – Oldham
Reform Radio – Manchester
Recovery Republic – Heywood, Rochdale
ReflecTeen Hub – Blackley
Revolution Youth – Wythenshawe
RCCG City of Praise – Little Hulton
Rochdale and District Mind
Rochdale Circle CIC – Rochdale
Rochdale Connections Trust
Rochdale Dawah Centre – Greater Manchester
Rochdale Foodbank
Rochdale, Oldham and District Samaritans
Salford Community Relations Link Project- Eccles, Salford
Salford Foodbank
Salford Food Parcels
Salford Food Share Network
Salford Forum For Refugee and People seeking Asylum
Salford Loaves and Fishes
Salford Survivor Project – Salford
Salvation Army – Fitton Hill, Oldham
Sandwich Angels – Tameside
Sangha – Manchester
SARELI (Salford Refugees Link)
Seed Studios – Old Trafford & Timperley, Trafford
Sewa Day (NW) – Manchester
Shomrim Prestwich Community Safety – Sedgley, Bury
Shrimad Rajchandra Mission Dharampur UK Manchester Centre – Manchester, Oldham , Rochdale, Stockport, Trafford
Sikh Association Manchester
Simply Cycling – Manchester
Society Inc – Salford
Somali Advice Link – Ardwick, Longsight, Levenshulme
Special Educational Needs Families Support Group – Salford
Spoons – Oldham
St Antony's Centre – Trafford
Starling – Bury
Star Outreach Project – Bolton & Manchester
St Clements Community Centre – Ordsall and Salford Quays
St Cuthbert's Church – Cheadle, Cheadle Heath & Cheadle Hulme
St John's Centre – Old Trafford
St Mary's Church – Tameside
Step Ahead – Edgeley, Stockport
Stepping Stones Across The Spectrum – Prestwich
Stockport Car Scheme
Stockport Samaritans
Stockport User Friendly Fellowship (STUFF)
Stroke Information – Stockport
Stronger Together Tameside – Tameside
Support and Action for Women's Network (SAWN) – Oldham
Support for Wigan Arrivals Project – Wigan
Supporting Sisters – North Bury
SVP Heywood Food Bank – Heywood, Rochdale
Tameside Armed Services Community (TASC)
Tameside East Foodbank – Stalybridge
Teenpower – Salford, Manchester and Bury
Thrive Manchester
The Ability Cooperative Limited – Irlam
The Attic Project – Bury
The BAME Project – Bury
The Boaz Trust – Moss Side
The Bolton Guild of Help
The Bridge – Salford and North Manchester
The Bury Project – Bury
The Centre for Special Educational Assistance – Salford
The Church of England Wythenshawe – Manchester
The Council of Manchester and Salford Jews Charitable Trust – Crumpsall
The Eagles Wing – Radcliffe, Whitefield, Bury
The Flowhesion Foundation – Bolton
The Friendship Circle – Prestwich
The Hideaway – Partington
The Horwich & District Hub – Bolton
The Hub Westhoughton – Bolton
The Jewel Foundation – Prestwich, Bury
The Lighthouse Church – Eccles, Salford
The Manchester Torah Umesorah Teachers Centre – Salford, Bury and Manchester
The Manchester Youth Zone
The Melissus Project CIC – Manchester
The One House – Aspull
The Period Poverty Project – Greater Manchester
The Salvation Army – Openshaw, Clayton, Gorton, Beswick
The Storehouse Project – Billinge
The Tatton – Ordsall, Salford
The Together Centre @ Loxley House CIO – Dukinfield
The Urban Fitness Collective – Trafford
The Veterans Food Co – Rochdale
The Well Project, St Aiden's Centre – Wythenshawe, Manchester
The Wellspring -Stockport
Think Ahead Community Stroke Group – Wigan
TLC St Luke's – Ardwick
Theatre of the Senses CIC – Old Trafford
Together Dementia Support CIC – Manchester & North Trafford
Tough Cookies Education – Manchester
Trafford African Caribbean Over 50s Club – Trafford
Trafford Domestic Abuse Services (TDAS)
Trafford South Foodbank
Transforming Lives Group – Bolton
Transforming Lives Together – Hyde, Tameside
Twinkleboost CIC – Wythenshawe
Uganda Community in Greater Manchester – Manchester
UK Education and Faith Foundation – Oldham
Umbrella Arts – Leigh
Umoja Community Support (UCOS) – Salford
United Community and Hope Church – Cheetham Hill, Manchester
United Estates Of Wythenshawe – Manchester
Unity School Support for African Families – Oldham
Urban Outreach – Bolton
Veterans Garage Manchester – Irlam,, Eccles, Wythenshawe, and Manchester
Victoria Community & Youth Centre – Whitefield, Bury
Vision 2020 Leadership Initiative – Gorton, Manchester
Visit from the Stork CIC – Pendleton, Salford
Wardleworth Community Centre Association – Rochdale
Walk Ride GM CIC – Chorlton
Warm Hut UK – Salford
We Matter – Longsight
Whalley Range Community Forum – Manchester
Wigan and Leigh Carers Centre
Wigan & Leigh Young Carers
Willow Project – Atherton, Wigan
Windrush Defenders Legal C.I.C. – Moss Side, Manchester
Winster House – Norley Hall, Wigan
Women of Worth – Bury
Women with Wings CIC – Little Hulton
Work For Smile – Ardwick and Longsight
World Harvest Christian Centre Manchester
Wythenshawe Food Bank – Manchester
Wythenshawe Safespots
Yaran North West CIC – Manchester
Young Caritas Romiley – Romiley, Bredbury & Woodley, Stockport
Youth Development Training – Salford
Zimbabwe Women's Organisation – Monsall, Manchester
Forever Manchester has been raising money to fund and support community activity across Greater Manchester for 30 Years. Throughout this time we have been able to help local people do extraordinary things together by delivering £39 million of community funding benefiting 1.1 million people.
---
To support more groups like this, please donate to our This Is The Place Fundraising Appeal.
Donate Now
---
Date added: 8th April 2020
Last updated: 20th July 2020
---