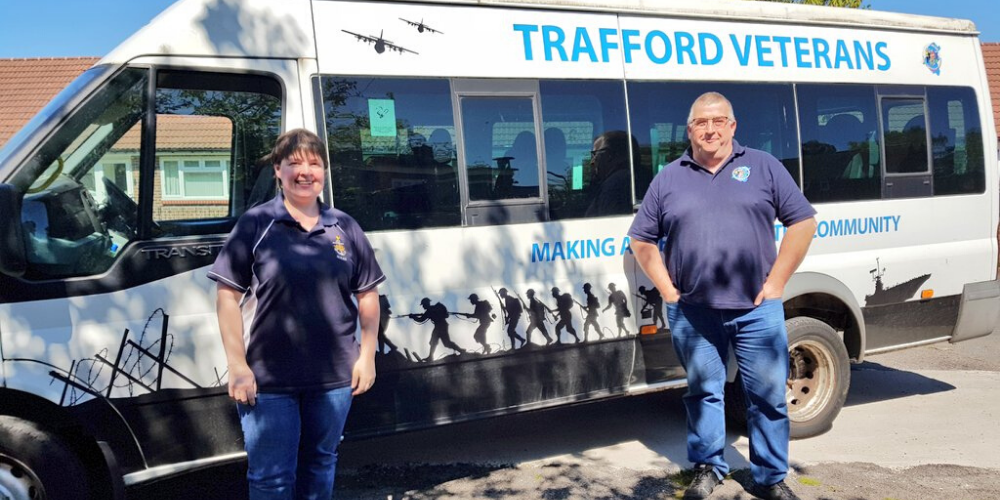 Forever Manchester worked with UK Community Foundations to distribute funding raised by the National Emergencies Trust Coronavirus Appeal. This money was distributed to community organisations responding to the needs of local communities across Greater Manchester via our Community Support Fund.
Trafford Veterans provide peer support and wide range of activities for armed forces and emergency service veterans, their families and members of the local community. Many have no family, or family members close by and often rely on the help of others for support with usual activities providing social engagement opportunities.
The impact of Covid-19 has meant that normal activities such as their Breakfast Club, Craft Group and Walking Football have been suspended.
In response to Covid-19, however, Trafford Veterans are using their mini-bus to deliver fresh food, groceries, puzzle books, wool and reading materials to support their members and elderly residents with existing health conditions and limited finances.
They have also established a 'Phone Tree' and host weekly email quizzes, while those who are able have been meeting virtually via Skype to keep their craft group going. They have also been providing use of their mini-bus to support local charities transporting foods to newly established food hub
An award from Forever Manchester's Community Support Fund is helping Trafford Veterans source and deliver essential food and supplies to ex-service personnel and older people in Trafford.
Across the UK, veterans' breakfast clubs have been forced to close, due to the coronavirus outbreak.

Trafford Veterans is one group continuing their service, by delivering groceries to veterans who need them. 👏 pic.twitter.com/stvsGwGQc1

— Forces News (@ForcesNews) April 6, 2020
For more information about The Community Support Fund and how you can make a donation to help us continue to support community activity right across Greater Manchester, click the buttons below.
Make a donation
Community Support Fund
View the list of all groups funded to date
---
Date added: 8th May 2020
Last updated: 6th December 2020
---