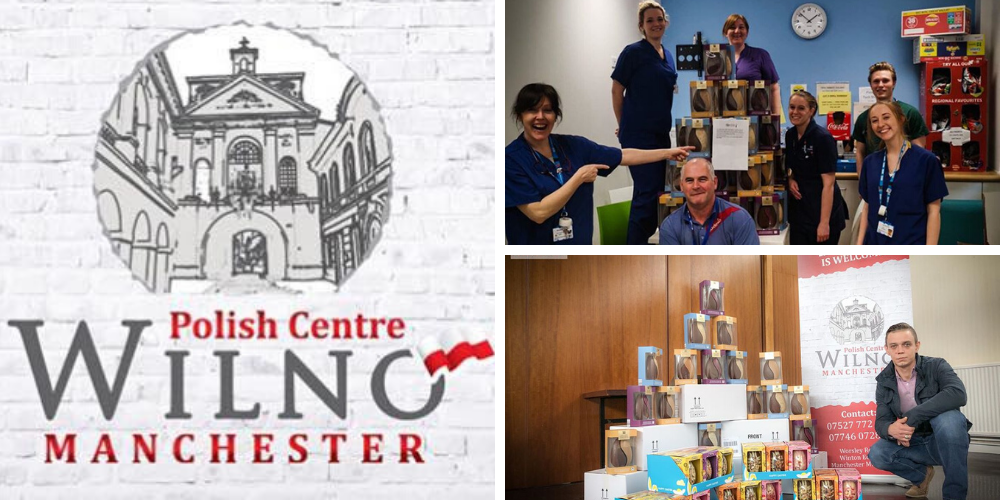 Forever Manchester is working with UK Community Foundations to distribute funding raised by the National Emergencies Trust Coronavirus Appeal. The money we receive is being distributed to community organisations responding to the needs of local communities across Greater Manchester via the Community Support Fund.
The Polish Centre Wilno is a recently established volunteer led not for profit organisation based at the former St. Matthew's Church building in Winton, Eccles.
Before the arrival of Covid-19, the centre was home to a variety of community based sessions and including Zumba, Self Defence, Language Classes and a Cheerleaders Dance Group.
In response to the virus, the centre set up a food distribution service to support local people by providing food supplies, especially targeting those considered vulnerable or having a need. This included the elderly, those with little or low incomes and local young families experiencing financial difficulties or struggling to obtain food and other essential items.
Much of the Polish Centres initial commitment in recognising and providing help and support to the local community was originally financed from the pockets of its own volunteers who, despite their own lives being adversely affected, turned their attention to supporting others in the local community.
Polish Centre Wilno are part of the Neighbourly Surplus Food Scheme and noticed a drop in the availability of regular supplies. In an attempt to address this they also established a temporary courier service in order to buy and transport essential food supplies while undertaking deliveries, at no extra cost, to local elderly people and those self isolating or experiencing social or financial disadvantage as a result of the virus.
An award from the Forever Manchester Community Support Fund helped to purchase food and fuel to support the collection and delivery of food supplies as well as a fridge freezer to assist with food storage requirements and the minimisation of waste.
---
---
---
This year, Forever Manchester is celebrating 30 Years of supporting our local communities and during this time we have delivered over £39 million worth of funding to support local community activities across Greater Manchester.
---
Date added: 14th April 2020
---