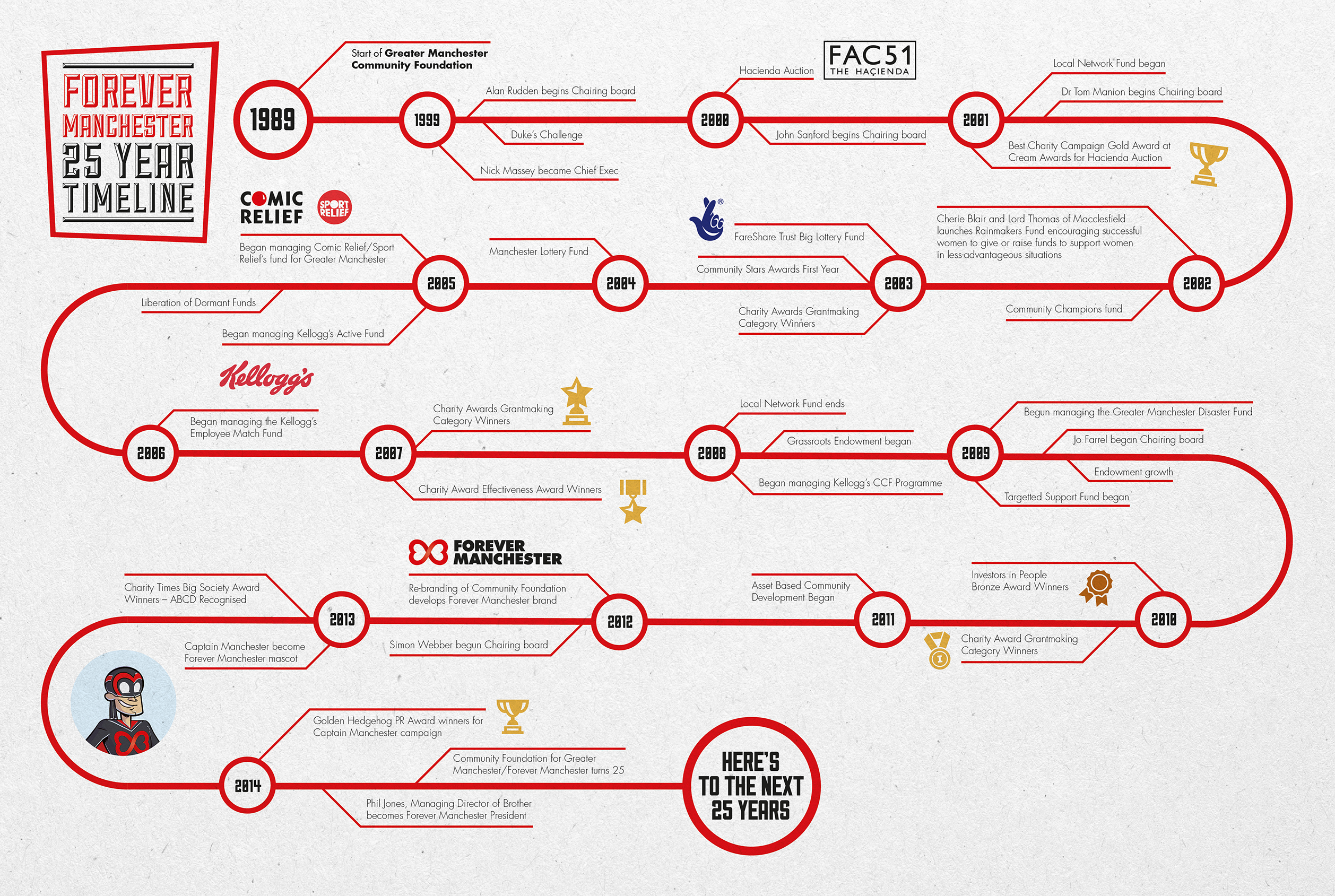 Forever Manchester was established in 1989 under the name 'Community Trust of Greater Manchester'. In 2000 we were renamed to Community Foundation for Greater Manchester before becoming Forever Manchester in 2011.
1989:
Community Trust of Greater Manchester was established.
Duke of Westminster becomes President
1999:
Nick Massey became Chief Executive
Duke of Westminster match funding Challenge
2000:
Renamed as The Community Foundation for Greater Manchester.
Hacienda Auction
2001:
Cream Award Best Charity Campaign Gold Award for Hacienda Auction.
Launch of Local Network Fund
2002:
Launch of Rainmakers fund encouraging successful Women to give or raise funds to support women in less-advantageous situations.
Launch of Community Champions Fund
2003:
Launch of Fair Share Trust Big Lottery Fund
First year our Community Stars Awards
2004:
Launch of Manchester Lottery Fund
2005:
Management of Comic Relief's local fund for Greater Manchester
Management of Kellogg's Active Funds
Liberation of dormant funds
2006:
Management of Kellogg's Employee Match Fund
£3M in dormant funds liberated from councils
2007:
National Charity Awards Grantmaking Category Winners
National Charity Awards Effectiveness Award Winners
2008:
Launch of Grassroots Endowment
Management of Kellogg's CCF Programme
2009:
Management of Greater Manchester Disaster Relief Fund
Launch of Targeted Support Fund
2010:
Investors in People Bronze Award Winners
National Charity Awards Grantmaking Category Winners
2011:
Renamed to Forever Manchester
The concept of 'Charity… The Mancunian Way' was introduced bringing a new philosophy and personality to the brand.
The first of 3 annual 'Backwards Run' held at Heaton Park.
Adopt a Strength Based Approach to Community Development
Artist Si Scott produces a range of Manchester Music Artwork for Forever Manchester.
2012:
Development of Corporate Partners
Development of a range of fundraising initiatives
Moved premises to Hewitt Street behind Deansgate Station.
Forever Manchester Ambassadors programme established.
2013:
National Charity Times Big Society Award Winners
'I Grew That' Book and DVD published celebrating the success of Fair Share Trust work.
Launch FM Awards (Cash4Graft & Cash4Growth)
Captain Manchester unveiled
Launch of Run for Round 'ere campaign
FM Ambassador Andrew Trott-Barn's hots his annual Mirror Ball to raise money for Forever Manchester
'This Is The Place' poem by Tony Walsh
2014:
Phil Jones, MD at Brother UK, becomes President
Golden Hedgehog PR Award Winners for Captain Manchester campaign
First Friday Networking Event established.
Andrew Trott-Barn launches Halloween Spooktacular Event
Caketober, bake sale fundraiser launched
2015:
Annual Birthday Bash established to celebrate 25 years
Management and delivery Spirit of 2012  funded 'Fourteen' 3 year programme in Moston and Harpurhey
Management of Brother UK Fund
FM Women Event launched
Artist Stan Chow produces a range of Manchester Music Artwork for Forever Manchester.
2016:
Management of Autotrader Fund
Annual Football 7s tournament established.
Launch of 'This Charming Manc' merchandise range
Forever Manchester Week (June) launched