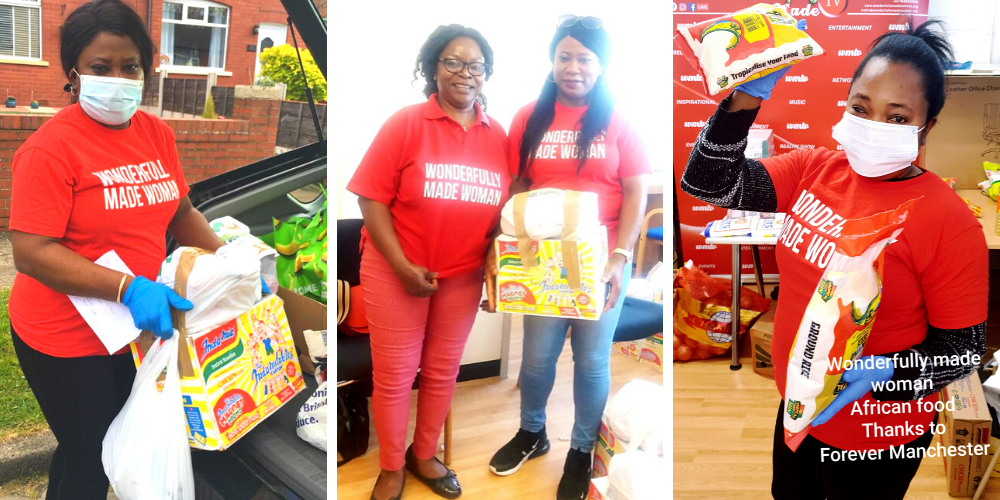 Forever Manchester worked with UK Community Foundations to distribute funding raised by the National Emergencies Trust Coronavirus Appeal. This money was distributed to community organisations responding to the needs of local communities across Greater Manchester via our Community Support Fund.
Wonderfully Made Woman, based in Ardwick and Miles Platting, provide holistic support to help build the confidence of women and girls from Black, Asian, Minority Ethnic and Refugee (BAMER) communities to help them thrive.
Working with African and Asian women in Manchester, Wonderfully Made Woman stand as the first point of contact for women who are experiencing domestic abuse but may not have the confidence to speak out.
They host a wide range of community activities including weekly dance and arts & crafts sessions, coffee mornings and days out, confidence building sessions and a number of awareness workshops that focus on domestic abuse, female genital mutilation and hate crime. They are also part of the BAMER research advisory group for The University of Manchester's research into reducing health inequalities.
In response to the impact of Covid-19, Wonderfully Made Woman have been providing one-to-one telephone support for single mothers and widows, those experiencing loneliness and for women and girls where language can be a barrier. To support this, they have been able to recruit additional volunteers to help provide culturally appropriate telephone support.
They have set up online activities to maintain regular contact with the women and girls they support, providing wellness workshops, a Zoom hangout and a WhatsApp group to share information. They are also staging online dance sessions that help maintain the physical, mental and emotional wellbeing of over 80 women and girls.
Wonderfully Made Woman have also been providing African foods to African mothers whose children are finding it difficult to cope with the food provided by food banks.
An award from the Forever Manchester Community Support Fund is helping Wonderfully Made Woman continue to support women and girls from Black, Asian, Minority Ethnic and Refugee (BAMER) communities throughout the pandemic.
On 2nd June, Wonderfully Made Woman received the Queen's Award for Voluntary Service 2020. The award is considered "the MBE for volunteer groups" and recognises exceptional service within communities and is the highest honour for volunteer groups in the UK.
For more information about The Community Support Fund and how you can make a donation to help us continue to support community activity right across Greater Manchester, click the buttons below.
Make a donation
Community Support Fund
View the list of all groups funded to date
---
Date added: 11th June 2020
Last updated: 13th December 2020
---