This is The Place – The story of a poem.
In 2012, charity Forever Manchester commissioned local poet Tony Walsh (aka Longfella) to create a poem that encapsulates the spirit of Greater Manchester, sum up what makes this place, its people and communities so great, and help explain what Forever Manchester does and its approach to working with local communities.
Tony created the amazing poem 'This is the Place'.
Tony performed the poem at a number of Forever Manchester events, and with the help of local creative agency Studio North, visuals were added to a shortened version of the poem and published on YouTube (see above). 'This is The Place' was officially launched on 30th May 2013.
In May 2017 the poem took on a new poignancy when Tony performed it at the vigil for the victims of the devastating atrocity at Manchester Arena.
Tragedies such as this often bring out the best in people. We gather together, we support each other, we are imbued with community pride and an almost tribal sense of belonging. The whole world looked to Manchester to see how it's done. Two big fat fingers up to adversity. This is Manchester! We do things differently 'round 'ere.
But…'This is the Place' was never intended to mark a moment in time, it's a poem that should always remind us just how important our local communities are, in bad times, sure…but perhaps more importantly, in good times too.
These are the places where we love, live, and work. Where we party, get married, bring up our kids. Communities matter now more than ever. Let's recognize their value and make sure that we nurture them and play our role in ensuring they thrive, now and forever.
Scroll down to the bottom of the page to read the poem in its entirety.
Listen below to the full story behind the poem.
Since writing 'This is The Place', Tony has written a number of follow-up poems for Forever Manchester, which he has performed at numerous Forever Manchester events, including our annual Birthday Bash, where he received standing ovations on every occasion.
---
Manchester Arena – 22nd May 2017
Less than 24 hours after the terror attack on Manchester Arena on 22nd May 2017, Tony Walsh performed the 'This is The Place' poem at the vigil at Manchester Town Hall, in front of thousands of people gathered in Albert Square and millions of people across the world on TV.
---
Together (This is The Place) – The Single
A month later, production team New Mount City Breakers teamed up with Walsh to release a charity single 'Together (This is The Place)' with a New Order-esque electro backing. "Manchester is the dance capital of England after all." explained Tony, "I felt this version though was true to the classic Manchester sound, adding a new angle without detracting from the words."
---
Bee Love: This is The Place – Amy Coney
Following the Manchester Arena Attack, artist and illustrator Amy Coney created the Bee Love painting featuring the words of the 'This is The Place' poem. The original painting was signed by a host of artists and music legends from Manchester and beyond. The signed painting was auctioned on 1st August 2017 raising £7,100 for Forever Manchester and We Love MCR Emergency Fund. Prints of the artwork are on sale from Amy Coney with all profits from the sale coming to Forever Manchester.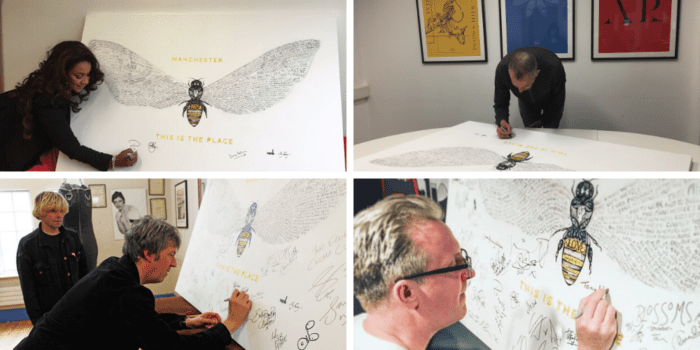 ---
This is The Place – The Book
By October 2017, over 60 creatives from Manchester, including Peter Saville and Malcolm Garret had collaborated with Tony Walsh to turn the 'This is The Place' poem into a book. The 88-page limited edition hardback coffee table book that marks a tragic moment in time but looks forward with hope for our city, helped raise over £150,000 for 3 charities; Forever Manchester, We Love MCR Emergency Fund and The Greater Manchester Mayor's Homelessness Fund.
---
Tony Walsh donates the poem to Forever Manchester.
In January 2018, Tony generously donated the usage of the 'This is The Place' poem and associated royalties to Forever Manchester. By giving the people of Manchester a sense of pride and words where there were none, 'This is The Place' has become synonymous with the city of Manchester and the resilience of its people, and has been used on artwork, buildings and merchandise ever since.
" 'This is The Place' has entered the fabric of the city in a way an artist can only dream of," commented Tony Walsh. "Every day I receive a request to use the poem in all sorts of different ways and people stop me in the street to tell me how it has helped or affected their lives. It feels only natural to continue to use the poem to help a charity that really makes a difference to the people of Greater Manchester."
---
This is The Place EP – Noel Gallagher
In August 2019, Noel Gallagher revealed how he came to use the name of the poem for his 'This is The Place EP' . Speaking to Radio X's Gordon Smart and Matt Morgan, he explained: "I was in the toilet on the way to bed one night and I was singing. I had all the words but I didn't have the This is The Place bit. And I happened to have beside my bed the poet Tony Walsh from Manchester, his book called This is The Place and of course the famous poem… I called Tony the next day and I said: 'Am I alright for nicking this title?'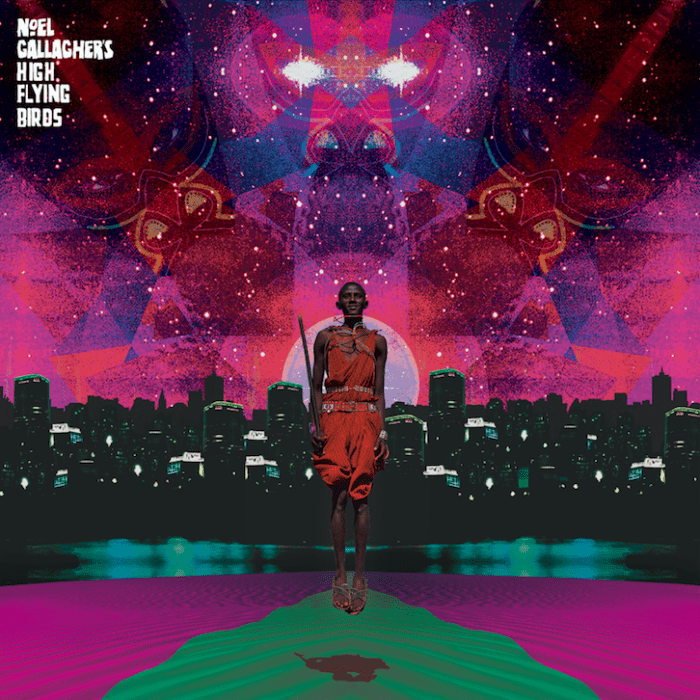 ---
This is The Place – Pop-Up Shop
During November 2019, Forever Manchester hosted a hugely successful 'This is the Place Pop-Up Shop' on Manchester's prestigious King Street. The Charity Gift Shop provided a bit of Mancunian flair for Christmas shoppers who bought a range of products designed and donated by some of the city's finest creative talent to raise money for Forever Manchester.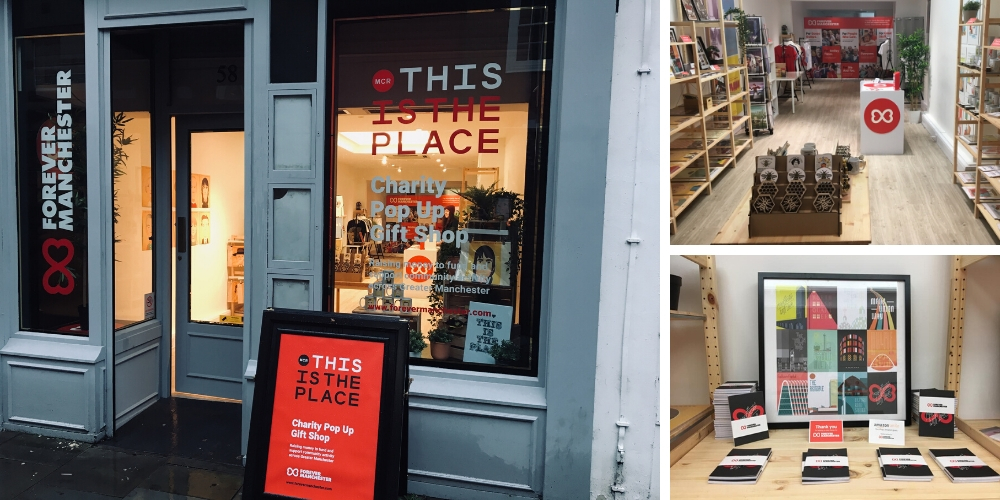 ---
This is The Place – Fundraising Appeal 2020
In March 2020 Tony Walsh appealed for donations to support people in local communities across Greater Manchester during the Covid-19 crisis.
On 23rd March Forever Manchester launched the 'Community Support Fund' for grassroot community groups responding to the impact of Covid-19 through kindness; coming together to help those most affected however they can. To support these local responses, Forever Manchester offered awards of up to £5,000
Soon after the launch of the Fund, it had been swamped with applications from groups requiring help and support. Forever Manchester used its famous poem as a battle cry for unity and standing together in support of our local communities in this time of need.
---
This is The Place takes Pride of Place in Albert Square
In July 2020, words from 'This is The Place' poem were emblazoned on the hoardings that surround Albert Square during the Manchester Town Hall renovation.
When Manchester City Council were planning the 'Our Town Hall project' hoarding designs and thinking about Albert Square, one of the first things they remembered was Tony Walsh's epic delivery of his poem 'This is The Place' from the steps of the Town Hall in May 2017 in front of thousands of people gathered in Albert Square and millions of people across the world on TV.
Tony Walsh said "The way that so many Greater Mancunians have taken my poem to their hearts will always mean a very great deal to me. To see it emblazoned so beautifully in front of our magnificent and historic Town Hall in this way is a great honour too. From the messages that I still receive daily it seems that the poem continues to inspire people across Greater Manchester and that's something that I'll always remember and never forget. Forever Manchester!"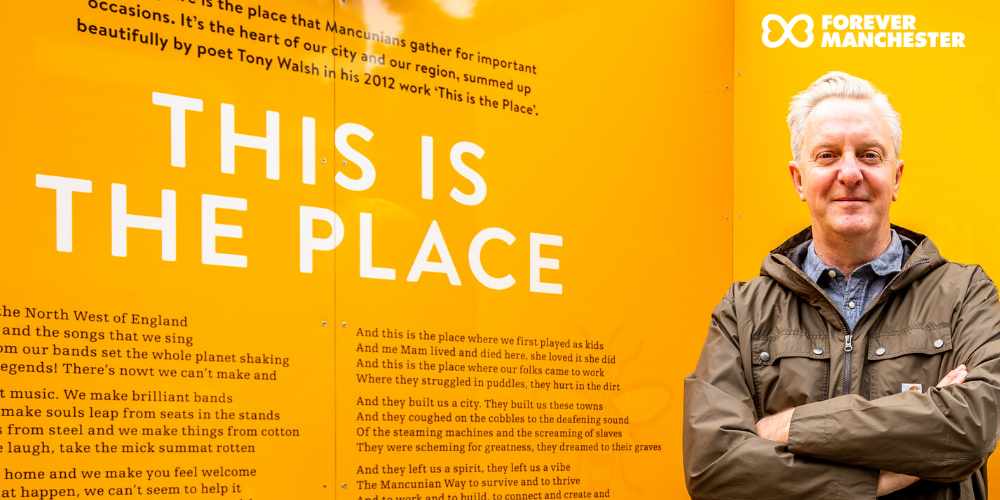 ---
This is The Place – Posters and Postcards
A range of Posters and Postcards sets featuring the poem are now available to buy from ForeverManchesterShop.com with all proceeds from the sale of them going to Forever Manchester to help fund and support community activity across Greater Manchester.
Trevor Johnson, Manchester artist and designer, created a unique piece (available in A2 and A3) made up of a Greater Manchester constellation and its boroughs written in the stars. A dark blue sky featuring the starlit ten boroughs making up the great, Greater Manchester, alongside the words of This Is The Place.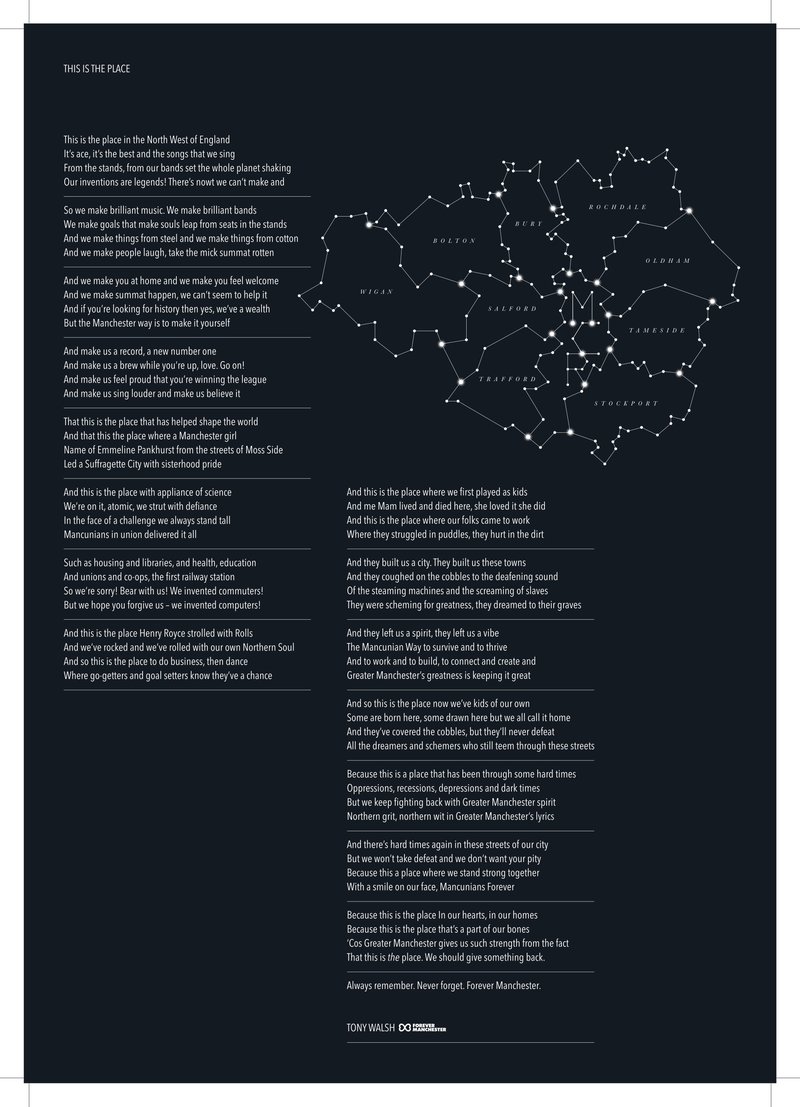 ---
Licensing of the Poem
To request information for the use and licensing of the poem please email marketing@forevermanchester.com
The poem is available for free for educational purposes in school libraries and colleges, many of whom have already filled their walls with artwork, tributes and their own version of the poem.
Businesses who wish to use the poem or any lines from the poem will be requested to make a donation to the Forever Manchester charity in accordance with their size and usage, and profits from any requests to produce merchandise will benefit the charity also. All of the money received from these donations will go to Forever Manchester to fund and support community activity across Greater Manchester.
---
THIS IS THE PLACE (full version)
written and performed by Tony Walsh for Forever Manchester
This is the place in the North West of England
It's ace, it's the best and the songs that we sing
From the stands, from our bands set the whole planet shaking
Our inventions are legends! There's nowt we can't make and
So we make brilliant music. We make brilliant bands
We make goals that make souls leap from seats in the stands
And we make things from steel and we make things from cotton
And we make people laugh, take the mick summat rotten
And we make you at home and we make you feel welcome
And we make summat happen, we can't seem to help it
And if you're looking for history then yes, we've a wealth
But the Manchester way is to make it yourself
And make us a record, a new number one
And make us a brew while you're up, love. Go on!
And make us feel proud that you're winning the league
And make us sing louder and make us believe it
That this is the place that has helped shape the world
And that this the place where a Manchester girl
Name of Emmeline Pankhurst from the streets of Moss Side
Led a Suffragette City with sisterhood pride
And this is the place with appliance of science
We're on it, atomic, we strut with defiance
In the face of a challenge we always stand tall
Mancunians in union delivered it all
Such as housing and libraries, and health, education
And unions and co-ops, the first railway station
So we're sorry! Bear with us! We invented commuters!
But we hope you forgive us – we invented computers!
And this is the place Henry Royce strolled with Rolls
And we've rocked and we've rolled with our own Northern Soul
And so this is the place to do business, then dance
Where go-getters and goal setters know they've a chance
And this is the place where we first played as kids
And me Mam lived and died here, she loved it she did
And this is the place where our folks came to work
Where they struggled in puddles, they hurt in the dirt
And they built us a city. They built us these towns
And they coughed on the cobbles to the deafening sound
Of the steaming machines and the screaming of slaves
They were scheming for greatness, they dreamed to their graves
And they left us a spirit, they left us a vibe
The Mancunian Way to survive and to thrive
And to work and to build, to connect and create and
Greater Manchester's greatness is keeping it great
And so this is the place now we've kids of our own
Some are born here, some drawn here but we all call it home
And they've covered the cobbles, but they'll never defeat
All the dreamers and schemers who still teem through these streets
Because this is a place that has been through some hard times
Oppressions, recessions, depressions and dark times
But we keep fighting back with Greater Manchester spirit
Northern grit, northern wit in Greater Manchester's lyrics
And there's hard times again in these streets of our city
But we won't take defeat and we don't want your pity
Because this a place where we stand strong together
With a smile on our face, Mancunians Forever
And we've got this* as the place where a team with a dream (*Forever Manchester)
Can get funding and something to help with their scheme
Because this is the place that understands your grand plans
We don't do No Can Do, we just stress Yes We Can!
Forever Manchester's a charity for people round 'ere
You can fundraise, donate. You can be a volunteer
You can live local, give local. We can honestly say
We do charity differently, that Mancunian Way
And we fund local kids, and we fund local teams
We support local dreamers to work for their dreams
We support local groups and the great work they do
So can you …help us help… local people like you?
Because this is the place in our hearts, in our homes
Because this is the place that's a part of our bones
'Cos Greater Manchester gives us such strength from the fact
That this is the place. We should give something back.
Always remember. Never forget. Forever Manchester.
---
Last updated: 1st August 2022
---