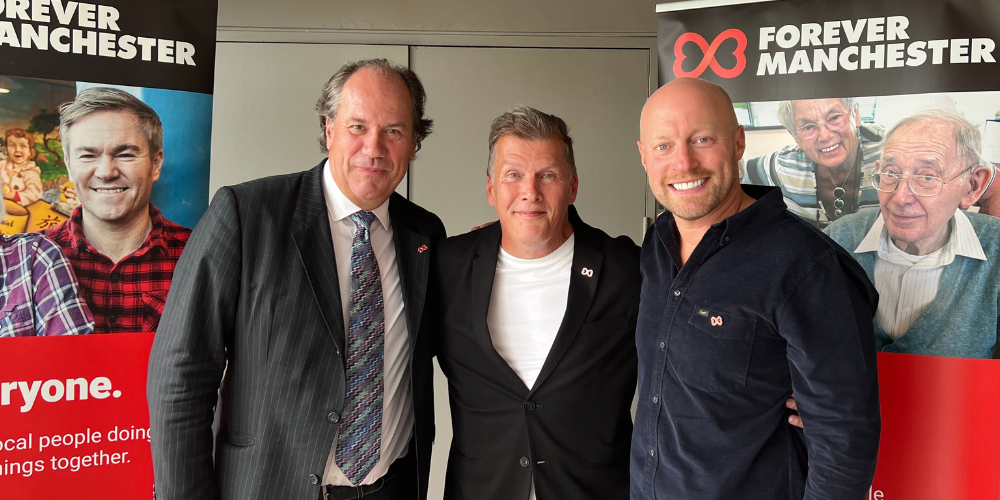 We are delighted to announce that Jim Wilkinson, Managing Director of Zuto, has been appointed as the new President of Forever Manchester.
Jim Wilkinson (picture above, right) takes over the 3-year tenure from William Lees-Jones, Managing Director of J.W. Lees Brewery (pictured above, left).
Jim Wilkinson is the co-founder and CEO of Zuto; the Manchester based fintech. Jim founded Zuto with the mission of transforming the car finance industry, to bring more transparency and trust to customers. Jim is passionate about changing things for the better, and last year Zuto become a certified B Corp, joining the growing number of businesses that acknowledge a higher purpose, beyond just growth and profitability.
Zuto has been involved with Forever Manchester for a number of years, supporting the charity in many different ways; they have donated laptops to community groups, competed in the last three Forever Football 7s tournaments, raised money in the Great Manchester Run, and kindly sponsored the Photo Booth and the Community Entertainment at the Forever Manchester's Annual Birthday Party.
In September 2021 they also set up the Zuto Make A Difference Fund to support a wide range of grassroots community groups across Greater Manchester.
In his role as President, Jim will act as a champion for the organisation, promoting the achievements and impact of the charity, and helping to raise our profile in the right places, and with the right people.
Forever Manchester is the only charity that raises money to fund and support community activity across Greater Manchester. Since Forever Manchester was established in 1989 we have delivered over £59 million into local communities. All of the money raised for Forever Manchester is used to fund and support over 1,300 community projects each year.
Nick Massey, Chief Executive of Forever Manchester
"We would like to thank William Lees-Jones for his incredible support over the last 3 years. It has been a pleasure to work with one of the region's most philanthropic business leaders, and to continue to work with the dedicated and innovative team at J.W. Lees.

"We are delighted to welcome Jim Wilkinson, Chief Executive of Zuto, to the Forever Manchester family as our new President. Jim has already demonstrated great support for Forever Manchester with Zuto and his passion, curiosity and interest in communities means he will be a great advocate and President."
Jim Wilkinson, Chief Executive of Zuto
"Zuto has been very proud to support Forever Manchester over the last few years, so when Nick asked me to take on the presidency of this great organisation I was honoured. The passion and energy of Forever Manchester aligns so closely with Zuto and everything we are trying to achieve; building something we can be proud of and leaving a lasting legacy. I'm really looking forward to getting stuck in to make a difference."
---
Date added: 7th July 2023
---