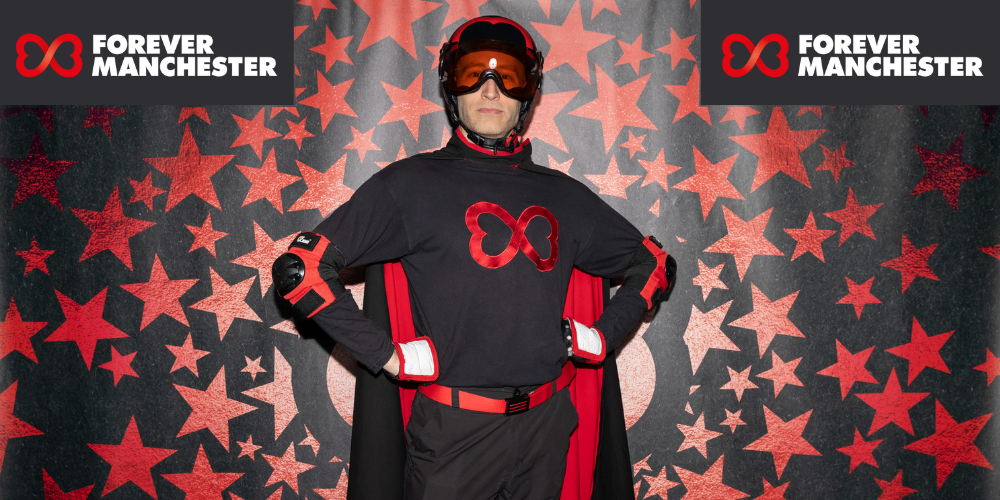 Captain Manchester, burst onto the scenes back in October 2013.
No one knew who he was, what his aims were, and why he was wearing an ill-fitting black and red superhero outfit and a very questionable looking mask.
From paying for strangers parking tickets to handing out umbrellas in the rain; giving out scratch cards to serving up gourmet food to the homeless, Captain Manchester, the kindest person in town had arrived; he even spent a night decking out the city centre with 200 balloons, just to cheer us all up.
Captain Manchester soon began to rack up thousands of twitter followers and has even started to draw the attention of the national and local press, all scrambling to find out who and what this self-styled superhero is all about.
It was finally revealed on Granada Reports that Captain Manchester was in fact all part of well executed awareness campaign, delivered for Forever Manchester by Tunafish Media, who are big supporters of the charity.
Speaking of the campaign, Sam Jones from TunaFish Media explained "I'm an ambassador of Forever Manchester and I've been involved with the charity for a long time. Forever Manchester works differently to a lot of charities and we wanted to take this approach and run with it. So we came up with this campaign to find a non-traditional way of reaching new people.
"It's obvious to anyone that's ever lived here that Manchester is a great city full of brilliant, passionate and caring people so we wanted to try and create some kind of embodiment of that."
Nick Massey Chief Executive at Forever Manchester added "It was a great idea and it represents everything that our charity is trying to do and how we go about our business. The real point of the campaign is to let the people of Greater Manchester know that they are the real heroes, and that they can make a big difference to their local area by just talking to their neighbours and working together to make positive things happen.
Since then, Captain Manchester has never been far away, popping up at various Forever Manchester events and fundraisers and visiting some of the fantastic community groups we have supported.