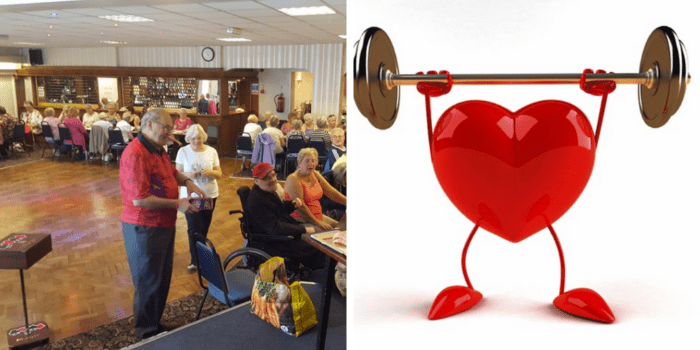 Forever Manchester are working with UK Community Foundations to distribute funding raised by the National Emergencies Trust Coronavirus Appeal. The money we receive is being distributed to community organisations responding to the needs of local communities across Greater Manchester via the Community Support Fund.
Salford Heart Care exists to improve the health and wellbeing of older people across Salford. Through peer-to-peer support services this group aims to prevent heart disease & heart attacks, reduce social isolation, improve general health and wellbeing and provide after care for people with heart conditions and long-term illnesses.
This support is delivered through their "Healthy Heart Clubs" that provide a range of activities including gentle exercise, tai chi, yoga, relaxation, holistic therapies & healthy living advice.
The Healthy Heart Clubs are located in Irlam, Cadishead, Eccles, Little Hulton and Claremont with each club providing a good source of social support for those living alone and at risk of isolation.
As a way of responding to the impact of Coronavirus, Salford Heart Care were very keen to ensure that its vulnerable membership continued to be able to access support by telephone . Social media was a considered option, but it was soon recognised that not all members have access to the internet or have social media accounts.
An award from Forever Manchester's Community Support Fund has helped to ensure that a co-ordinator is able to continue providing contact and support services from home.
The sound of a familiar and friendly voice also ensures that needs can be quickly identified and supported with regular contact being maintained with a group whose members are considered to be at risk. It also allows for the purchase and delivery of essential items such as food and household items to people being advised to stay at home.
Another reason why the telephone support service was considered to be important is that the many activities of Salford Heart Care are normally supported by a committed team of volunteers who are themselves predominantly aged 70+ and therefore self-isolating during these unprecedented times.
Many consider their Healthy Heart Club sessions and activities provide a vital source of social support and Salford Heart Group see their telephone support service as key to reducing social isolation and loneliness during the coming weeks and months.
This year, Forever Manchester is celebrating 30 Years of supporting our local communities.
Did you know that if you live or work within a mile of Greater Manchester area, Forever Manchester will have funded a group, project or activity within a mile of your home or place of work.
---
Date added: 7th April 2020
---