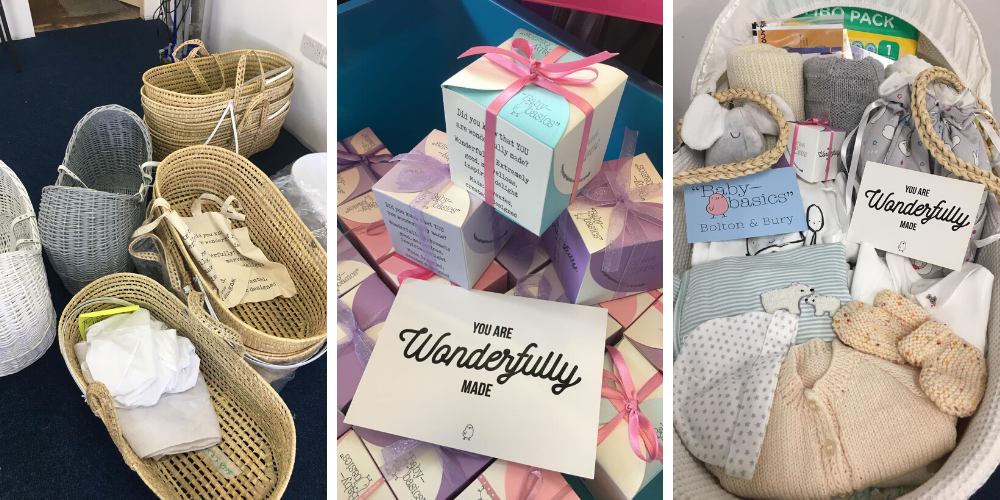 Forever Manchester is working with UK Community Foundations to distribute funding raised by the National Emergencies Trust Coronavirus Appeal. This money is being distributed to community organisations responding to the needs of local communities across Greater Manchester via the Community Support Fund.
Baby Basics Bolton & Bury are based at the Bridge Church in Bolton and provide essential baby items for vulnerable women and local families dealing with various challenges including homelessness, poverty, destitution, domestic abuse, modern day slavery and teenage pregnancy.
The arrival of Covid-19 has placed more new mum's and their babies in the vulnerable category. However, resources to maintain valuable support have suddenly become much scarcer while more than 20 referring agencies, including local midwifes and health visitors, continue to access the services Baby Basics provide.
In response to Covid-19, the group are striving to maintain the provision of Moses basket, essential toiletries, baby clothing and bedding as these items can often be the difference between a baby being able to live at home or having to be placed elsewhere.
An award from the Forever Manchester Community Support Fund has helped the group to purchase Moses baskets, toiletries, blankets and baby clothes which can be packaged and distributed to single mum's and local families.
Normally, Baby Basics volunteers collect and sort donations from 10 local donation points. However, these have drastically reduced to just 1 as a result of the pandemic and with public distancing and social isolation measures now common, donations aren't as generous or as frequent and this has had a negative impact on the group.
More information about The Community Support Fund can be found by clicking the buttons below.
---
---
---
This year, Forever Manchester is celebrating 30 Years of supporting our local communities.
Did you know that if you live or work within the Greater Manchester area, Forever Manchester will have funded a community activity within a mile of your home, business or place of work.
---
Date added: 15th April 2020
---