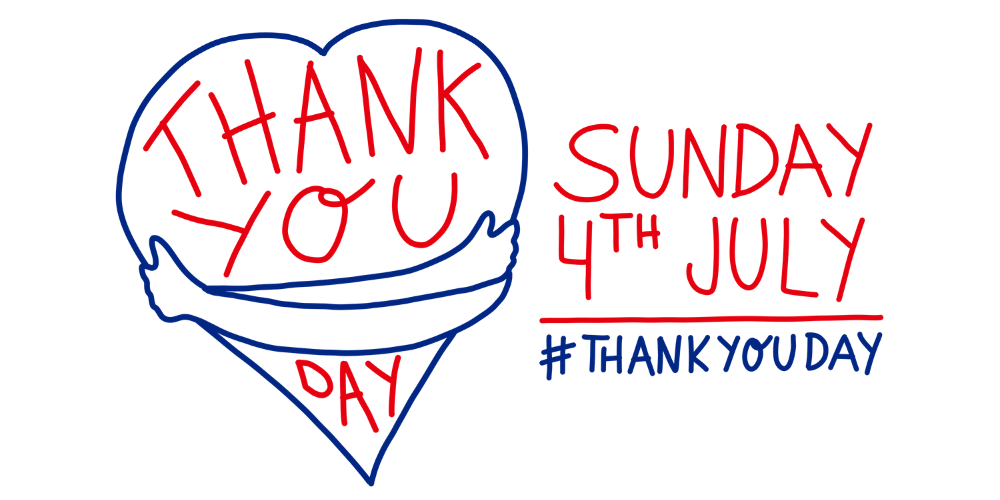 Over 16 million people are planning to take part in the country's first ever national thank you day on Sunday the 4th July.
The idea of Thank You Day came from a grassroots campaign to hold the country's biggest ever thank you party in our local communities as a way of thanking each other and of building on the community spirit that so many felt during lock down.
From the idea being launched just a month ago the campaign has won huge support from hundreds of organisations ranging from the NHS to the Scouts and from high profile individuals including Gary Lineker, Michael Sheen, Dame Judi Dench, Raheem Sterling and many more. Read more here >>
Cheers for Volunteers: 5pm on Sunday 4th July
The Royal Voluntary Service is encouraging people to raise a glass or a cuppa with their neighbours. Actor Ross Kemp who has joined Royal Voluntary Service to support 'Cheers for Volunteers said:
"We've all been through a grim 18-months but our community spirit is one of the things that has kept us going. I'm going to raise a glass to everyone who has helped our communities get this far."
Cheers from Forever Manchester
From everyone at Forever Manchester, we would like to say a huge thank you to the thousands of amazing people and community groups that have been willing to step forward to make a difference in their local community over the past 18 months, helping others in whatever way they can.
At Forever Manchester we believe that connected communities make stronger, happier communities, so keeping our communities strong, and doing all we can to support them has been our goal.
Since March 2020, Forever Manchester has delivered over £3 million in funding to support the incredible work of 655 community groups and organisations in Greater Manchester that have responded to the impact of the Covid-19 pandemic. It is estimated that more than 443,000 people across Greater Manchester have benefitted from this support during the pandemic.
Click on the images below to read about the various ways that people involved in community groups across Greater Manchester have responded to the impact of Covid by helping others.
---
Date added: 2nd July 2021
---