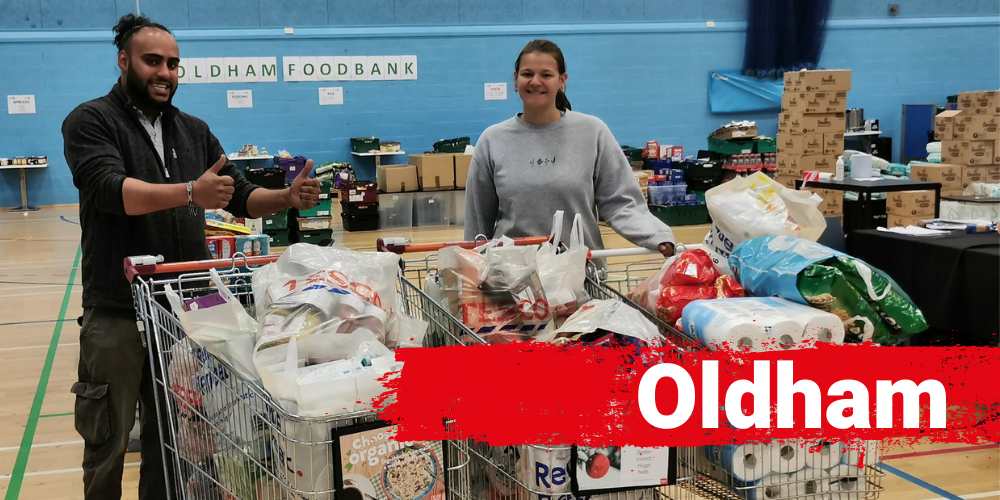 From Clarkesfield to Hollinwood and from Leesbrook to Werneth, community groups in Oldham have stepped forward to make a difference to those impacted by Covid-19.
Through our Community Support Fund, Forever Manchester has supported many groups across Oldham who have helped others in whatever ways they can.
Oldham Foodbank (pictured above) moved to larger premises in response to increased demand in order to maintain the distribution of food across the borough. The Oasis Hub scaled up its community kitchen to produce 300 meals per week and 'My Coldhurst' Residents Association provided 400 emergency food parcels to help support local families.
The UK Education and Faith Foundation operated the Oldham Food Aid Hub and responded to increased demand, providing food parcels, advice, hot meals, warm clothing, essential items, travel assistance and help with phone & utility top-ups. They also established a 24hour helpline providing help and support in 9 different languages. Volunteers at St Barnabas in Clarksfield responded to growing levels of local need and worked alongside Fareshare in providing food parcels.
Unity Support for African Families supplied computer tablets to help children and young people with remote schoolwork as well as culturally specific foods to support families on the Holts estate. Firwood and District Residents Association provided online support and volunteers set up a shop, prepared food, delivered meals and provided older people with community contact calls.
OAK Community Development provided telephone support in Werneth, St. Mary's and Hathershaw for the elderly members of local BAME communities. The Bethesda Church in Royton established and operated a foodbank while Oldham and Saddleworth Methodist Church in association with Christians Against Poverty provided debt management telephone counselling support for local people and families in the Saddleworth area.
Our Community Support Fund also helped a number of groups providing support for Women across Oldham including the Hope Hill Foundation, Inspire Women Oldham, the Support and Action for Women's Network and Wonderfully Made Woman.
During these uncertain times, the ability of local community groups and organisations to best help those most affected by the Covid-19 pandemic remains dependant on maintaining support for them.
Forever Manchester has delivered over £2.5 million in funding to support hundreds of community groups and organisations in Greater Manchester that have responded to the impact of Covid-19.
For more information about The Community Support Fund and how you can make a donation to help us continue to support community activity right across Greater Manchester, click the buttons below.
Make a donation
Community Support Fund
View the list of all groups funded to date
---
Date added: 23rd November 2020
Last updated: 7th December 2020
---