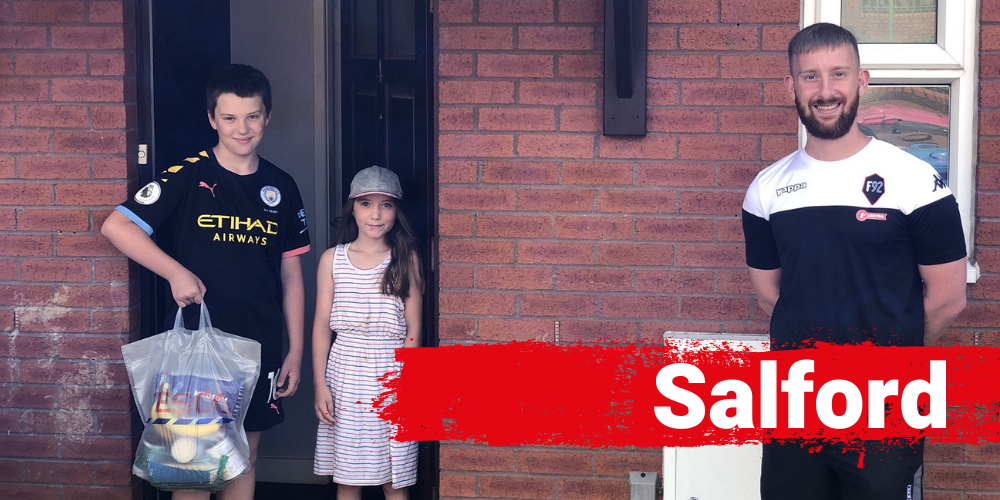 From Broughton to Langworthy and from Little Hulton to Winton, community groups in Salford have been the source of much needed help for those impacted by Covid-19.
Through our Community Support Fund, Forever Manchester has supported many groups across Salford who have been that friendly voice, communicating regularly to help keep people connected throughout the pandemic.
Salford Foodbank's four distribution centres adapted from being a collection service to providing a delivery service as they responded to a 300% increase in referrals. Salford Food Parcels also set up the doorstep distribution of foods to meet the needs of local families and vulnerable individuals.
In Ordsall, the Tatton Community Café introduced a hot meal distribution service providing two meals a day for local elderly residents. The food club at St. Clements Community Centre responded to a large increase in demand as did the food pantry at St James Parish Church in Lower Broughton.
The Salford Loaves and Fishes 'drop-in' took their food and washing facilities outdoors by building a laundry facility and showers to maintain support for homeless people and those living in temporary insecure accommodation. The Caritas Diocese of Salford's Morning Star Centre and The Lighthouse Church also provided much needed help to support those experiencing homelessness.
Binoh (Centre for Specialist Educational Assistance) moved their services online to provide training, education, financial and welfare benefits information as well as health, economic and citizenship support for members of the Jewish community.
The Salford Survivor Project experienced a 400% increase in calls as volunteers manned a helpline to provide support for those affected by domestic and/or family abuse as well as help with emergency provisions, food & clothing.
Across Salford, there were many groups normally engaged in the delivery of sport and sports based activities, including Foundation 92 (pictured above), Disability Opportunities in Sport, Majic Sport and Broughton Boxing Academy who placed their focus on providing local help and support.
During these uncertain times, the ability of local community groups and organisations to best help those most affected by the Covid-19 pandemic remains dependant on maintaining support for them.
Forever Manchester has delivered over £2.5 million in funding to support hundreds of community groups and organisations in Greater Manchester that have responded to the impact of Covid-19.
For more information about The Community Support Fund and how you can make a donation to help us continue to support community activity right across Greater Manchester, click the buttons below.
Make a donation
Community Support Fund
View the list of all groups funded to date
---
Date added: 23rd November 2020
Last updated: 12th December 2020
---