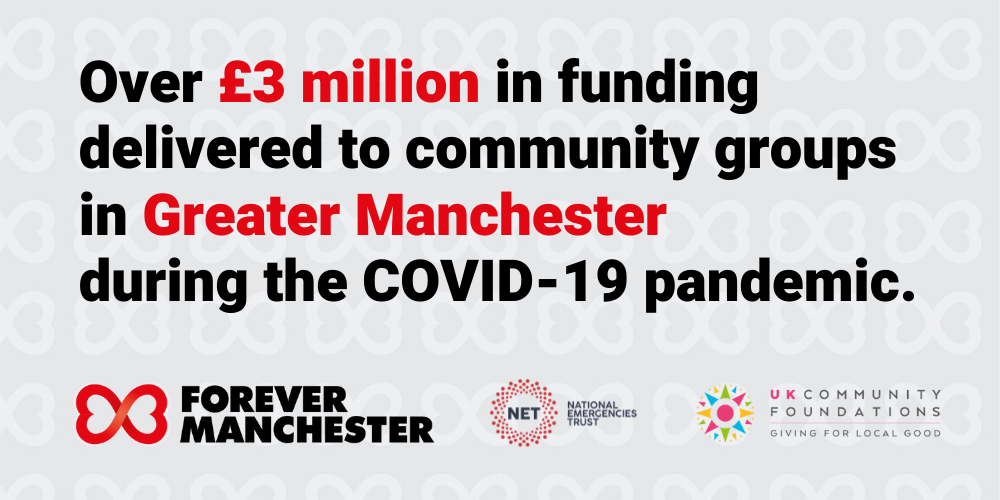 Forever Manchester has reached a significant milestone; delivering over £3 million in funding to support the incredible work of 655 community groups and organisations in Greater Manchester that have responded to the impact of the Covid-19 pandemic.
On Friday 23rd March 2020, the same day as the first lockdown measures were announced, we launched our Community Support Fund. Working with UK Community Foundations, we distributed funding raised by the National Emergencies Trust Coronavirus Appeal to community organisations across the ten boroughs of Greater Manchester
Priority was given to groups and organisations who were providing a service in direct response to community need created by the Covid-19 pandemic. These included community foodbanks; organisations providing food parcels, toiletries and everyday essentials to vulnerable people, those self-isolating; services supporting victims of domestic abuse and providing support for disabled people, those experiencing mental health issues; and groups providing emergency welfare, helplines, financial advice, befriending and information services.
During the pandemic, in addition to the Community Support Fund, we also opened a number of specifically targeted funding programmes, helped support breakfast clubs and adapted our way of working to continue to support people and groups locally.
With the support of our Business supporter CDL, we were delighted to support 50 community groups with funding to purchase annual Zoom licences and a further 23 groups who are using technology to adapt their activities during the pandemic.
Our Community Centre Support Fund is helping community centres across the region make adaptations in preparation to welcoming people back into their spaces in a Covid-secure way.
Our Forever Manchester Awards programme is making a difference to community groups whose activities have been disrupted by the pandemic, as well as helping many other groups get back up and running.
The Auto Trader Community Fund in partnership with Forever Manchester is funding local community groups that are providing positive activities for older people.
We've continued working with Kellogg's throughout the pandemic to deliver funding to school-based breakfast clubs, to help them provide breakfast to those children who need it most, including vulnerable children and the children of key workers.
Our Community Building Team has been working directly with communities, connecting people to each other and signposting individuals to relevant support, as well as finding inventive ways to meet new people and encourage community activity. Read more >>
At Forever Manchester we believe that connected communities make stronger, happier communities, so keeping our communities strong, and doing all we can to support them has been our goal.
We are immensely proud of the thousands of amazing people and community groups that have been willing to step forward to make a difference in their local community, helping others in whatever way they can. It is estimated that more than 443,000 people across Greater Manchester have benefitted from this support during the pandemic.
---
Click here to view the list of all groups our Community Support Fund has funded >>
Click here to read over 40 inspiring stories of groups responding >>
Click here to sign up to our mailing list.
---
Date added: 7th May 2021
---