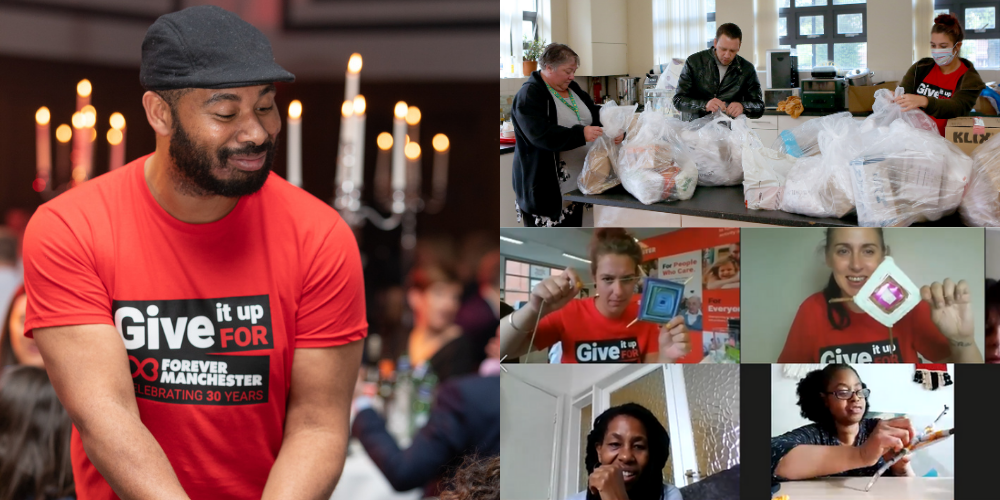 It will come as no surprise to anybody that 2020 had a major impact on everybody. At Forever Manchester, we witnessed the ability of hundreds of community groups across Greater Manchester to respond to the impact of Covid-19 and we were proud to be able to help many to quickly rise to the challenge of meeting local needs.
Many groups abandoned their main purposes and stepped up to the task of supporting children and young people, older people, those with disabilities, local families, people caring for others and those providing support for vulnerable, isolated individuals.

The Covid-19 pandemic also presented a timely reminder of why local groups are essential to local life and equally why Forever Manchester has been committed to providing a 'hand up' for them since 1989. Perhaps this may also explain an increasing number of Forever Manchester supporters recognising the vital role community groups play in our lives as a cause worthy of support.
For many years local groups have been a constant in our communities and vital in responding with help, support and activities that meet the needs of local people. For many, while 2020 was much busier than normal, when it came to meeting those needs, it was very much business as usual.
---
Normally, the start of February is when Forever Manchester would celebrate another year of raising money to fund and support community activity here in Greater Manchester with our birthday celebrations. However, as this wasn't possible this year, we have taken the opportunity to review what was a year that was anything but crystal clear.
February 2020 was 'something to celebrate' with our 30th Birthday Party at Manchester's prestigious Principal Hotel. The event raised a fantastic £78,689 to support our work. It brought together over 400 passionate and dedicated Forever Manchester supporters as well as representatives from more than 100 local projects and community groups.

Our Birthday Party also provided the opportunity to launch GIVE IT UP for Forever Manchester. Although this was intended as a new fundraising initiative with the aim of encouraging people to get involved in raising £1 million, the arrival of the pandemic meant the postponement of most fundraising activity plans.

In early March we closed our office and the entire staff team commenced working remotely from home in what was a relatively seamless transition. This ensured continued and essential support for local groups now needing our help more than ever in what were to become unique and challenging times.
Forever Manchester's Community Building Team continued working directly with communities virtually, this enabled them to keep people connected and signpost individuals to relevant help and support. This often involved exploring new and inventive ways to meet new contacts, connect people and encourage community activity.
Our Awards Team worked tirelessly to handle enquiries, answer questions and process applications to enable groups to receive funding support within two weeks. They would deal with more than 2,250 applications requesting more than £5.6 million of funding support during the year.
Our Business Development and Marketing Teams maintained regular contact with supporters as well as exploring creative fundraising solutions. Captain Manchester's Magical Tombola kept spinning every month throughout the year generating much needed income and putting smiles on the faces of the many winners.
The Forever Consulting Team continued to deliver meaningful social value services, the general Operations and Finance Teams continued to maintain a well-oiled machine leaving Forever Manchester's CEO Nick Massey to oversee the entire operation from a laptop at home.
On 23rd March, the same day the Prime Minister announced UK lockdown measures, the Forever Manchester Community Support Fund was launched to support of community groups responding to the impact of Covid-19. Forever Manchester worked with other UK Community Foundations to distribute funding raised by the National Emergencies Trust Coronavirus Appeal.
Throughout the year, 601 community groups across Greater Manchester had benefitted from £2,820,530 of support from our Community Support Fund.
These awards helped to support community foodbanks in all 10 boroughs of Greater Manchester as well as those providing food parcels, toiletries and everyday essentials to vulnerable people and those self-isolating; services supporting single parents and local families, victims of domestic abuse, groups supporting people experiencing mental health issues; those providing emergency welfare, helplines, financial advice, virtual activities, befriending and information services.
In addition to the Community Support Fund, we also opened a number of specifically targeted funding programmes, helped support breakfast clubs and adapted our way of working to continue to support people and groups locally.
With the support of our Business Supporter CDL, we were delighted to support 50 community groups with funding to purchase an annual Zoom licence to help keep people in their communities connected.
Our Community Centre Support Fund provided support to help community centres make adaptations in preparation to welcoming people back into their spaces in a Covid-secure way.
Our Forever Manchester Awards programme continues to fund community groups in Greater Manchester whose activities have been disrupted by the Covid-19 pandemic
The Auto Trader Community Fund in partnership with Forever Manchester offered funding for community groups whose core activity is aimed at supporting older people in the community.
We've continued working with Kellogg's throughout the pandemic to deliver funding to school-based breakfast clubs, to help them provide breakfast to those children who need it most, including vulnerable children and the children of key workers.
In September, we were delighted to announce the appointment of William Lees-Jones, Managing Director of Manchester brewer JW Lees, as the new President of Forever Manchester. William's appointment as President followed the three-year tenure of Trevor Mather, having also retired from his position as CEO of Auto Trader.
In early November, as well as re-opening the online Forever Manchester Shop, we launched our 'Get Christmas Sorted' fundraising campaign which offered something for everyone, and raised over £20,000.
November also saw the launch of the Connecting Communities at Christmas Awards with funding provided to help 100 community groups to keep in touch by organising online get togethers or socially distanced activities to generate a little touch of Christmas spirit.
---
At Forever Manchester, we believe that connected communities make stronger, happier, communities and we wouldn't be able to achieve our objectives without the support from many businesses and individuals. There were many who showed tremendous support during 2020 and we would like to give our sincere thanks.
We are now busy drawing up plans for an exciting 2021 which we will be delighted to share with you in our newsletters when hopefully everything will become crystal clear.
It is always worth remembering that when you support Forever Manchester, you support all of this.
During these uncertain times, the ability of local community groups and organisations to best help people in their community remains dependant on maintaining support for them.
To be the first to find out about funding news, fundraising activities and exclusive Forever Manchester news, please sign up to our mailing list.
Join the movement. Get involved.
Sign up to our mailing list
Make a donation
---
Date added: 5th February 2021
---