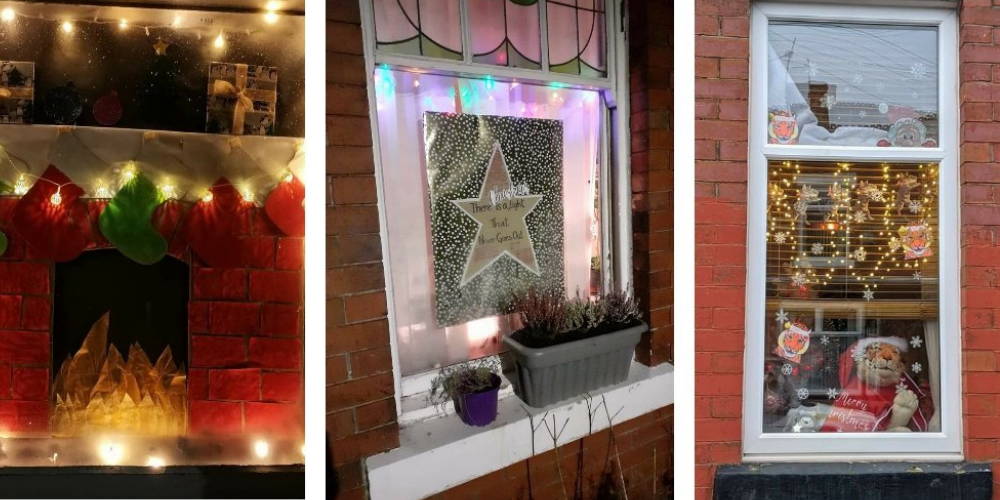 We are delighted to provide funding to help 100 community groups across Greater Manchester keep in touch and bring that Christmas spirit to life.
Forever Manchester has always believed that connected communities make stronger, happier communities and love any activity that brings people together. That's why, every summer and Christmas for the last few years, we've awarded funds so that people can host Get Togethers in their communities.
(Watch the short video below narrated by Tony Walsh)
This year, we know this isn't possible – at least not in the way that may have been anticipated – but community is needed now more than ever.
We know that the communities we work with still have lots of ideas for how to keep in touch and bring that Christmas spirit to life.
Initially we hoped to support 50 community groups to put on activities which connected people together at Christmas, but after being inundated with almost 170 applications in just 9 days, we're delighted to announce that we've been able to make 100 awards of £100.
Our Connecting Communities at Christmas Awards has supported a range of activities such as the Levenshulme Community Christmas Windows (pictured above) as well as:
Crafty Christmas Parties, Doorstep Dinners and Christmas Carols; Virtual Poems, Competitions, Quizzes and Bingo; Online Secret Santa, Socially- Distanced Santa, Elf in a Jar and Feed the Reindeer Walks; and Bi-lingual Christmas Cards, Angel Trails, Painted Stones and Letterbox Gifts. Plus so many other brilliant activities that bring that Christmas spirit to life.
Here are the many groups we are delighted to support.
1st Timperley Brownies
32nd Rochdale Guides
40th Rochdale Scouts
7th Swinton Brownies
Active Youth Zone
Al-Abbas Institute
Anson Cabin Project
Arts Let Loose CIC
Assist Neighbourhood Care
Autisk/Stockport Together
Bee Together Community Group and Garden
Better Things
Blackrod Sports and Community Centre
Bolton Town Centre Chaplaincy/ Bolton Christian Community Cohesion/ Christians Together in Bolton Town Centre (the town centre Churches Together group
Bowen Rocks Community Group
Bridging the Gap (Manchester)
Butterflies Bereavement Group
Cadishead Community Association
Castleton Kids
Christmas Made Easy
Cobra Kan Karate Do
Community Buds
Community Dosti
Community Little Hulton
Community Media Crew CIC
Crimble Croft Community Centre
Dancing With Dementia
Embrace Wigan and Leigh
Everyone Matters afternoon tea
Failsworth Walking Group
Farnworth & Kearsley Events Team
Fletcher Moss Rangers FC
Forever Green Community Group
For the Love of Food
Fortnightly Family Fun Fridays
Friends of Didsbury Park
Friends Of Families
Friends of Hopwood Park
Green Grosvenor Park/ Broughton flood group
Greenmount Village Community (Walking Group)
GX Brabyns Neighbourhood Group
Heald Green Friday Hub
Helping the Homeless Into Housing (H3)
Home-Start Manchester
Hyde Festival Community Association
Hyde Little Theatre
Irlam and Cadishead Healthy Heart Club
Jigsaw (Wigan & Leigh)
Kings Peoples Church
Kings Road Table Tennis Club
Krupa Mandal Social Group
Lancashire Veterans Associations Heywood
Late Bloomers
Levenshulme Community Christmas Windows
Longsight Community Church of the Nazarene
M'mbondo Manchester
M13 Groves Residents – Winter Cheer project
Manchester Youth Zone
Men Behaving Dadly
New Covenant International Ministries Cherubim and Seraphim
New Springs Community Project Group
On top of the World Hulme
Pakistani Resource Centre
Peel Park Art Group
Pure Insight 1628
Radiant Woment
Rammy Men CIC
Ramsbottom Angling Association
Reach North West
Reel Education Empowering Lives CIC
Reuben's Retreat
Salford Elim Church
Salford Pride
Salvation Army
Smithy's Bereavement Group
SoundUp Arts Community Interest Company
Spoons
St Elisabeth's Church
Step Ahead
St Martin's Church
St Mary's church, Droylsden
St Matthew's Community Hub
Stockport Afternoon Flower Club
Stockport Normandy Veterans and Friends
Storehouse Project
Swinton, Pendlebury and Clifton Care of the Elderly Association
Sycamore Residents Group
Talk
Tameside Pulmonary Fibrosis Support Group
The Bideford Community Centre
The Bike Hive
The Church of England in Wythenshawe
The Incredible Plastic Street Band
Together Dementia Support
Transforming Lives Group
Victoria Court Social Group
Whitemoss Club for Young People
Women Alive
Women of Worth Trafford
Worsley Mesnes South Community Action Group
It is always worth remembering that if you support Forever Manchester, you support all this.
During these uncertain times, the ability of local community groups and organisations to best help people in their community remains dependant on maintaining support for them.
To be the first to find out about funding news, fundraising activities and exclusive Forever Manchester news, please sign up to our mailing list.
---
Date added: 11th December 2020
---