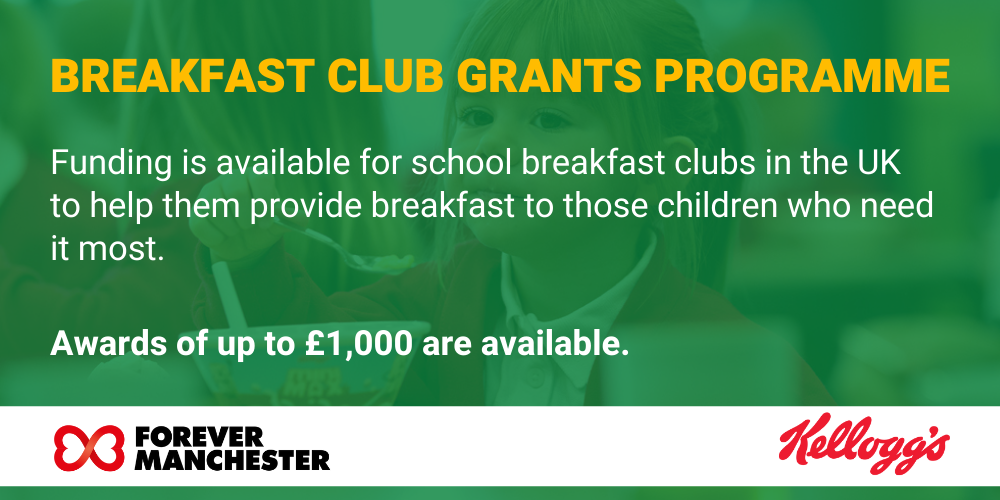 The Kellog's Fund is NOW CLOSED FOR APPLICATIONS.

The deadline to apply was 4pm on Monday 6th November 2023.

New funding announcements will be published on our website, featured in our newsletter and shared on our social media channels.
Information on the Kellogg's Breakfast Grants Programme
Kellogg's has teamed up with Forever Manchester to award grants of £1,000 to school breakfast clubs, to help them provide breakfast to those children who need it most.
This fund will close for applications at 4pm on Monday 6th November 2023.
Please read the following before beginning your application:
---
Your breakfast club must be based in and run by a school in England, Wales, Scotland or Northern Ireland.
A limited number of grants are available so priority will be given to schools that have either:
35% and above of children eligible for pupil premium funding or eligible for free school meals.

or

Schools that are based in an area which is classified as falling in the 10% of most deprived areas according to the Index of Multiple Deprivation. You can find out if this applies to your school by following the instructions which you can find by clicking here.
Please note we are also unable to accept applications from fee paying schools. Only one grant per school in each academic year is available.

Applications from new Breakfast Clubs will be considered and if successful, we may be in touch to hear how your Club is progressing.
---
By applying to the Kellogg's Breakfast Club Grants Programme you are agreeing to allow Forever Manchester and Kellogg's to use your school's details for publicity purposes. You are also agreeing that all details provided are accurate at the time of submitting your application.
All schools that apply to the Kellogg's Breakfast Club Grants Programme will be automatically signed up to the Kellogg's Breakfast Club Network. Through the Breakfast Club Network, Kellogg's will contact you with offers and information to help your Breakfast Club.
You can save progress on your application and return to it at any point up until the application is submitted.
If you are unsure about any of the above or have any other queries then please contact Forever Manchester on 0161 214 0940 or email kelloggs@forevermanchester.com.
We will close for applications at 4pm on Monday 6th November 2023. Any applications received after this time will not be considered.
CLOSED FOR APPLICATIONS
To receive further information please sign up to the Kellogg's Breakfast Club Network.
---
About Kellogg's
Kellogg's is an American multinational food manufacturing company headquartered in Battle Creek, Michigan, United States. Kellogg's produces cereal and convenience foods, including cookies, crackers, toaster pastries, cereal bars, fruit-flavored snacks, frozen waffles, and vegetarian foods.
The company's brands include Froot Loops, Apple Jacks, Corn Flakes, Frosted Flakes, Rice Krispies, Special K, Cocoa Krispies, Keebler, Pringles, Pop-Tarts, Kashi, Cheez-It, Eggo, Nutri-Grain, Morningstar Farms, and many more.
Kellogg's stated purpose is "Nourishing families so they can flourish and thrive".
Kellogg's products are manufactured in 18 countries and marketed in over 180 countries. Kellogg's largest factory is at Trafford Park in Trafford, Greater Manchester, United Kingdom, which is also the location of its European headquarters.
---
Last updated: 6th November 2023
---