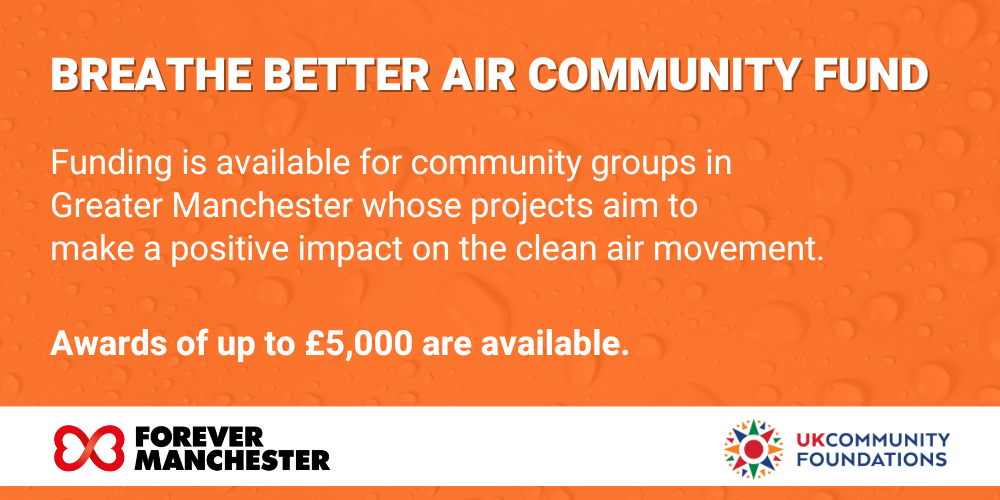 The Breathe Better Air Community Fund is NOW CLOSED FOR APPLICATIONS.

The deadline to apply was midday on Friday 7th July 2023.

New funding announcements will be published on our website, featured in our newsletter and shared on our social media channels.
We are delighted to announce that the Breathe Better Air Community Fund in partnership with UK Community Foundations is open for applications from Community Groups in Greater Manchester.
The Breathe Better Air Community Fund is offering awards of up to £5,000.
The Fund aims to raise awareness of the health effects of air pollution, encouraging and enabling communities to become effective community air quality campaigners.
We will close for applications at midday on Friday 7th July 2023.
---
Fund Criteria
The Breathe Better Air Community Fund welcomes applications from grassroots community groups based in any of the ten boroughs of Greater Manchester.
Projects should aim to make a positive impact on the clean air movement by delivering one or more of the following:
Raising public awareness about health outcomes related to air pollution.
Undertaking activities that promote better air quality in communities. This could include educational, research-based or practical activities.
Engaging and collaborating with public bodies, networks and/or communities to promote better air quality.
Skills building for grassroots organisations to support future campaigning activities that promote better air quality.
Campaigning from communities most adversely effected by air pollution.
Projects targeting underrepresented communities.
Who can apply?
The Breathe Better Air Community Fund aims to encourage and support grassroots community organisations. This means small, community-based and locally controlled groups that manage themselves.
Applicants with an annual income of less than £150,000 will be prioritised.
How much can you apply for?
The maximum award request that will be considered is £5,000.
What can you apply for?
Local groups understand how they can best work in their communities to tackle air pollution. We don't want to limit the type of request you can make, let us know what you want to do and what positive things your activity will provide for people in your community, as long as it achieves one of the above impacts.
To support your application, you may wish to tell us why you have chosen to run your project. This could include evidence or facts from previous research or figures from current air pollution levels.
Air Quality Maps allow you to check pollution in your area. Search for Greater Manchester to see live air quality forecasts.
Examples of clean air projects:
Raising awareness into the impact of wood burning.
Pedestrians and cyclists-only areas.
Campaigns to raise awareness of the health impacts of air pollution such as asthma and respiratory diseases.
Outdoor air quality testing.
Surveys, reports, policy, signage, health messaging targeting highly affected communities.
Consultation groups with communities living in high air pollution areas.
Is there anything you can't apply for?
Unfortunately, there are a few things that can't be funded, such as activities that have already taken place or been paid for, contributions to major appeals, activities promoting political or religious beliefs and activity which should be provided by statutory services.
If you're not sure if we could consider your application for funding, please contact a member of the Forever Manchester Communities Team, email awards@forevermanchester.com and we'll be happy to help.
Supporting Documents
For help and guidance on your groups' supporting documents and to see what we require to be submitted alongside your application, please refer to our guidance which you can find here: Supporting Information.
Deadline for Applications
We will close for applications at midday on Friday 7th July 2023. Any applications received after this time will not be considered.
Project activity must be completed, funding fully spent and monitoring returned by 14th June 2024.
How long will a decision take?
We aim to let you know the outcome of your application in August 2023. Please do not plan to start any activity until after you hear if your application has been successful.
Our Frequently Asked Questions (FAQs) provide further information on our funding programmes. We encourage you to have a look if you would like to know a bit more about who can apply and what the application process involves.
If you have any questions or have trouble completing your application, please contact us at awards@forevermanchester.com or phone 0161 214 0940.
---
About Clean Air Fund
In this partnership, UKCF and CAF's aim is to target micro grants to campaigners from communities most affected by air pollution. Community foundations involved are: Forever Manchester, Heart of England and CF Lancashire and Merseyside. Forever Manchester is responsible for managing the Fund for Greater Manchester.
Clean Air Fund (CAF) is a global philanthropic organisation working with governments, funders, business and campaigners to create a future where everyone breathes clean air. They fund and partner with organisations that promote air quality data, build public demand for clean air and drive policy change. They influence and support decision makers to act on air pollution. They also amplify the clean air movement's impact by connecting people, increasing resources to the field and sharing evidence of what works.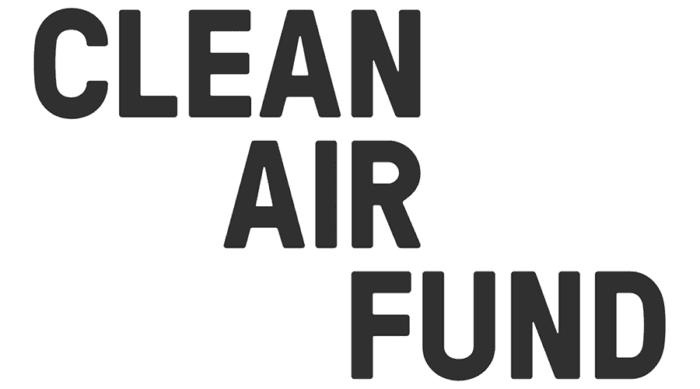 ---
Date added: 5th June 2023
Last updated: 7th July 2023
---