Set yourself a challenge, push yourself to the limit, step outside your comfort zone… Go that extra mile!
Whether that be a running, cycling, walking, climbing, swimming, abseiling, skydiving or any other crazy challenges like that, just take that leap of faith and just do it.
Running is definitely the most popular of these; most people run on the roads, others on treadmills in the local gym, some prefer to run through mud, some through colour, some folk like runing up and down flights of stairs or even mountains, and some just want to 'Run Forrest Run!' You get the drift.
The good thing about running events, is that they're not too hard to find, in fact there's tonnes of them, so a quick google search will soon pull up something to suit your location and ability. And every May, there is of course the Great Manchester 10K Run and Half Marathon, where Forever Manchester reserves some charity places for you at a discounted price. The 2018 10k Run, saw over 125 people raising a blistering £27,000 for Forever Manchester.
Walking… doesn't sound too difficult does it? But last year someone decided to walk to work for a whole week, clocking up two marathon's worth in five days. A few companies chose to walk up Mount Snowdon, other rambled up Kinder Scout and some did the three-peaks challenge. A group of friends even decided to do a fire-walk… ouch! And if you live or work in one of those big towers that are constantly springing up across town… maybe you could avoid the lift for a month.
Cycling is becoming an increasingly popular fundraiser too, so why not put on your tight-fitting lycra all in the name of community? And if you don't fancy taking to the roads, why not set up your exercise bike and cycle virtually around Greater Manchester or even from John O'Groats to Land's End.
You may instead want to jump into the water and get swimming, whether that be lengths of the local baths, Salford Docks or the English channel… But if you are doing something in open waters, stay safe by making sure it's part of an organised event.
And for those who want to take on the ultimate challenge by combining running, cycling and swimming, there are lots of organised triathlons out there for you to partake in.
People also like to go up in the air and back down again. If you fancy a SkyDive there's the Black Knights Parachute Centre up in Lancashire that will organise this for you; or you may be more comfortable tossing yourself off a building… in the form of an abseil, or maybe you prefer to climb things. Again, there's plenty of centres locally that can facilitate this for you.
So whatever challenge you want to put on yourself, or indeed others, do it with a bit of style. It's a truly amazing feeling to go the extra mile and even better feeling knowing that your challenge has raised a chunk of money to support the communities where you live, work and play.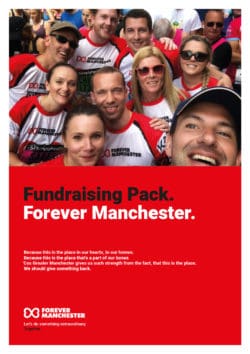 ---