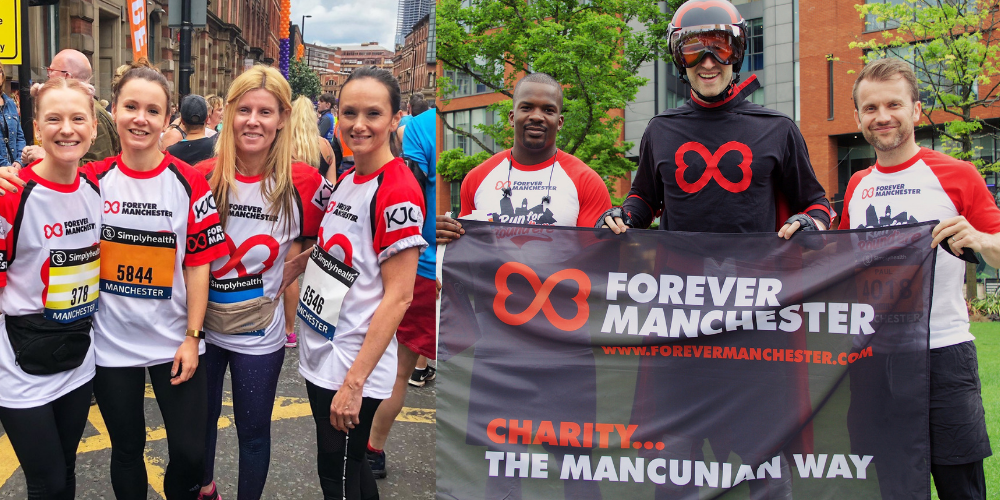 Set yourself a challenge, push yourself to the limit, step outside your comfort zone, take that leap of faith… Go that extra mile to raise money for Forever Manchester.
Whether that be running, cycling, walking, climbing, swimming, abseiling, skydiving or any other crazy challenge; going the extra mile for Forever Manchester means that you can raise lots of money through sponsorship.
So whatever challenge you want to set yourself, do it with a bit of style. It's a truly amazing feeling and even better knowing that your challenge has raised a chunk of money to support the communities where you live, work and play.
For Going The Extra Mile in 2023
This year, why not set yourself a challenge and sign up to one of the many fantastic events happening in your local area. The sponsorship you achieve and the money you raise will mean that Forever Manchester can fund and support community activity across Greater Manchester, keeping it great.
Take a look at what's out there and Go The Extra Mile in 2023 for Forever Manchester.
January 2023
Run Heaton | Sunday 22nd January 2023
March 2023
Trafford 10K | Sunday 5th March 2023
Run Wigan | 19th March 2023
Wilmslow Running Festival | 26th March 2023
April 2023
Manchester Marathon | Sunday 16th April 2023
Tour de Manc | Sunday 30th April 2023
May 2023
Alderley Edge Bypass 10K | Sunday 7th May 2023
Greater Manchester Swim | Saturday 20th May 2023
Great Manchester Run | Sunday 21st May 2023
June 2023
Full Tour of Tameside | Thursday 15th – Sunday 18th June
Wigan 50 Mile Bike Ride | TBC
July 2023
Iron Man | Sunday 2nd July 2023
Mossley 10K | TBC
Tough Mudder | Saturday 15th and Sunday 16th July 2023
Morson Salford Triathlon | TBC
August 2023
Cycle to Work Day | Friday 4th August 2023
September 2023
Altrincham 10k | Sunday 3rd September 2023
South Manchester Triathlon | Sunday 17th September 2023
Neon Swim (Salford Quays) | TBC
October 2023
Knutsford 10K | 1st October 2023
Manchester Half Marathon | 15th October 2023
---
If you have any questions regarding fundraising for Forever Manchester, please do not hesitate in contacting us at:
Email: marketing@forevermanchester.com
Tel: 0161 214 0940
Twitter: @4EVERManchester
Instagram: @4EVERManchester
Facebook: /forevermanchester.com
For more information about fundraising for Forever Manchester, download our Fundraising Guide below.
---
Last updated: October 2022
---