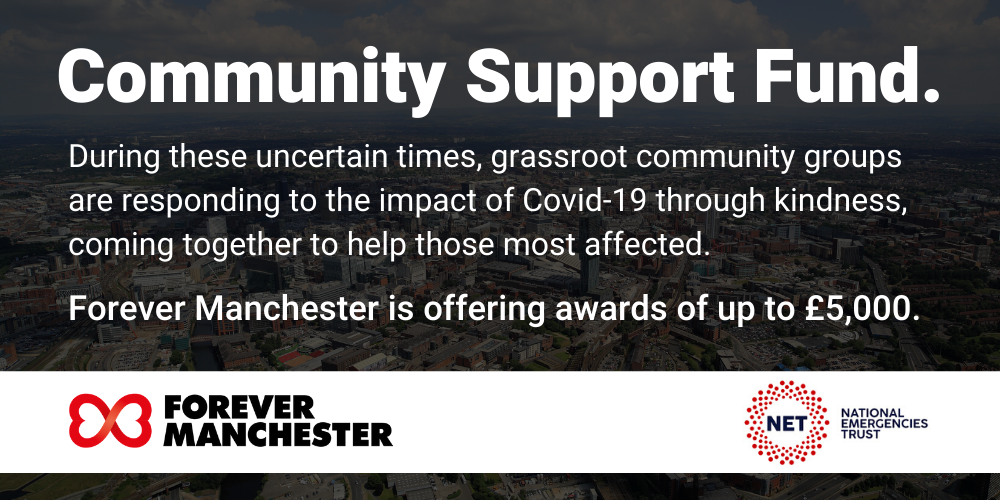 During these uncertain times, we know that grassroot community groups are responding to the impact of Covid-19 through kindness, coming together to help those most affected however they can.
To support these local responses, Forever Manchester is offering awards of up to £5,000
Forever Manchester is working with UK Community Foundations to distribute funding raised by the National Emergencies Trust Coronavirus Appeal. This money is being distributed to community organisations responding to the needs of local communities across Greater Manchester via our Community Support Fund.
---
Community Support Fund Criteria
The Community Support Fund will accept applications from community groups based in any of the ten boroughs of Greater Manchester. We want to fund organisations who are supporting their communities however they can.
Who Can Apply?
To apply you need to be a constituted community group with your own bank account and relevant safeguarding policies in place. We expect you to be based in the area where you are offering help.
Priority will be given to groups with an annual income of less than £200,000.
How much can you apply for?
You can apply for up to £5,000 but as we expect a lot of applications and we may not be able to fund them all, we ask that you only apply for what you know you need.
What can you apply for?
Local groups understand how they can best help their communities at this time, so we don't want to limit the type of request you can make, you just need to let us know what you want to do and how it supports your community.
We are prioritising applications which are providing a service in direct response to community needs created by the Covid-19 pandemic. Examples of this might be organisations providing food and essential household items to the vulnerable and self-isolating, services supporting victims of domestic abuse, organisations who support people with mental health issues or those providing emergency welfare and financial advice.
Applications providing activities to occupy children and adults during lockdown or alternative means of delivering usual activities (unless they fall into one of the categories above) are not a priority at this time.
How long will a decision take?
We aim to assess your application and give you a decision within two weeks but please note we can only do this if you provide us with the supporting documents requested.
Click here for further information.
At present there is no deadline for applications, however if we receive a high volume of requests for support, we may have to close the fund at short notice.
APPLY FOR FUNDING
If you have any questions or have trouble filling this in, please contact us at awards@forevermanchester.com or phone 0161 214 0940.
---
Date added: 23rd March 2020
Last updated: 5th May 2020
---