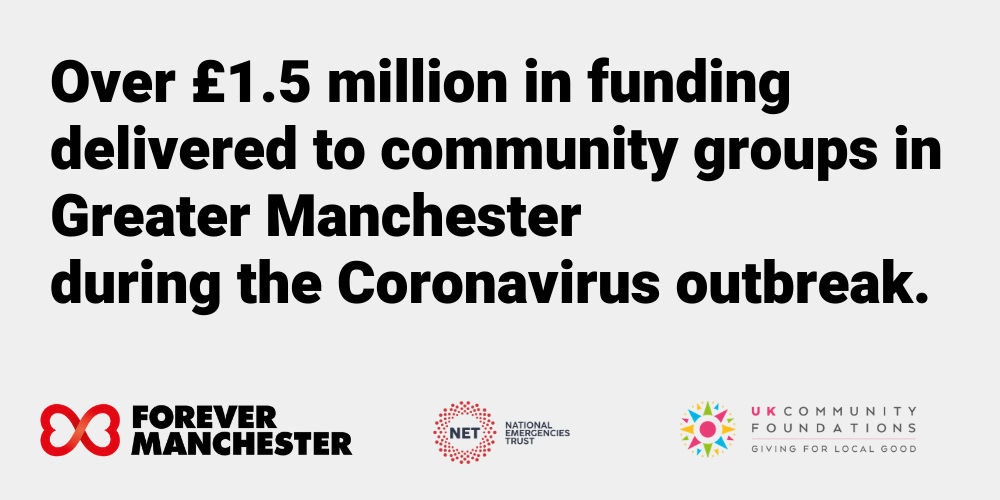 During Phase One of the Community Support Fund, Forever Manchester delivered over £1.5 million in funding to support hundreds of community groups and organisations in Greater Manchester that have responded to the impact of Covid-19.
We are immensely proud of the thousands of amazing people and community groups that have been willing to step forward to make a difference in their local community, helping others in whatever way they can.
During these uncertain times, through generosity and kindness, community groups and organisations have been coming together to help those most affected by the pandemic.
On Friday 23rd March 2020, the same day as the Prime Minster announced UK lockdown measures, Forever Manchester launched its Community Support Fund. The Fund allowed community organisations in all ten boroughs of Greater Manchester to apply for funding of up to £5,000.
Priority was given to groups and organisations who were providing a service in direct response to community need created by the Covid-19 pandemic.
These included organisations providing food parcels, toiletries and everyday essentials to vulnerable people and those self-isolating; community foodbanks, services supporting victims of domestic abuse and support for people experiencing mental health issues; and groups providing emergency welfare, helplines, financial advice and befriending and information services.
---
Click here to view the list of all groups funded to date >>
Click here to read over 40 inspiring stories of groups responding >>
---
Forever Manchester has been working with UK Community Foundations to distribute funding raised by the National Emergencies Trust Coronavirus Appeal.
The initial phase of the Community Support Fund closed to applications on Friday 26th June. The Community Support Fund (Phase Two) launched on Friday 24th July accepting applications from voluntary and community organisations in Greater Manchester who were supporting those suffering from hardship as a result of the Covid-19 pandemic. Phase Two closed for applications on Friday 21st August.
---
In the week prior to lockdown, the Forever Manchester Team began working remotely from home, continuing to support communities across Greater Manchester that needed us more than ever to help them through this challenging time. Despite being inundated with applications (at times we were processing over 100 applications per week), we understood just how important it was to get the money to where it was most needed quickly.
At Forever Manchester we believe that connected communities make stronger, happier communities, so keeping our communities strong, and doing all we can to support them has been our goal.
We'd like to say a huge thank you to everyone who has given up their time going above and beyond to help people in communities affected by the pandemic.
This year, Forever Manchester is celebrating 30 years of supporting our local communities and we continue to care about those people who care enough to act.
Make a donation
---
Date added: 4th June 2020
Last updated: 2nd October 2020
---