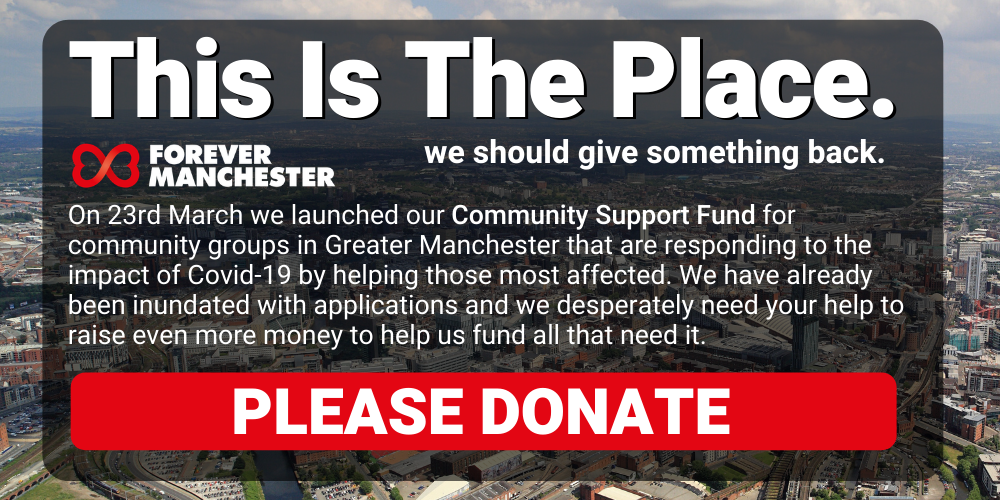 "And there's hard times again in these streets of our city
But we won't take defeat and we don't want your pity
Because this a place where we stand strong together
With a smile on our face, Mancunians Forever. "
These amazing words written for Forever Manchester by Poet and Forever Manchester Ambassador, Tony Walsh got the world to sit up and listen when he performed them on the steps of Manchester Town Hall in the aftermath of the atrocity of the Manchester Arena bombing in May 2017.
This is the Place isn't just a poem, it's a battle cry for unity, for standing together, for recognising your roots and for people like us!
That time is here again.
---
---
It's not too much of an overstatement to say that the world as we know it is in crisis.
The outbreak of coronavirus is affecting both businesses and people from across the globe. Many people are suffering, not just physically due to ill health, but also economically and socially. Workers are struggling to make ends meet, small, local businesses are closing their doors, and social distancing and self-isolation means people aren't able to visit vulnerable loved ones.
In the UK, the Government is doing everything it can to alleviate some of this pressure. However, at times like this, it's the strength and desire to help from local businesses and ordinary people that can make the most difference. That's why on Monday 23rd March we launched our response, the Community Support Fund.
---
---
We believe the fund will be a force for good in mobilising new initiatives but also in ensuring that valuable connections and spirit of community forged in these tough times will continue in the future.
In the short term we will be using the fund to support organisations across Greater Manchester that we know are helping the most vulnerable during the outbreak. Initiatives such as food banks, organisations checking on vulnerable older people and mental health initiatives to name a few will all be the type of project given support.
As time goes on, we'll also use the fund to help groups recover and begin to operate as normal after a period of operational and financial instability.
The fund has been started using donations already made by local people and local businesses. However, we have already been inundated with applications for support and will run out of funds very quickly.
That's why we now desperately need your help.
We know times are tough but the communities where we all live, love and work need our support now, more than ever so we're asking for your donations to the fund!
"Because this is the place in our hearts, in our homes
Because this is the place that's a part of our bones
'Cos Greater Manchester gives us such strength from the fact
That this is the place. We should give something back."
---
Always remember. Never forget. Forever Manchester.
Anyone wishing to make a larger donation please email Nick Massey CEO at nick@forevermanchester.com.
---
Further information about this appeal can be by clicking the button below.
---
Date added: 27th March 2020
---