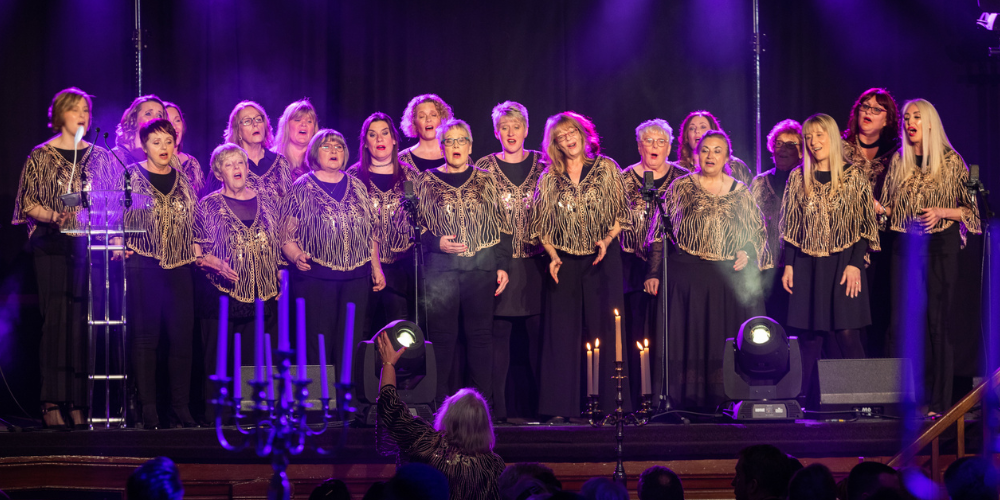 We were delighted to provide £18,530 of funding to support 20 community groups based in the borough of Stockport since September 2022.
Cheshire Datasystems Limited (CDL) is a leading insurance software house based in Stockport. As part of their commitment to corporate social responsibility, they work with Forever Manchester to deliver support to grassroots community groups.
The CDL Fund aims to support the activities of local community or voluntary groups and projects that contribute positively to the quality of life, wellbeing and improved health of people and communities which address any or all of the priorities listed below:
Digital inclusion
Older people
Children and young people
Stronger communities
Environment
Health and Wellbeing
The groups we were delighted to support were:
ADS (Addiction Dependency Solutions) – Manchester
Adswood United Football Club – Stockport Adswood and Bridgehall
Affinity Show Choir – Stockport (pictured)
ItsHerStory CIC – Stockport
St Marks Bredbury – Stockport
Woodley and Bredbury Community Garden – Stockport
Allotments Love Life
Bredbury Community Hub
Dementia Disco Stockport
New Beginnings Foundation CIO
OmniMusic
Social Events Activities
Step Ahead community group
TRENTS Community
Crafternoon
Early Essentials Stockport
Fallowfield Library and Community Resource
St Marks Bredbury
Stockport Boccia Club
The Friends of Darley Street
Between September 2021 to September 2022 we were delighted to provide £30,026 of funding to support 17 community groups based in Stockport.
Read more >>
Since 2012, the CDL Fund has provided £378,191 in funding to support 302 community projects, benefitting over 60,000 people.
Read more >>
It is always worth remembering that if you support Forever Manchester, you support all this. The ability of local community groups and organisations to best help people in their community remains dependant on maintaining support for them.
If, like CDL, you own or work for a company based in Greater Manchester, the chances are that 90% of your colleagues live in Greater Manchester and are part of the very communities we support.
To find out more about how you can get involved with Forever Manchester please email us at marketing@forevermanchester.com or telephone on 0161 214 0940.
To be the first to find out about funding news, fundraising activities and exclusive Forever Manchester news, please sign up to our mailing list.
---
Date added: 22nd December 2022
Last updated: 21st August 2023
---