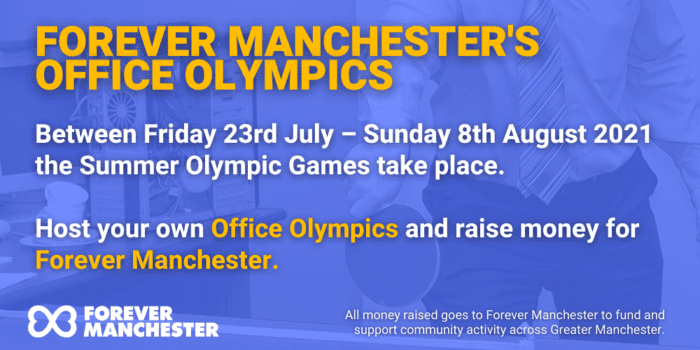 With Tokyo 2020 on the horizon, and businesses heading back into the office, why not host your own Office Olympics and get fundraising for Forever Manchester.
The 2020 Summer Olympic Games – which like everything else were postponed last summer – are scheduled to take place between 23rd of July and the 8th of August 2021. Featuring 33 sports across 338 events, this is a fantastic opportunity to support your local community by fundraising for Forever Manchester.
Whether it's a sweepstake on the real thing or placing bets on your own office-based version of events, we've come up with some great ideas to raise some cash and boost team moral.
With lots of companies returning back to the office this month, why not arrange a mini Olympic games? Charge each person £5 to take part and set up a series of events throughout the week, or simply during your lunch break. We're thinking office chair racing, pencil javelin or elastic band archery. Get creative, this is a great opportunity for some brilliant team-work.
Another way to raise some money, would be to organise an office sweepstake. With 206 countries taking part, everyone's in for a chance. Why not add to the excitement and place bets on individual events. Which country will win Gold in the 800 Metres? Where will Team GB place in the Heptathlon?
In addition to this, a simple office fancy dress is always a guaranteed way to brighten up a work day. Why not offer a prize for the best international costume?
Whatever you choose to do, you'll be helping Forever Manchester to support community activity right across Greater Manchester.
---
To help you with the promotion of your fundraising activity, we have pulled together some information you might find useful. View our handy Fundraising tools page below.
Fundraising tools
---
If you have raised or collected money for Forever Manchester, it's easy to pay it in, simply click below and follow our step-by-step process.
Paying in the money you've raised
---
Date added: 20th July 2021
---