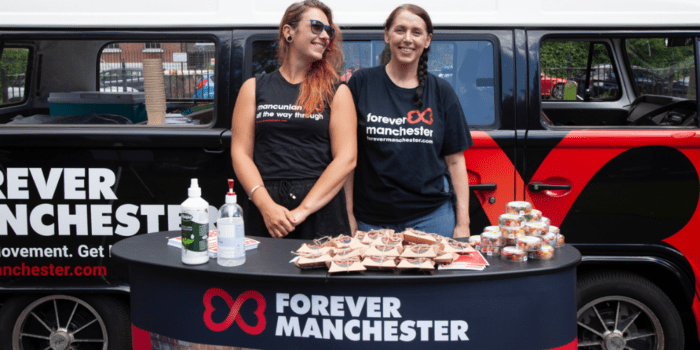 Throughout July and August, Forever Manchester's Community Builders took their 2021 Summer Roadshow into the local communities of Manchester.
Over the course of seven weeks, Vikki and Lisa (pictured above) have toured the communities and local parks of Ardwick and Wythenshawe in the Forever Manchester camper van, hosting our Summer Roadshow 2021 and meeting lots of fantastic new people.
Our Community Building Team work out and about in communities, starting conversations with the people they meet. They find out what people are passionate about, and connect them to like minded neighbours, encouraging them to engage in or set up their own community activities.
Face-to-Face, Smile to Smile
After having to move their usual programme of activities online due to the pandemic last year, you can imagine the excitement when restrictions were eased and the team decided it was safe to venture outside again and start connecting with residents in the best way we know how-out and about, in the community, face-to-face and smile-to-smile.
The Summer Roadshow schedule took in 14 events, with Lisa and Vikki dishing out Forever Manchester seedbombs, crafted by members of the community. They also handed out goodies donated by business supporters Kellogg's and Zen Office.
They met and chatted to over 200 local people achieving some great outcomes. One guy, known as the Manchester poet and also a local historian, had some great ideas for community activities and other local groups, including a sheltered accommodation scheme, hiring his services for a history talks.
A lady who had been socially isolated said how she was really looking forward to the roadshow visiting her local park. She stayed for the full duration of the event and took the opportunity to meet neighbours and share lots of ideas for new community projects.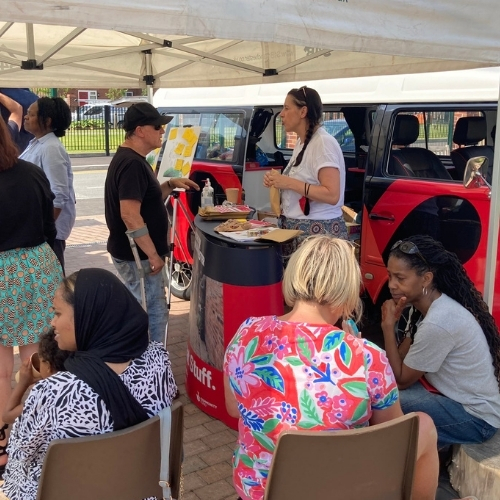 Creating something new
There were people wanting to establish a wellbeing group and planning to set up outdoor art sessions while other suggestions extended to such things as:
Bird Box Making
Hat Making
Basic Art (intro to using paints)
Sewing, Knitting, Crochet
Women's Social Swimming.
Community Gardens
Wellness and Skin Care
Social Singing (karaoke)
Opportunities to learn better English
Woodwork Group
UFO Group
Cake Making
Community Exercise
The Summer Roadshow was a resounding success and both Lisa and Vikki were delighted to be able to bring a happy smile and spread some Forever Manchester cheer with the people of Ardwick and Wythenshawe this summer!
---
Headline Photo Credit: Len Grant
Read about Len' Grant's work with Forever Manchester in and around Ardwick.
---
Date added: 3rd September 2021
---