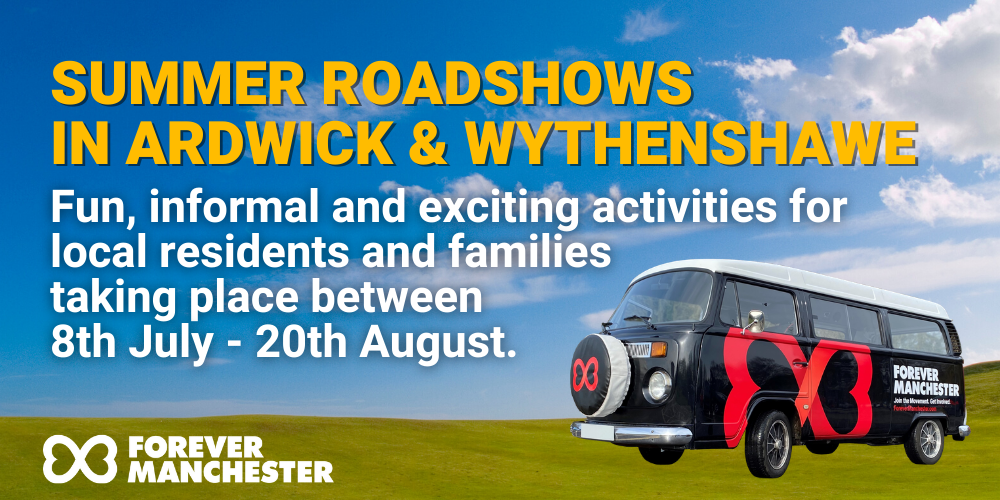 Over the course of 7 weeks between the 8th July-20th August 2021, our Community Building Team will be hosting community picnics every Thursday and Friday across the communities of Ardwick and Wythenshawe.
The bees are buzzing, the flowers are blooming and…well ok the sun may not quite be just shining yet, but summer is definitely in the air, and here at Forever Manchester we're making the most of our new found freedom!
Forever Manchester's Community Building Team work out and about in communities, starting conversations with the people they meet, finding out what they're passionate about, and connecting them to like minded neighbours. Quite simply, their job is to make as many new friends as possible in the communities they work in and encourage new friendships to form, by introducing people to others and supporting residents to start their own new community activity.
The arrival of lockdown back in March 2020 immediately changed all this, meaning that we needed to adapt the way we work and explore new ways to connect with residents, supporting them to get through the difficult times that the pandemic had caused. During the past 17 months this has involved connecting residents to emergency food and provisions, supporting those who didn't know which way to turn and above all being a friendly ear and face to those who were scared and alone.
This time last year we moved our usual programme of community summer activity online in order to connect with people in a covid-safe manner. But this year, we're thrilled to announce that our Community team are ready and raring to burst into a community near you, to connect, to help create some smiling faces and above all to spread some Forever Manchester cheer!
Summer Roadshows in Ardwick and Wythenshawe
We're inviting local residents and families to engage with us and participate in fun, informal and exciting activities. This will give residents the opportunity to not only win some top prizes, but more importantly to meet new people, forge new friendships and above all have some fun! Here's some more details about what we'll be up to: –
There will be plenty of fun activities, some freebies and a chance to enter our special prize draw! Please feel free to bring along your own picnic.
---
In Ardwick (Every Thursday 11am-3pm)
8th July – Bushmoor Centre, Bushmoor Walk M13 9GS
15th July – Ardwick Green Park, Ardwick Green M13 9XF
22nd July – Hartfield Allotments, Hartfield Close, Brunswick M13 9XY
29th July – West Gorton Park, Clowes Street/Wenlock Way M12 5FJ
5th August – Coverdale Centre, 217 Stockport Road M12 4DY
12th August – Swinton Grove Park, Swinton Grove M13 0EU
19th August – Plymouth Grove, Lauderdale Crescent M19 9DP
CLICK HERE TO VIEW INTERACTIVE MAP OF VENUES & DATES
If you would like to find out more about our Roadshows in Ardwick, please get in touch with:
Lisa Brown
07816 492 307
lisab@forevermanchester.com
Facebook: /LisaForeverManc
Twitter: @lisaforevermanc
---
In Wythenshawe (Every Friday 11am-3pm)
9th July – Wythenshawe Park, Wythenshawe Road M23 0AB (green space in front of Wythenshawe House)
16th July – Painswick Park, Off Portway, Woodhouse Park M22 1GG (through the entrance on Painswick Rd, left of pond in big open field)
Friday 23rd July – Kirkup Gardens, Cotefield Road, Woodhouse Park M22 1UY (near the skatepark towards the main path that runs through the park)
Friday 30th July – Hollyhedge Park, Hollyhedge Road, Sharston M22 4GP
Friday 6th August – Peel Hall Park, Peel Hall Road, Sharston M22 5HP (middle of the park where all the paths meet)
Friday 13th August – Brookfield Gardens M22 8BA
Friday 20th August – Wythenshawe Park, Wythenshawe Road M23 0AB (green space in front of Wythenshawe House)
CLICK HERE TO VIEW INTERACTIVE MAP OF VENUES & DATES
If you would like to find out more about our Roadshows in Wythenshawe, please get in touch with:
Vikki Snowden
07891 953 918
vikki@forevermanchester.com
Facebook: /vikki.snowden.39
Twitter: @VikkiTeri
---
It will be a fantastic few weeks so why not bring your picnic, grab the family and come on down to connect with your community and with us, meet new people and have a great time with your neighbours!
We're really excited to see you all, share lots of smiles and above all create some Forever Manchester Happy Days!
---
Date added: 11th June 2021
---