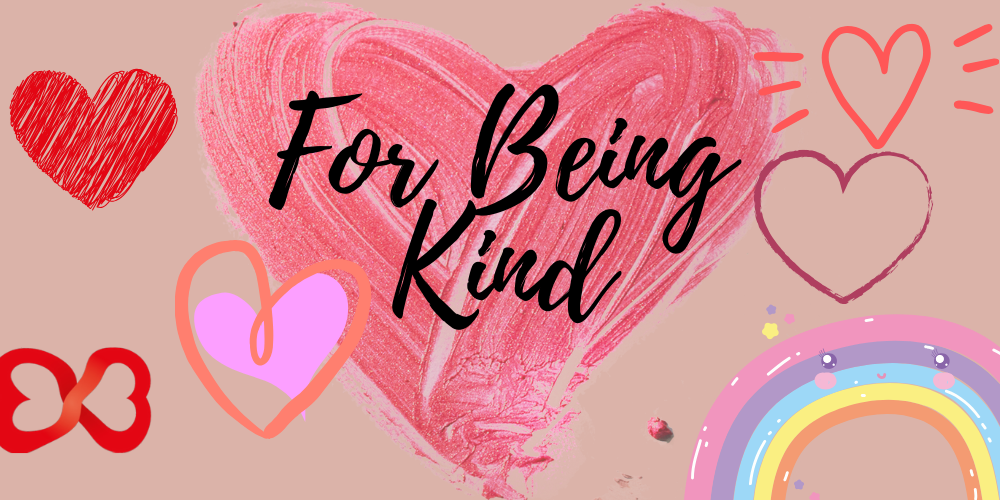 "If you want to be a rebel, be kind." – Pancho Ramos Stierle
One thing that has really struck us throughout the Covid-19 pandemic is just how many people are being kind. As Desmond Tutu once said; "Do your little bit of good where you are; it's those little bits of good put together that overwhelm the world."
As part of our approach to working in local communities we deliver a short series of workshops in primary schools around the theme of kindness called 'Cool To Be Kind' (or C2BK if we're trying to be hip). The sessions are focussed on helping children (aged 9-10yrs) recognise their own value and the importance of being kind to themselves, kind to others and most importantly kind to their community.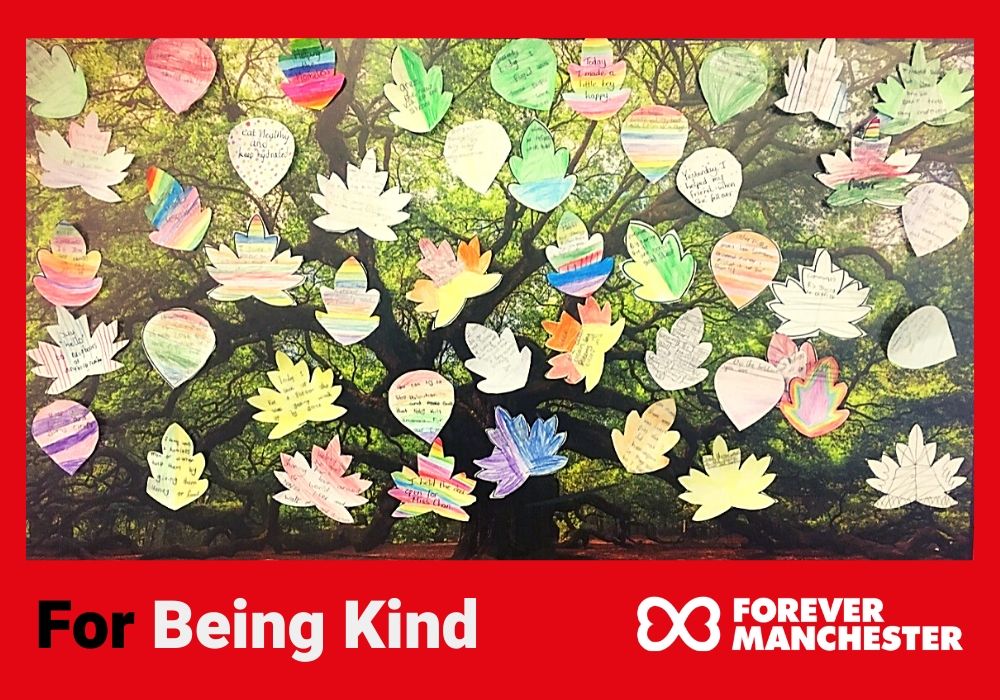 During the six week programme, they record their acts of kindness on a Kindness Tree and create and deliver a kindness project for their community.
As we're sure you can imagine these sessions are a lot of fun and often the highlight of our Community Builders' week!
Due to lockdown restrictions we are unfortunately unable to deliver our Cool To Be Kind workshops in schools, but this hasn't meant that kindness in our community has vanished. If anything, we are seeing and hearing about more acts of kindness being carried out in our communities on a daily basis, at a time when we need them more than ever.
---
"Kindness is the golden chain by which society is bound together."
Johann Wolfgang von Goethe
In the Ardwick area of Manchester where Lisa our Community Builder is still working, albeit remotely, we have been involved in supporting the setting up of the local Covid-19 Mutual Aid group. Through this work we have witnessed many examples of local residents acting out of kindness and coming together to support the most vulnerable in their community.
One resident who helps run a local community centre was so keen to offer support that she posted "I NEED TO DO SOMETHING TO HELP!" on her Facebook page as soon as lockdown began. She then quickly jumped into action organising parcels containing food and other essential items to be distributed to vulnerable members of her community.
In celebration of Eid (23rd-24th May 2020) another resident has offered her expertise by making traditional Eid sweets, and local children are getting crafty creating Eid cards. These will both be included in this week's parcels as a special treat for residents observing Ramadan in their local community.
One local shopkeeper has voluntarily stepped forward to cook a fresh hot meal every night for 15 homeless people that have been placed in temporarily accommodation. He also recently offered free healthy vegan smoothies for all NHS workers, which was welcomed by one thirsty keyworker! Another local resident has been cooking hot meals from her own kitchen to support neighbours who could use some extra support at this difficult time.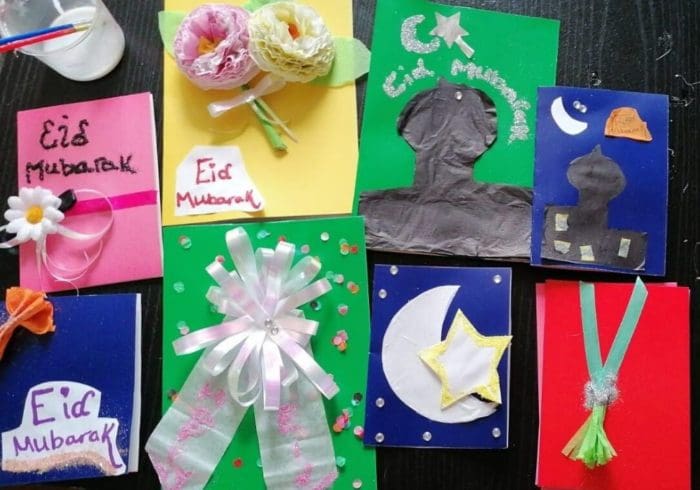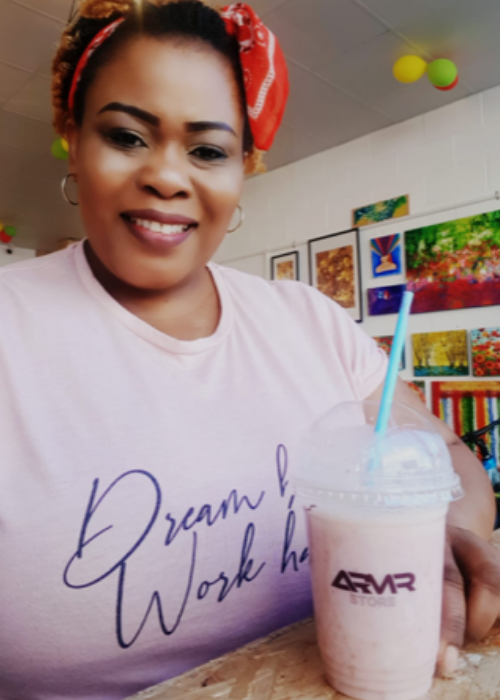 These are just some examples of the many wonderful ways the residents of the Ardwick area are coming together to support their local community through this difficult time.
---
"Be a rainbow in someone else's cloud." – Maya Angelou
If you happen to live in Wythenshawe where our Community Builder Vikki has been working, you may have noticed that one little girl has been spreading some positivity and kindness in her neighbourhood in a different way.
She noticed that her elderly neighbour rarely left the house and didn't seem to have any visitors. She was so concerned by the idea that she might be feeling lonely that she took it upon herself to brighten her day by making her a picture with hearts and rainbows to put up in her window.
She very quickly realised that there were probably a lot of people in her community who may appreciate a little something to make them smile, so she decided to make more hearts and use her daily walks to hang them on people's gates in her local area. So far, she has delivered over 220 hearts and is planning to do more! The grateful recipients have been taking pictures and sharing them on social media stating how much finding the hearts have cheered them up!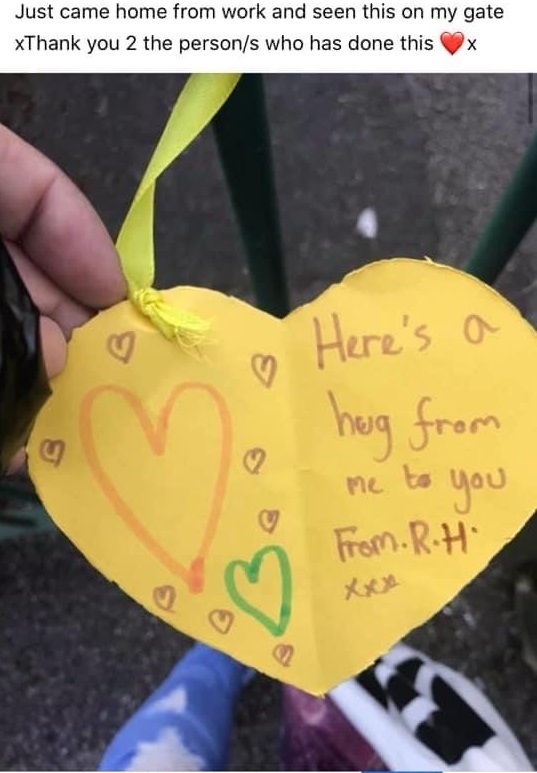 ---
Kindness Matters Most
Kindness has long been proven to be good for our health, both mentally and physically. It may come as no surprise that the theme of this year's Mental Health Awareness Week (18-24th May 2020) is Kindness.
"We're here for a reason. I believe a bit of the reason is to throw little torches out to lead people through the dark." – Whoopi Goldberg
At Forever Manchester we love hearing about and sharing stories of how local people right across Greater Manchester are coming together, being kind to their neighbours and supporting the most vulnerable in our communities.
Read more about how community groups across Greater Manchester are helping people affected by the impact of Covid-19.
During this difficult time, acts of kindness are helping us stay connected and will hopefully be something that we still feel the ripples of for long into the future.
---
"Every act of kindness is like a pebble thrown in a pond sending out ripples far beyond where the pebble entered the water. When we're caring and kind to our neighbours, our actions send rings of kindness that spread from neighbour to neighbour to neighbour." – Angela Artemis
---
Date added: 22nd May 2020
---