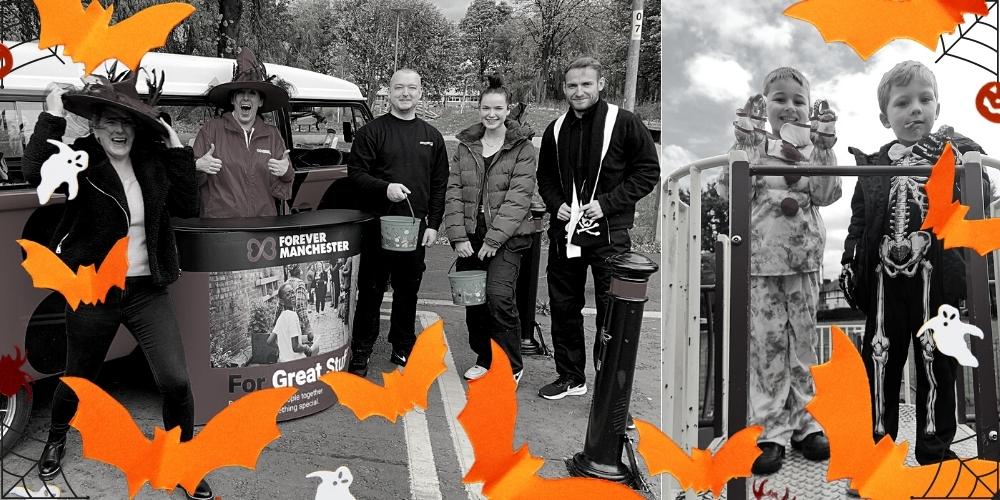 Forever Manchester's Halloween Scavenger Hunts left our Community Builders spellbound as the best outdoor events since that spooky lockdown hit Ardwick and Wythenshawe!
There was nothing evil lurking in some local communities this Halloween, just plenty of fun, games, laughter, goodies and lots of people coming together to celebrate this spooky time of year!
After hosting their Halloween Roadshow's online last year, Forever Manchester's Community Builders, Lisa Kershaw and Vikki Snowden, were thrilled to be able to get out and about to connect with a few local faces while bringing some spooky fun to communities in Ardwick and Wythenshawe.
They organised four Halloween themed scavenger hunts which took place over two days (28th and 29th October) where families were encouraged to come together to explore local parks in search of strategically placed spooky clues. Halloween medals were awarded to those successfully completing their scavenger hunts.
Lisa and Vikki also toured the communities, handing out goodies and connecting with local people. This provided the opportunity for them to meet and chat to nearly 100 residents and discover their skills, talents and passions, while encouraging their new ideas for community projects.
Forever Manchester supporters Armstrong Fluid Technology provided some fabulous staff to lend a helping hand and connect with residents while The Manchester Shop and Luna Manchester donated fabulous Halloween related goodies and costumes for groups across the community planning their own Halloween events.
The scavenger hunts were a resounding success and the communities really got into the spirit of the occasion, dressed in their best Halloween finery and coming out in droves for a spooky celebration of community at its best!
Lisa commented: "It was the best outdoor event for me since before lockdown!"
One parent added: "The Kids had so much fun and they say thanks so much for letting them join in"
Another local youngster, who is on the autistic spectrum, apparently loves camper vans! He was elated when invited on to the Forever Manchester Camper van to be our 'security guard'. He occupied the driver's seat for the duration of the event, looking after the van and making sure it was safe. His mum said "he didn't stop talking about the experience all weekend!"
The Forever Manchester Community Building team work out and about in communities, starting conversations with the people they meet, finding out what they're passionate about, and connecting them to like minded neighbours. Quite simply, their job is to make as many new friends as possible in the communities they work in and encourage new friendships to form, by introducing people to others and supporting residents to start their own new community activity.
The Halloween scavenger hunts were a resounding success and our Community Builders we're so glad to be able to spread some Forever Manchester cheer across some communities in Greater Manchester this Autumn!
---
Date added: 5th November 2021
---