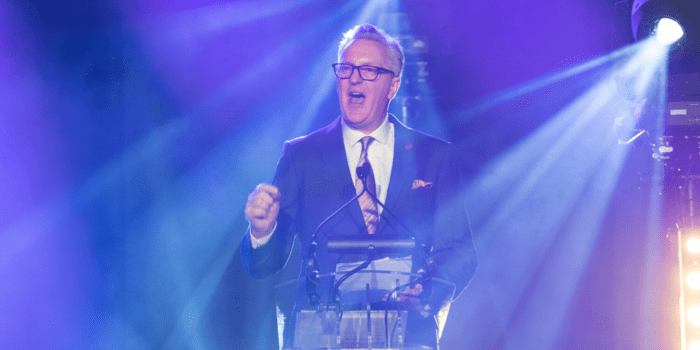 Ace Manchester poet Tony Walsh has thrown his weight behind Forever Manchester's appeal for donations to support people in local communities across Greater Manchester through the current Covid-19 crisis.
---
---
The appeal takes inspiration from This is the Place, the poem Tony wrote for Forever Manchester in 2012, and was used to make the world to sit up and listen when he performed it on the steps of Manchester Town Hall in the aftermath of the atrocity of the Manchester Arena bombing in May 2017 when he performed it on the steps of Manchester Town Hall.
---
---
Forever Manchester is now using its famous poem as a battle cry for unity and standing together in support of our local communities in this time of need.
Since the Community Support Fund was launched on 23rd March, it has been swamped with applications from groups requiring help and support.
Community groups can apply for up to £5,000 for help in delivering crucial work in their respective communities and helping people to cope with the impact and effects of Covid-19.
---
---
Organisations looking for help include support group's looking to provide phone based support services to replace weekly meetings, a sports team providing emergency food packs to families who have lost work, a food bank home delivery service supporting the needs of elderly and vulnerable people and ensuring they stay fed and a neighbourhood film club delivering DVD packs and helping to prevent loneliness caused by social isolation as not everyone is online.
The Community Support Fund, started using donations received from local businesses and individuals has been inundated with applications for support and additional funds are now urgently required, and Forever Manchester is asking local businesses and local people to donate whatever they can.
Tony Walsh said: "I have supported Forever Manchester for the last 8 years and have seen first hand the impact of the money they put into our local communities.
"There has never been a greater need for you to support them."
---
"Because this is the place in our hearts, in our homes
Because this is the place that's a part of our bones
'Cos Greater Manchester gives us such strength from the fact
That this is the place. We should give something back."
---
---
Date added: 2nd April 2020
---