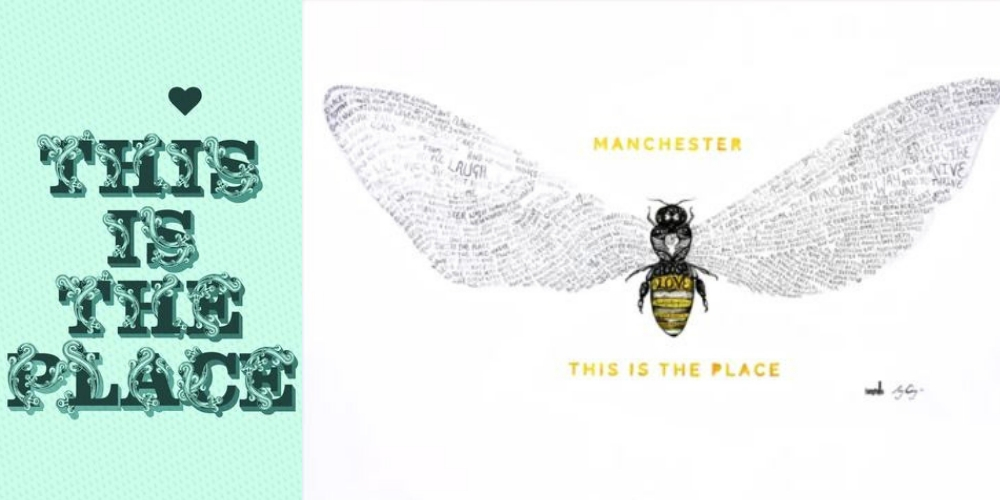 Tony Walsh's famous poem, This is the Place has been adapted into unique poster and postcard designs, with all proceeds going to support grassroots community activity across Greater Manchester.
These exclusive designs were created by The Manchester Shop and artists Si Scott and Amy Coney and are now available online at the Forever Manchester Shop as well as The Manchester Shop in Afflecks Palace on Oldham Street.
In 2012, Forever Manchester commissioned Tony Walsh (aka Longfella) to create a poem that would encapsulate the spirit of Greater Manchester celebrating its local communities and would spread the word about Forever Manchester's important work.
Five years later, This is the Place caught the attention of the world's media after Tony's passionate performance on the steps of Manchester Town Hall at the city vigil the day after the Manchester Arena attack in May 2017. Thousands of people had gathered there in Albert Square and millions of people watched it on TV and via social media.
The poem was shared on social media by everyone from JK Rowling to Liam and Noel Gallagher. Author Jeanette Winterson said that Tony "found words where there were no words." Liam Gallagher declared it "the best ******* words out of any Mancunian's mouth ever!"
This Is the Place became synonymous with Manchester and the resilience of its people and ever since it went viral, Tony has received requests to use the poem on artworks, buildings and merchandise. Last year Tony gifted the poem by donating royalties to Forever Manchester and has already raised in excess of £150,000 for three charities (We Love MCR Emergency Fund, the Mayor's Homelessness Fund and Forever Manchester)
Tony explains: "This Is the Place' has entered the fabric of the city in a way an artist can only dream of. Every day I receive a request to use the poem in all sorts of different ways and people stop me in the street to tell me how it has helped or affected their lives. It feels only natural to continue to use the poem to help a charity that really makes a difference to the people of Greater Manchester."
Forever Manchester's CEO, Nick Massey said: "Back in 2013 we asked Tony Walsh to bring our cause to life, to give it a voice and a personality to our local communities. What we got back was the amazing poem 'This is the Place'."
Nick added: "But it was never intended to mark a moment in time, it's a poem that should always remind us just how important our local communities are, in bad times, sure… but, perhaps more importantly, in good times too. Communities matter now more than ever. Let's recognise their value and make sure that we nurture them and play our role in ensuring they thrive, now and forever."