Autism Support UK (ASUK) started with a Saturday School for children and their families and provides a supportive environment for children with autism to learn and develop. Now they also run a weekly after-school club, the Bolton Lego Club.
"ASU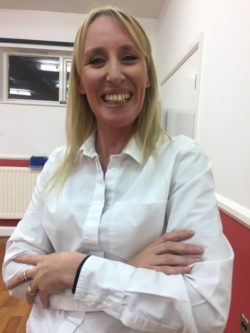 K is about teaching skills it's about making a life a little bit easier for both the child and the parent" says  Founder Linzi Tropea, who is also a parent of a child with Autism.
"Many children have behaviours that may challenge, that affect the child, their schooling and impact on family life.
At ASUK, the children are grouped by Target reach and needs, rather than age. They work on specific areas, like communication skills, putting in for some children a communication system such as PECS – Picture Exchange Communication. Other sessions they hope to do in the future will be aimed at helping both child and parents with toilet training or food behaviours.
With help and funding support, ASUK are able to employ Behavioural Consultants who establish Behaviour Development Plans and teach the child alternative behaviours. But it's not just about the child; by coaching the parents how to work on the targets and reinforcement, there are positive changes for all the family.
Monday's Lego Club is a social communication group run after school and aimed at children between the ages of 8 to 14, with a maximum of 12 children per session. There is only one criteria for attendance – the child must be able to speak in sentences, as this specific group is to encourage conversations with their peer group.
Using children's natural affinity with Lego, the Club helps to develop social interactions. The activity is natural play and there is nothing forced and demanded of the children.
The thing that Linzi loves most about the Lego therapy is that "there is no pressure on a child to speak, because the children are focusing on the Lego and the talking comes naturally."
In the Lego Club everyone's abilities are different. M and O are able to sit at the table, E prefers to work with Lego on the floor and there are others like F who find it hard to engage for long periods of time and need prompting to engage in an activity.
There are a number of young volunteers Anna, Dom, Zara, Aimee & Greg who along with Rob, a trained Lego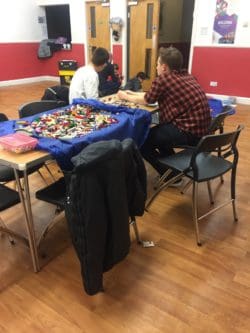 Technician and Behavioural tutor, and Sean his assistant that steer the group play. The club is overseen by Linzi who spends time with the parents while their child is in session.
As well as encouraging the children to talk with the support workers, and each other, there is a "small steps" approach to helping a child find alternative behaviours. Those who cannot sit are encouraged to try to sit for 3 seconds, then next week it will be 4 seconds, then 10 seconds and so on. Rather than giving a child a daunting target which they are likely to fail, those small steps mean they can succeed, and the positive encouragement keeps them going.
O prefers his hood up and doesn't like people in his space. When he attended the last block of Lego Club he barely spoke. These sessions he still prefers to work alone but will ask for assistance and is keen to show off his technical creations…. And demonstrate how his new voice-changer machine works.
"His building skills are amazing, he created a piston lift shaft with moving parts," says Rob.
Brothers and sisters can also join in the fun at Lego Club and parents spoke of the value that they themselves get from the sessions. Whilst the children are building Lego, parents have a chance to sit and talk with others who understand what it is really like and who face similar challenges to their own. Bolton Lego Club, it's helping the whole family!
---
Katryn Mercer from Express Solicitors