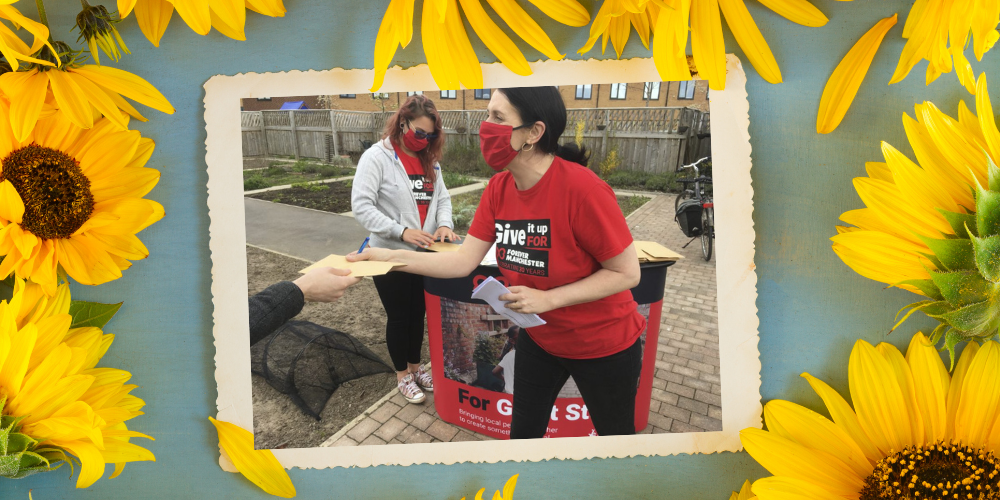 Spring has provided the perfect time for people to re-engage with each other and for local communities to start coming together again as life slowly begins to lift the lid on lockdown.
After months of online meetings, Zoom calls and chats on Teams, Forever Manchester's Community Builders, Lisa Brown and Vikki Snowden were delighted to be able to get out and about, meeting and re-engaging with local people in the communities they support.
As part of getting back into the swing of things, both Lisa and Vikki hooked up with the Manchester Sea of Sunflowers campaign. The initiative was set up by Haydn Bettles, primary food educator at Armitage Primary School in Ardwick, who was inspired to create a Sea of Sunflowers around his school and across communities in Manchester.
Haydn's initiative was supported by housing and community services provider One Manchester, who funded kits to distribute thousands of sunflower seeds, aimed at engaging children in primary schools throughout Manchester. Forever Manchester helped fund sunflower kits for local communities in Ardwick and Wythenshawe.
The Community Builders saw it as a great way to get back outdoors and explore opportunities to engage and involve local people in the area's where their work is focused. This has generated the interest and support of a number of partners including its S4b, Grove Village, Arawak and Ardwick Neighbourhoods Team.
The Sea of Sunflowers campaign provides a great way for those preparing to come together in spaces that will be blooming with colour during the summer months.
It also aims to celebrate nature while commemorating the difficult time Covid-19 has brought to many lives in a colourful and optimistic way, by encouraging local people to get involved in growing their own rays of happiness.
Lisa explains:
"Being out and about right in the heart of communities is what we do. We have missed this so much this past year. Getting back out there and connecting with people again has been amazing.

I would just like to thank the hundreds of local people we have met over the past couple of weeks, who have greeted us with genuine warmth and happiness in return for a packet of seeds. It's been the perfect tonic and we can't wait to connect with more people throughout the summer months."
Vikki added:
"The sunflowers will help to add lots of colour to our local area's and brighten up our streets. They will provide a nice reminder that things are getting slowly better and the future looks that little bit brighter for everyone."
Every sunflower will have its own story to tell from who planted it to where it grew while helping to brighten up neighbourhoods and hopefully bringing a few smiles to a few local faces.
Lisa and Vikki will be encouraging the communities where they work to share their sunflower pictures and stories using the hashtag #MCRsunflowers
Interestingly, this isn't the first time Sunflowers have taken centre stage! In 2012, thousands were planted across Greater Manchester to try to prove a theory put forward by mathematics genius Alan Turing, who helped crack the Enigma code in World War II.
More than 3,000 sunflowers were planted as part of a citizens science project called Turing's Sunflowers, a mass-participation project run by the Museum of Science and Industry, Manchester Science Festival and the University of Manchester aimed at proving his Fibonacci sequence theories in plants to help a further understanding of how plants grow.
---
Date added: 6th May 2021
---