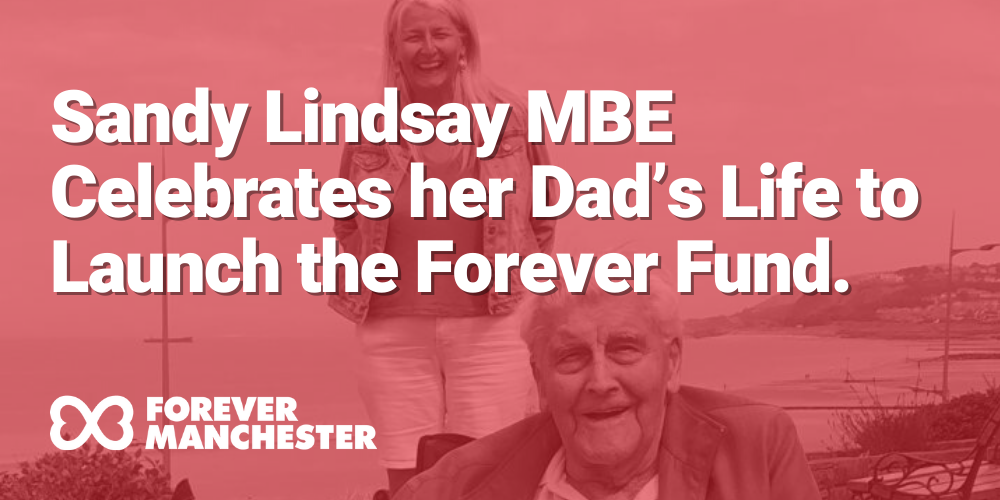 Sandy Lindsay MBE, long term supporter and Trustee of leading Greater Manchester charity, Forever Manchester, is using the occasion of her late Father's birthday to help launch a new initiative: The Forever Fund.
The Forever Fund as the title suggests, is a way of ensuring a charitable gift keeps on giving and that the memory of the person whose name it's given in keeps on living.
A Forever Fund donation will be split in two, with 50% going directly out to good causes in Greater Manchester and 50% going into Forever Manchester's Endowment Fund' the interest on which pays grants of all sizes on an ongoing basis, to good causes of all shapes and sizes across Greater Manchester.
Sandy Lindsay explains:
"When a loved one dies, you feel a hole in your life and a need to ensure that their life and personality and all of the things they stood for are not forgotten.

"My Mum – who we lost 12 years ago – and Dad, who passed in October 2020, were passionate about ensuring young people were given the best start in life, regardless of their postcode or home circumstances, as I explained in my tribute. They (accidentally, I'm sure) passed this on to me and I'm so proud that the Forever Fund will go towards helping keep this passion alive, via the grant making of Forever Manchester."
Nick Massey Forever Manchester's Chief Executive said:
"We all have different passions and things that we'd like to make better in our world. The good thing about Forever Manchester is that we can accommodate them all. Unlike other charities which focus on specific causes, we fund and support every possible type of community activity across the whole of Greater Manchester, helping to make our region a better place to live our lives."
Once a donation is made to the Forever Fund, the person/people who are named, will be forever remembered on the Forever Manchester website, in a way their family member/friends/colleagues would like. Then, every year, on the anniversary of their death or their birthday, Forever Manchester will send a thank you and reminder to them and their memory, together with a summary of the causes they've helped.
Sandy concluded:
"I think my Mum and Dad would be very proud that their legacy will not only live forever in this way but that it's helped launch the initiative and will hopefully encourage others to remember their loved ones, which will also give them comfort," Sandy concluded.
If you would like to Celebrate a Life Well Lived, a landmark moment or a new beginning, simply contact Jean Mills on 0161 214 0940 or email jean@forevermanchester.com
---
Date added: 15th April 2021
---