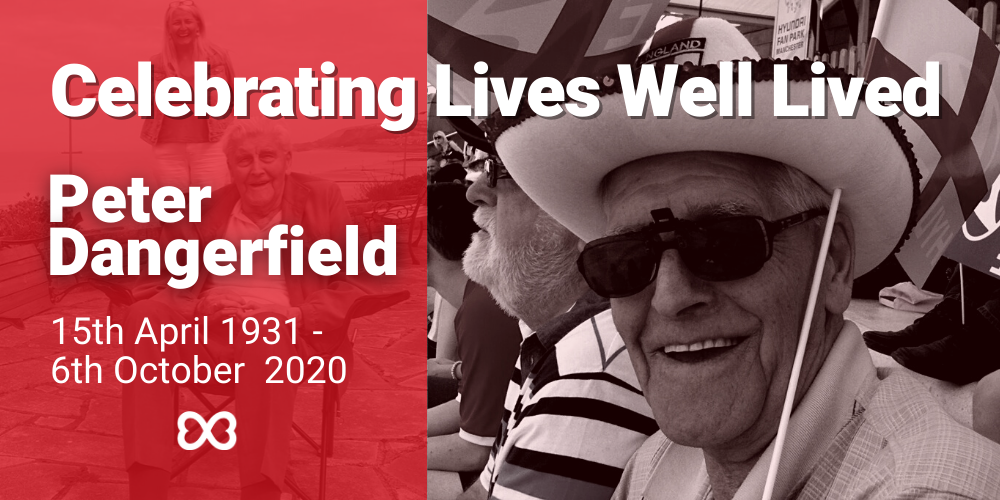 Our Dad – by Sandy Lindsay MBE
I'm often asked who my role models have been; who has inspired me in my life, my career, my business and I usually give a generic but honest answer: there've been so many but if I had to pick one it would be my Dad.
Well, I lost my Dad last October, at 89, and doing all the thinking and prep for his 'send-off' reinforced for me how true this answer has always been, with my Mum a very close second.
Born in Great Barr, Birmingham, two doors down from Mum, my Dad – Peter Dangerfield – was the bad boy, with his noisy motorbike, crashing down the neighbours' fences, breaking limbs and rules and generally being a rabble rouser.
He learnt his trade – mechanical engineer – in the RAF but he also did so much more in the forces; he swam and dived for the national squad and played water polo. How many people can say they've swum competitively against Tarzan (Johnny Weismuller) and he also started saving lives… as a life guard on the boats.
As a family, we moved around a lot when we were young and then settled in Telford – not the best council estate at the time (though I didn't know that then) and we quickly got into running a dance troupe – The Telford Lavender Belles – which is where my Dad's 'lifesaving' started up again.
There's many a story of the hundreds of young girls who were dancers in the troupe, saved from going badly off the rails by the troupe's interventions. We'd have a knock on the door late at night and a worried parent would ask Dad to threaten to ban a dancer as it was the only thing that might turn her away from a wrong track. There are so many of these stories. We'll sort it out, he always told them. And we always did.
The Dangerfields were the people who sorted things out – Dad as the figurehead – Mum quietly but strongly behind him.
As a child, things tend to wash over you – you just assume that 'this' is the way everyone lives, with people walking in and out of your house at all times, with your family sorting things for others, with values such as kindness, honesty, respect for others etc, unspoken but very deeply believed in.
It's only as you grow older and move away and live among other people/communities that you realise this is not always the case and sometimes people don't do the right thing and they don't always tell the truth and they will sometimes take advantage of you because you do. And it was at this point in my life I had to decide my own route – but with my parents' values firmly instilled in me and their voices firmly in my head, there could only be one choice.
Their 'lessons' were sometimes spoken: treat others as you'd like to be treated; choose to do what's right over what's easy etc, but more often lived.
The troupe, and the way my parents lead it, subliminally taught me everything I ever needed to know about running a business. It taught me how to be a leader, it taught me that people are different and need different communication styles to bring out the best in them, it taught me how to listen and resolve conflicts (100+ girls at any one time, between the ages of 5 to 22 years of age!) And most importantly, it taught me that if you make someone feel brilliant about themselves, they will BE brilliant (and vice versa), which demonstrated for me the importance of good leadership.
My Dad's view was always: there's no point doing anything unless you can be the best. My Mum's: always try to do your best. And I've always been somewhere in the middle – when I was young and hot headed, I was definitely more towards my Dad's view; as I've grown older and mellowed, I've swung more towards my Mum's (ish!)
He never said much about all the things I do due to his 'teachings' – as I said above, we were more about deeds than words – but occasionally he'd say something that would make me realise he knew and was proud and happy. When I got the NED role with the Rugby Football League, while he said all the right things about the job, he also said: "That's not going to stop you doing all you do to create jobs for young people, is it?" I was able to reassure him I could do both and he said: 'Good! Cos that's important, that is!'
Dad's life has been long and useful and busy and, most importantly, filled with love and laughter and music. I don't think anyone can ask for more than that from life and while I'll miss him, as I do Mum, I'm so lucky to have had them both; such brilliant role models, whose examples will continue to inspire and guide me to live the best life I can.
Written by Sandy Lindsay MBE on behalf of her family, including her brother and his wife, Paul and Elaine Dangerfield, Martin Pugh, Paul Lindsay and family, all the Bancrofts and the many friends of Pete and Shirley in North Wales and the Midlands.
---
If you would like to Celebrate a Life Well Lived, a landmark moment or a new beginning, simply contact Jean Mills on 0161 214 0940 or email jean@forevermanchester.com
---
Date added: 15th April 2021
---