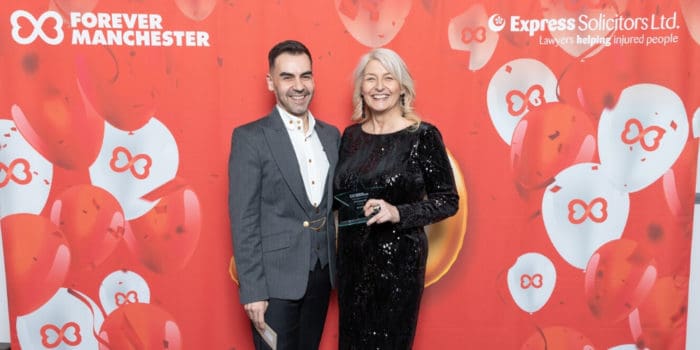 On Friday 7th February at our 30th Birthday Party, we were pleased to announce Sandy Lindsay MBE as winner of the Captain Manchester Award, sponsored by Auto Trader.
The Captain Manchester Award was given to a person with true Mancunian spirit who gives of their time, money, skills and resources to help support or improve our communities.
Someone who has been prepared to go the extra mile, and therefore demonstrates their support of our communities and in doing so, embodies the very spirit of Forever Manchester.
Sandy is Chair of Tangerine Communications and the Juice Academy and has served as a Trustee and Vice Chair on the Forever Manchester Board for over 10 years.
She has regularly fundraised and supported a wide range of Forever Manchester initiatives over 10 years and even volunteered in the Forever Manchester pop up shop!
Could my smile BE any wider?? Still grinning this morning and reeling from getting the Captain Manchester award @4EVERManchester 30th celebration last night! So #proud to be part of this excellent charity as an adopted Manc! ❤️ #FM30BDAY #ILoveMCR pic.twitter.com/VtTc0Qv5xb

— Sandy Lindsay MBE 🐝 (@SandyLindsay) February 8, 2020