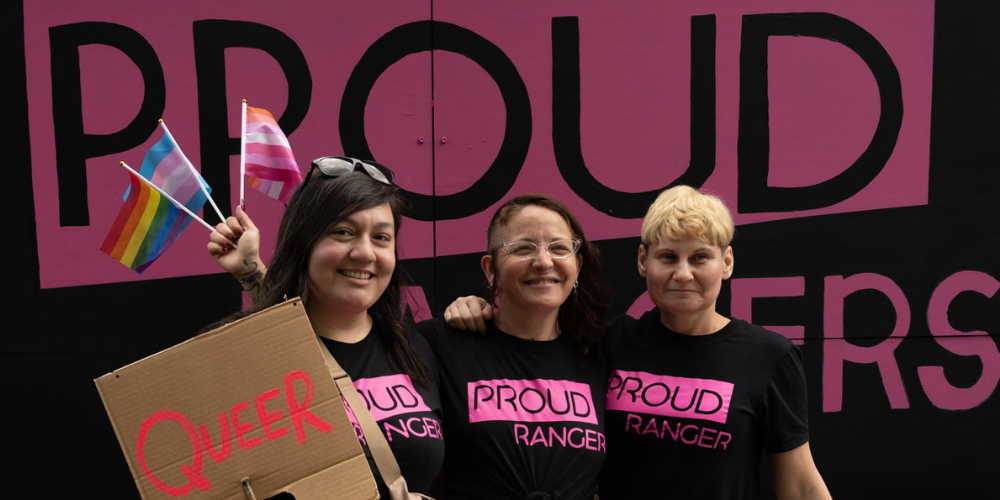 Pride on the Range is run by small team of passionate volunteers, to celebrate diversity and support and promote LGBTQ+ focused artistic development and performance in Whalley Range Manchester and the surrounding area.
They contribute to and promote enhanced social cohesion by organising a diverse programme of entertainment and activities.
Every year Pride on the Range host a series of events over a week culminating in an all-day community festival. The free event provides opportunities to experience LGBTQ+ affirming acts, activities and socials, there is a choreographed community parade, spoken word, singing, drumming, dancing, Bands and DJ's and even a dog show.
People of all ages, genders, and ethnicities are welcomed to the event to celebrate and support the diverse LGBTQ+ community.
Pride on the Range also work closely with lots of other community organisations. Collaborating with other prides through the Greater Manchester Pride Network, they share resources, expertise, and knowledge. The main all-day event is held at Carlton Club CIC, whose members are also very active in the community and wish to support the LGBT community. The Whalley Rangers who are a local group of residents who volunteer in the community, provide a lot of 'on the day' support.
Pride on the Range is an excellent example of a cultural event providing positive things for the wider community. The parade impacts the wider community as both a visual representation of Pride but also an opportunity for passers-by and folks on their doorsteps to show their support.
It is always worth remembering that, if you support Forever Manchester, you support all this.
The ability of local community groups and organisations to best help people in their community remains dependant on maintaining support for them.
To find out more about how you can get support Forever Manchester please email us at marketing@forevermanchester.com or telephone on 0161 214 0940.
---
Date added: 25th August 2023
---