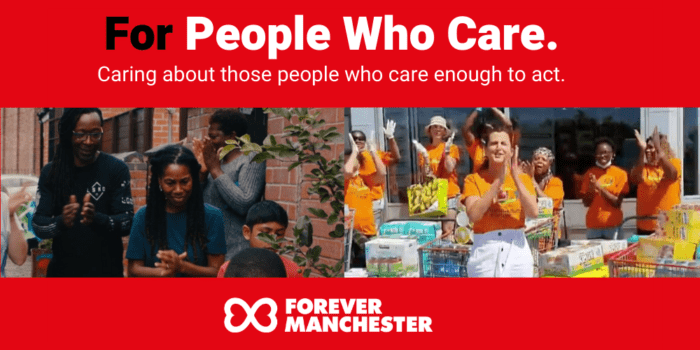 Since we launched our Community Support Fund in March, we have received some heart-warming messages and thanks from community groups that have responded to the impact of Covid-19.
Forever Manchester has delivered over £1.5 million in funding to support hundreds of community groups and organisations in Greater Manchester.
Keep reading to see just a small selection of the hundreds of messages of thanks from groups all over Greater Manchester. It shows the wide array of activities that have taken place and how people have not let Covid-19 stop them from caring for others in their local communities.
---
Ceebee Gold Foundation International sent this lovely video thanking us.

Click here to watch.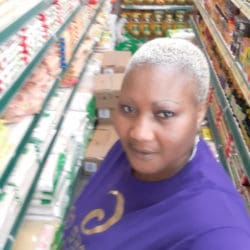 We also had lots of thank yous and even a virtual hug via email!
---
Older Black Africans Day Opportunities sent Forever Manchester this lovely email after they received confirmation that their application had been successful.
This is to express our sincere thanks for the Award for Older Black Africans Day Opportunities (OBADO).

Your support for OBADO since it started will always be much appreciated; and we are grateful indeed.

Thank you so much for believing in OBADO. It is with your support that the most vulnerable in the community are reached out and cared for particularly now during this COVID-19 crisis.
---
POP Hyde CIC sent our Awards Team this virtual hug for everyone at Forever Manchester.
Can you send everyone involved a virtual hug from us all here at POP

Thank you for helping to make a difference to the lovely people that have made POP the place it is today and to be able to repay their kindness by looking out for them at such a discombobulating time

Thank you again it is such wonderful news.
---
Reuben's Retreat also got in touch, their email documents the incredible work they have been able to do thanks to an Award from our Community Support Fund. They have managed to support hundreds of families.
Hi everyone at Forever Manchester! I hope you are well.

I just wanted to give you a bit of an update on just how much your wonderful grant has enabled us to help people!

Since lockdown was announced on 23rd March we have delivered the following….

Far more than we ever envisaged. Our beneficiaries have needed more support than anticipated due to the heightened stresses they have experienced and we have seen many of them struggle with staying home safe whilst caring for their child with additional needs.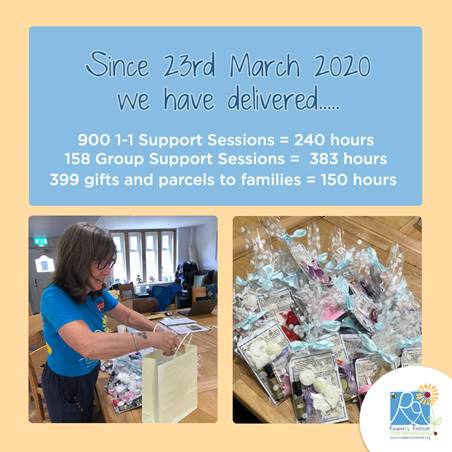 ---
We have uploaded some of the nicest tweets from a variety of groups thanking us and showing off what they've been up to.
---
Community Support Fund Feedback
---
Don't worry if your group hasn't featured here, over the next few weeks we're going to publish stories showcasing all the amazing thank you messages from community groups across the ten boroughs of Greater Manchester.
If your group has received funding from us, please keep us informed as to how you're getting on. Either share or tag us on Twitter, Facebook and Instagram or email marketing@ForeverManchester.com
---
Forever Manchester cares about those people who care enough to act. We champion local people doing extraordinary things together. And when advice, encouragement and funding is needed, Forever Manchester is there to provide a hand up to support them.
Forever Manchester is a charity for people round 'ere. Supporting community activity year in and year out. But to do all this great stuff we need to raise money.

So whether you're a company or an individual, your generosity can create something special right across Greater Manchester, keeping it great.
Join The Movement
---
Date added: 3rd July 2020