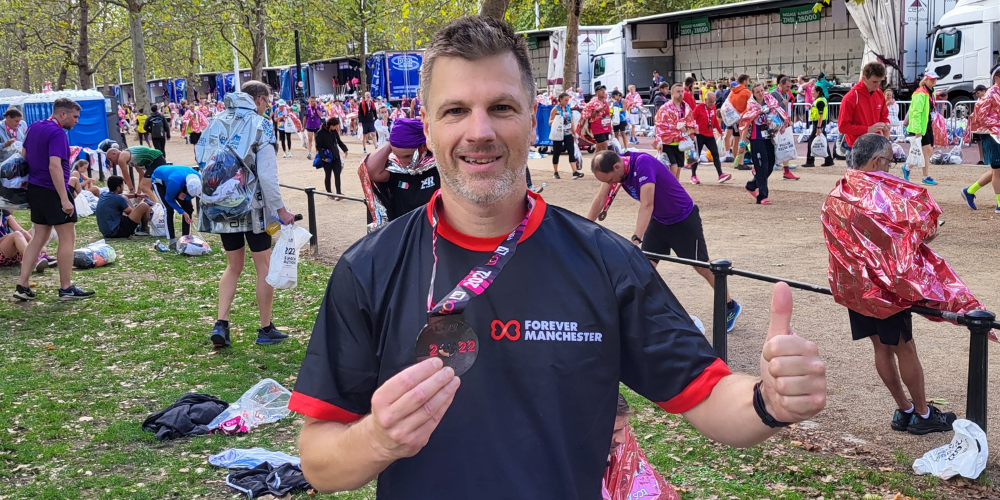 We'd like to say a huge thank you to Dan Evans from J.W.Lees for raising a magnificent £1,000 by running on behalf of Forever Manchester in the London Marathon on Sunday 2nd October 2022.
Having started off with a respectable fundraising target of £500, it's safe to say that Dan absolutely smashed his goal. It was the generosity of his supporters that kept him going and helped him across the finish line (along with lots of Jelly Babies too, to keep his energy levels high).
Dan was one of over 40,000 runners that took part in the annual event which covers 26.2 miles and finishes right outside of Buckingham Palace. The amazing support of the crowd and the atmosphere on the day helped him through, and we want to say congratulations on such a great achievement!
Dan is part of the team at J.W.Lees, one of Forever Manchester's business supporters. J.W. Lees is a sixth generation family-owned brewery company founded in 1828. Based in Middleton they employer over 1300 members of staff across their brewery site, 42 managed pubs, inns, hotels and a wine merchants.
In the last year they have supported Forever Manchester in numerous ways, including a golf day, office bake sales, clothes swaps and most recently sponsoring our Business Supporter of the Year award at our upcoming Birthday Party. They have raised a incredible £25,000 so far this year. To read more about their fundraising click here.
We wish to say a huge thank you to Dan and the rest of the J.W.Lees team for their ongoing support.
---
Date added: 13th October 2022
---