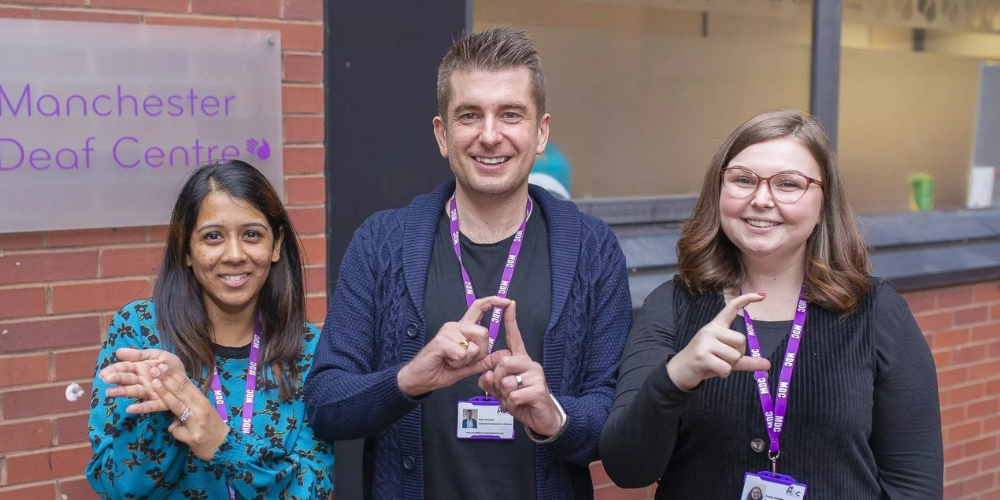 As part of Arts Council England's Lets Create Jubilee Fund, we recently provided funding to support 31 community groups across Greater Manchester – one of which was Manchester Deaf Centre (MDC).
We paid MDC a visit to learn more about the services they provide, the impact they have on the local deaf community and the importance of funding from organisations such as Forever Manchester.
We spoke to Well-being Leader and British Sign Language Teacher Anita Kanji.
---
Manchester Deaf Centre's Jubilee project is to create a visual Mural of the Queen's Jubilee incorporating British Sign Language, working with Deaf artists Glen Palin and Tolu Sholanke. The Mural will be displayed permanently on the wall of their courtyard, with over 500 visitors and service users every year, the mural will be seen by everyone visiting the centre. Next to the Mural will be information about the jubilee and photographs showing the different stages in the making of the Mural.
Deaf people do not learn incidentally and therefore very often they join in a celebration but have no actual knowledge or understanding of why the event is taking place and what they are celebrating. The jubilee project will allow for the group to learn new skills, as well as information about the history of the event.
The Let's Create Jubilee Fund, will ensure that thousands of people will have the opportunity to take part in a huge range of exciting creative activities for people of all ages and backgrounds to get involved in. Manchester Deaf Centre are just one of many groups that we have funded, find out more below:
Let's Create Jubilee Fund
---
Date added: 1st June 2022
Image source: https://www.manchesterdeafcentre.com/
---