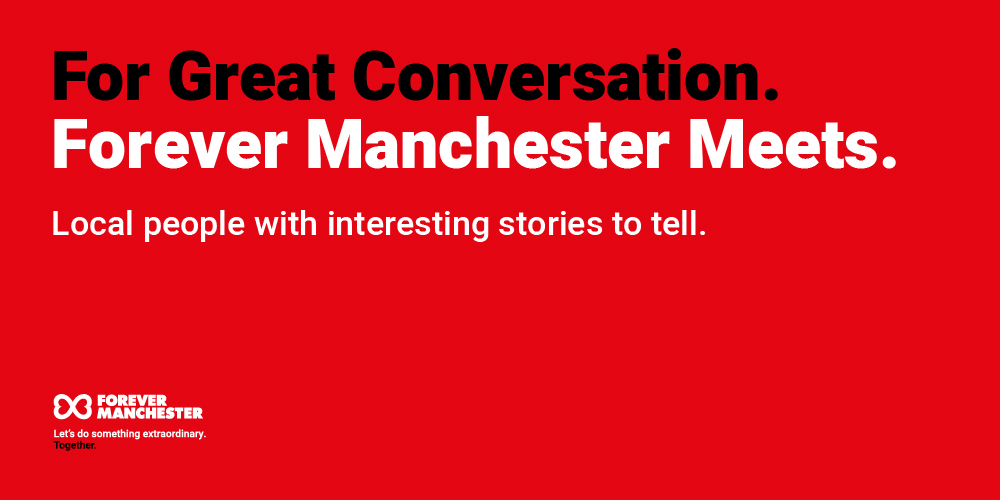 Welcome to the launch of our brand new podcast series "FOREVER MANCHESTER MEETS…"
LISTEN TO FOREVER MANCHESTER MEETS
In keeping with the age of on demand, podcasts offer listeners radio and audio programmes whenever and where ever you want.  Even major radio providers like the BBC now offer all of their live content via the BBC Podcast app to be played whenever you like. In fact Podcast listenership is rising year on year by around 20%, currently that's millions of new listeners every year, right across the globe.
Not ones to be left in the dark ages, here at Forever Manchester we're embracing the future of radio and have launched the Forever Manchester Meets Podcast. The series features in depth chats with interesting people from across Greater Manchester who are happy to share their own stories.
We're launching today with 7 podcast chats featuring 5 of Greater Manchester's finest, so from the start you've got plenty to download and binge on.
Further episodes of Forever Manchester Meets will be released fortnightly and we've got some really interesting guests lined up going forward.
The seven podcasts in the series so far feature:
Sebastian shares the love story behind the formation, growth and development of Manchester Gin. He reveals a few distilling secrets and also his delight at such a young company already receiving an array of plaudits, recognitions and awards at international industry competitions.
Col Skinner is a Digital Marketing Consultant and founder of the Profoundry. Col also supports Forever Manchester through the sale of items at his online shop GRAFT. This started after Col saw Manchester pull together and become a celebrated brand in it's own right, following the tragedy of the Manchester Arena bombing.
Oldham born businesswoman and Forever Manchester Ambassador Miki is the owner of Manc and Proud. She talks to us about her first job in the iconic Afflecks Palace, her passion for Manchester and its communities and why she loves the city and the people here.
A Manchester Institution in his own right Dave Haslam is a DJ, author and broadcaster who made a name for himself during the heady days of the Madchester scene.  Dave tells us about his residencies at The Hacienda and The Boardwalk his love of new music and Manchester's live music scene and also his work as an author and writer.
Singer Rowetta is another Manchester legend.  From her time as a singer with the Happy Mondays to being possibly one of the most sampled vocalists ever. Rowetta tells us about her days with "The Mondays", growing up in Cheetham Hill, her love of Manchester united and shares some exciting news about upcoming projects.
If you've got no idea what we're on about and have never heard of podcasts or podcasting before fear not! We've put together these instructions on how to access and subscribe to the show.