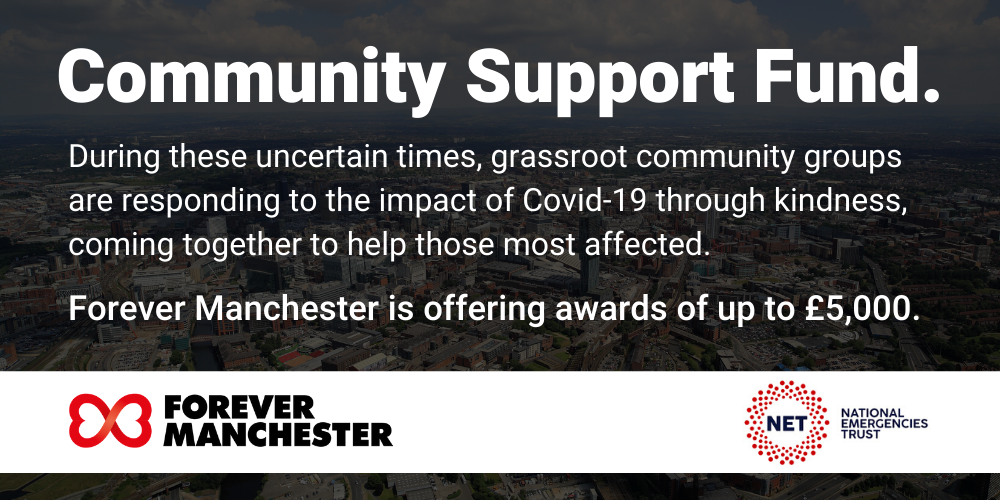 On 23rd March 2020, Forever Manchester launched a Community Support Fund for grassroot community groups that are responding to the impact of Covid-19 by helping those most affected.
Awards of up to £1,000 were initially available, but this was increased to £5,000 as from 8th April 2020.
---
Forever Manchester is the only charity that raises money to fund and support community activity across Greater Manchester. Over the last 30 years we have delivered over £39 million worth of community funding benefiting 1.1 million people.
The Community Support Fund opened on Monday 23rd March and accepts applications from constituted community groups based in any of the ten boroughs of Greater Manchester.
Groups can apply for up to £5,000. As we anticipate a lot of applications we may not be able to fund them all, so we ask that groups only apply for what they need.
We aim to assess and make decisions within two weeks of receipt of application.
During these uncertain times, we need people's help more than ever.
Keeping our communities strong, and doing all we can to support each other through this difficult time is going to be essential in the coming weeks and months.
Choose positive actions that will help the wellbeing of others in our communities.
Keep in touch with each other.
Make a donation to Forever Manchester to help us support more groups.
---
Date added: 20th March 2020
Last updated: 8th April 2020
---