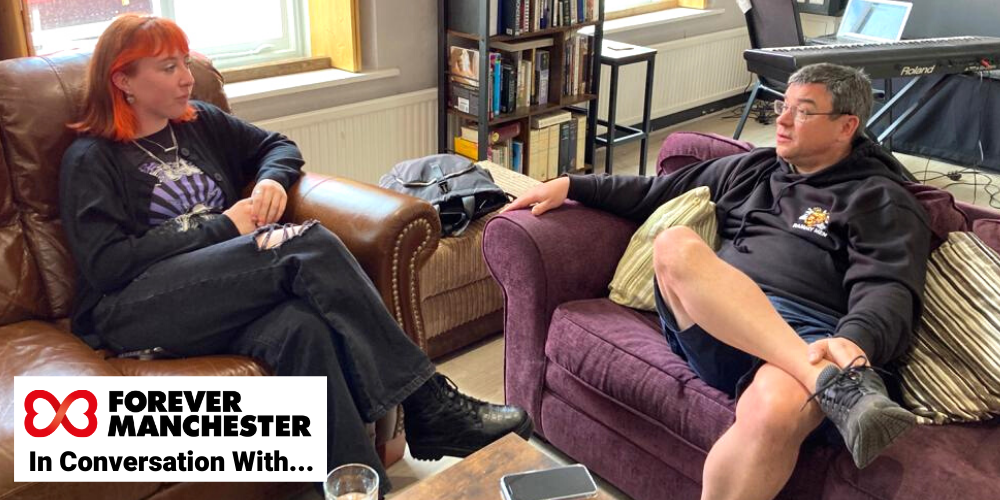 Forever Manchester sits down with Rammy Men founder Rob Moss to learn more about the group and the brilliant impact it's had on the local community.
Created to help address the disproportionate suicide rate in Ramsbottom, particularly among men, but across the whole community, Rammy Men run a range of activities through which people get to know their neighbours and build up strong and coherent community connections. In an area where people struggle with loneliness and isolation, they recognised the importance of prioritising mental health.
Hi Rob, let's get started! Before starting Rammy Men, what was your background in?
I'm an ex-submarine control system engineer. A lot of stress had been building for a long time and after a breaking point I was off sick for a year… and I never went back. Because of the problems I had with stress, I started to recognise it in other people. It doesn't click with them until they can find something to relate to, and at Rammy Men we try and create that friendly relatable atmosphere.
So how long has Rammy Men been going?
We've been going about seven years, I set it up after two friends took their own lives due to struggles with their own mental health. When I looked at the figures, three times as many men take their own lives. Amongst other complicated issues, we've got a huge military veteran community around here, but after a life in the army you come back home and don't have the life-skills that everyone else has learnt.
I found that the common denominator was that people didn't have strong social networks around them. With Ramsbottom turning into a commuter town, you have lots of people working in the city but no personal network around them. Back in the day, if anything happened in your life you had support around you because families worked and lived in the same places.
So we thought, right, these are the people that we need to bring together. Most of the time men won't come and talk until they know you – but you put the kettle on, and everyone gets talking about their problems, some bigger than others.
Of course, during lockdown, people got desperately lonely. We've ended up doing a lot of frontline mental health support and although we don't advertise it as our main thing, it is what we do most of the time now.
We run our sessions across Ramsbottom, and our attendees herald from across northern Greater Manchester, the majority from Prestwich, Radcliffe, Ramsbottom, and Central Bury.
The idea is that if you need people, there's people around you.
Well the space itself is really welcoming, how long have you had it for?
Just over a year. It was a total mess when we first got it. We have so many skilled and talented members, but everyone gets stuck in really. We organise a whole load of activities, but we also say to people if there's anything you want to do, tell us, and we'll make it happen – in fact that's how our brick-laying course in the yard outside came about.
"It's the little things, people who have nobody, sitting next to somebody else and having a chat – is just really lovely. We all need people."
How many people do you think the group benefits?
It's a tough question… because you see we're always here. You don't need to book in, you can just turn up whenever. People come as and when they need it. Last month we gave out 1200 hours of support, I'd say we probably have about 150 people at the moment who physically come and use the space.
We have such a range of interests in the group – textiles, ukulele, art, scale-modelling and we have members of different ethnicities and backgrounds. It's very lovely to see, and the most beautiful conversations happen when these people mix together. People that would never meet otherwise. When it comes to making change on behalf of these people, or a combined cause, even though they've got nothing in common ordinarily, it's a great place for just bringing people together and sorting problems they've got and looking after each other.
We have people who turn up from a flyer we've sent two and a half years ago. I've had so many people say to me, I've never been but I know you're there if I need you. Particularly during COVID with people needing to book vaccinations and not knowing how to do that online. We're there to teach them and give them that access to technology – we might not know them when they ring up asking for help, but they know us.
What impact do you think Rammy Men has had on people in the local community?
Well, it's always the people you wouldn't expect. It's the people who just come in and have their lunch here for an hour or so and then eight months later they'll say, "Oh you know, I don't know how I would've managed without this".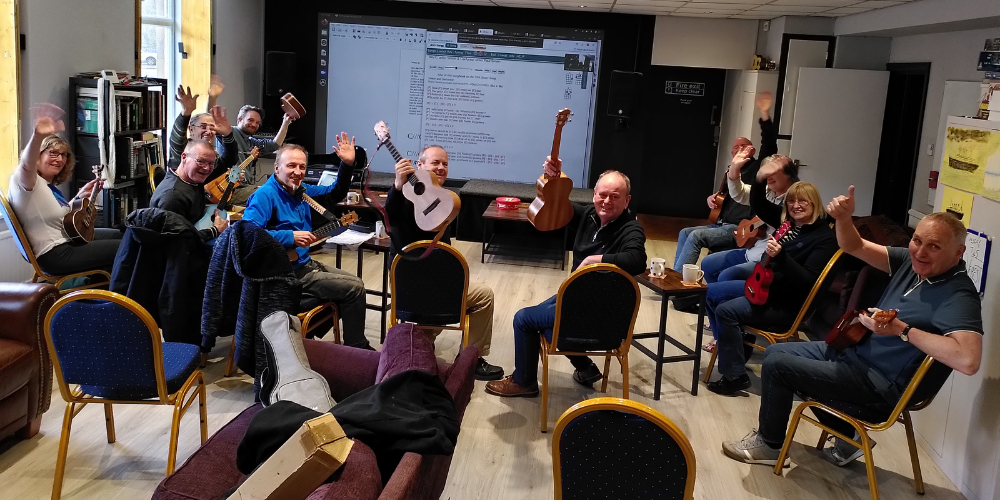 We're interrupted by voices in the open hallway and Rob welcomes in a gentlemen called Jack before he disappears into another room. Rob explains to us Jack's story:
Jack's wife died last week. So Jack's daughter phoned me up on Wednesday and said: Jack needs help what can we do? Two hours later Jack was in there with our bereavement counsellor. So they're the things that really…the impact that you have on someone's life that quickly – it's just lovely.
It must be nice to be able to create that space where people feel like they can come together?
Yeah, every session you bring 2 or 3 people together and they spend the rest of their time doing something they're so passionate about. You can leave people to it, chattering away and doing their own thing. It's the little things, people who have nobody, sitting next to somebody else and having a chat – is just really lovely. We all need people.
The group was recently awarded the Queens Award for Voluntary Service. Congratulations! can you tell me more about that?
We were really excited when we discovered about the nomination for the award. It's extremely prestigious and great recognition for all the volunteers involved with our organisation. The process was really tough, with lots of interviews, and visits from assessors such as the Deputy High Sheriff, so to win… well, we were over the moon. It really gives us a lot of kudos when applying for grants or running projects – it kind of says that our volunteers know what they're doing, and feels like an endorsement that we're doing stuff properly.
As part of Arts Council England's Let's Create Jubilee Fund, we recently provided funding to support 31 community groups across Greater Manchester – one of which was Rammy Men.
The Let's Create Jubilee Fund, will ensure that thousands of people will have the opportunity to take part in a huge range of exciting creative activities for people of all ages and backgrounds to get involved in.
Can you tell us about Rammy Men's Jubilee Project?
Oh it's awesome. We're working with a fabulous lady and a lad who are both running some of the sessions. We're holding a week-long festival of events in and around the town, the park, and specifically the band stand, our organisation is just leading this project, in collaboration with a number of others. We're making a lot of connections with groups who we wouldn't have contacted before. We're getting people together to write and perform their own songs at the Edwardian bandstand in our local (Nuttall) Park. People are really up for it! Some of the groups have been so keen. I reckon we've got about 8 groups involved at the moment.
Thanks for chatting with us Rob
No thank you. Forever Manchester's grants are great, so much of your stuff is right up our street. And you know what, you don't just say you'll do stuff – you're good at actually doing it too.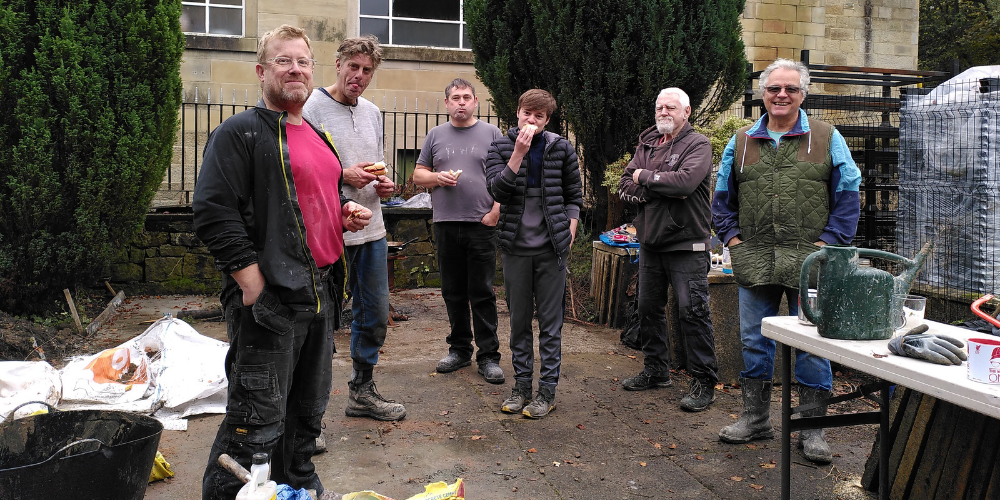 For more information about Rammy Men, click here.
---
Date added: 3rd June 2022
---