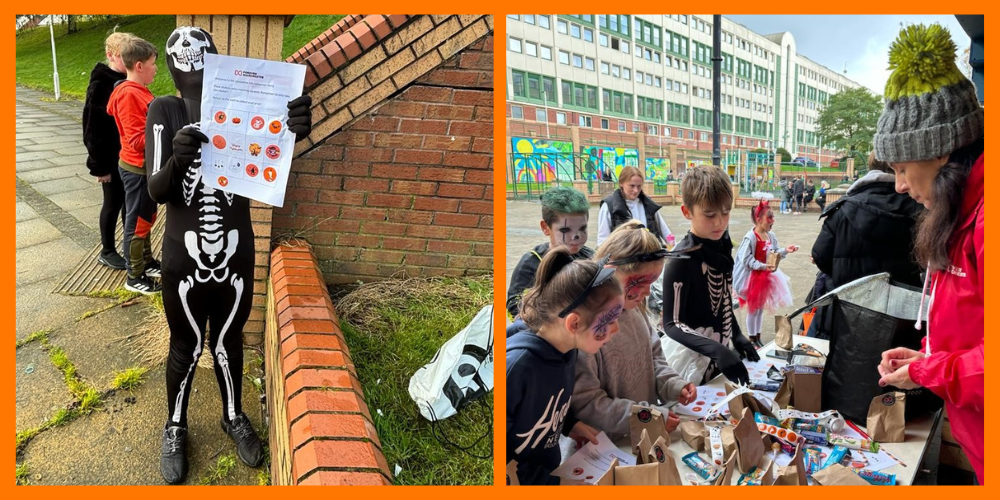 Here at Forever Manchester we love anything that brings people together, so this Halloween our Community Builders seized the opportunity to encourage the community of Lancashire Hill in Stockport to connect with their neighbours and have some spooky fun in the process!
This year Forever Manchester's Community Builders, Lisa Kershaw and Vikki Snowden came together with the local residents of Lancashire Hill Family Group to host a truly resident led event. With our support the group hosted a Halloween themed sticker hunt, encouraging families to come together and explore their local community to collect strategically placed spooky stickers, with prizes awarded to those who successfully collected them all!
Over the course of the day, the ladies manned their trusty Forever Manchester Pop Up stand, giving out goodies, connecting with residents and celebrating the community together. They chatted to 30 families and over 50 kids, explaining our work, finding out about their skills, talents and passions, encouraging ideas for new community projects, and above all just saying hi!
Following the sticker hunt, residents then led the children in a series of spooky themed games including musical statues, continuing the fun into the afternoon. The good people of Lancashire Hill really got into the spirit of the season and came out in droves dressed in their best Halloween finery, enabling us to meet and connect with loads of local residents. Three of our newest board members also joined our community builders to help spread the Forever Manchester cheer and celebrate the importance of community at it's best!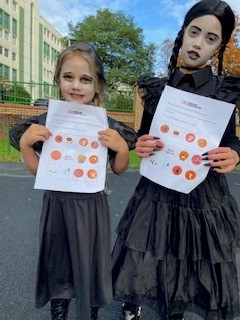 Our Community Building team work out and about in communities, starting conversations with the people they meet, finding out what they're passionate about, and connecting them to like-minded neighbours. Quite simply, their job is to make as many new connections as possible in the communities they work in and encourage new friendships to form, by introducing people to others and supporting residents to start their own new community activity.
But we can't do our great work in the communities without the support of local businesses and services! Special thanks to local shop Gary's Store for donating drinks and to local takeaway Aalaa for providing delicious food for the families to eat. Big thanks also to The Manchester Shop for donating fancy dress costumes and spooky makeup and to Stockport Homes for providing a face painter.
The group of local residents who led on the planning of the event alongside our team have been so inspired by the success of the day that they've now arranged to meet with our Community Builder Lisa next week to discuss Christmas plans.
Our Halloween Roadshow was a resounding success and we're so glad that we were able to spread some Forever Manchester cheer across the communities of Greater Manchester this Autumn!
Quotes from local residents on the day
"Thank you everyone. Millie and Piper had a lovely day." – Laura, local resident.

"Thank You to Lisa & her team from Forever Manchester for all their hard work." – Gemma, local resident.

"Just want to say a massive thank you to all that turned up to the Halloween event today. Today was a good day." – Lancashire Hill Family Group

"Smashed it today, thank you Lisa." – Local resident.

"This is the most occupied they have been all half term." – Local parent.

"Brilliant to have these activities on the estate." – Local resident.
---
Date added: 3rd November 2023
---