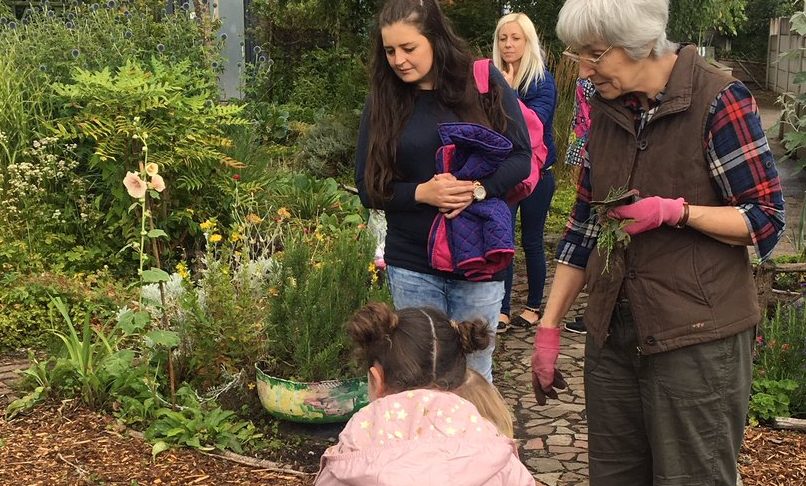 Connections form the heart of strong communities. Once we've discovered some of the great things and great people in a community, we then connect them together to help create a positive and thriving community and to make amazing things happen.
We use shared interests to make as many connections as possible between individuals, professionals, groups and organisations. The more connections we make, the more possibilities become available.
Connecting the great things and people in our communities is not only central to our work – it's also the fun part. Different ways we bring people together include:
Inviting people with shared interests to enjoy a coffee and a chat somewhere local. These get-togethers always generate lively conversation, and they often produce great project ideas too.
Using community fun days and big clean ups to bring groups and individuals together and get them talking and sharing ideas.
Inviting an individual we've met to attend a group we've discovered that they might be interested in joining.
Lisa Brown, Forever Manchester's Community Builder explains
Having the confidence (and a smidge of boldness) to walk into any building, group or activity and introduce yourself is an essential quality needed to be a community builder. Building positive relationships with residents can take time. This is because the ABCD way of working is still so new to many.
'Word of mouth' has always been a trusted method of communication and finding out about something new. I know there are many places and things that I would never have tried unless a friend, work colleague or acquaintance had said: 'Ooh you like doing that do you? Well you really need to try this… or go to that place… read or watch this.'
But what happens of you don't get to meet those people who have a shared interest? This is where the skills of a community builder using the ABCD methodology come into play.
I met mother-of-two Jody by walking into a mums and tots group in Patricroft Methodist Church on Liverpool Road. Hobbies, interests and skills, and what a person knows about the area they live in is crucial to ABCD mapping. Jody only knew of one activity in her area she could attend with her children and told me that she often travels out of the area for other activities as 'there isn't much else to do with them where I live.'
I asked Jody what she likes to do with her children, or what interests they have, and she explained that her older daughter loved nature, animals and being outdoors. One of them also wanted to learn dance but she hadn't found anything affordable or accessible close by. As I had already spent a few months in the area meeting people and mapping existing resources, I knew exactly who, where and what to connect her with.
I connected her to Don at Tindall Street allotments, an amazing community-minded allotment scheme just a minutes' walk from where Jody lived. Jody brought along a couple of other mums from the group she attended and Don showed them a potential plot they could use with their children. They could have the plot for free and he, along with some other allotmenteers, would share their skills to help them grow fruit and veg with their children. With a Cash 4 Graft, they will be starting fully in Spring 2018.
Parents & kids want to grow. Don & Babs have the skills to share @4EVERManchester has the Cash4Graft to apply for…helencbfm @MasseyManc pic.twitter.com/4mNcnWtIsZ

— Lisa brown (@lisaforevermanc) July 20, 2017
Parents & kids want to grow. Don & Babs have the skills to share @4EVERManchester has the Cash4Graft to apply for..@helencbfm @MasseyManc pic.twitter.com/ub9HnGFTuX

— Lisa brown (@lisaforevermanc) July 20, 2017
"I then connected Jody to Leanne Gleave from The Castle Community Centre – right in the heart of Patricroft – who was at the time holding a community party for the residents of Lewis Street, and that day they had 'The Bugs and Critters' group. Leanne runs a free dance class every Saturday for children living in the area, covering lots of different styles.
Connecting C4G mum Jodi with Leanne from the Castle Comm Centre to talk about dancing is what ABCD is all about @4EVERManchester @helencbfm pic.twitter.com/qdVHM8U0ss

— Lisa brown (@lisaforevermanc) August 3, 2017
Milly having a go at the BugBolla. Not a chance was I having a go! @4EVERManchester @helencbfm pic.twitter.com/d6o1OJrEqL

— Lisa brown (@lisaforevermanc) August 4, 2017
"To hear Jody say: 'I had no idea anything like this happened so close to me, this is great!' is a true testament to ABCD work, and builds and connects that community just a little bit more."
Next: Encouraging New Community Projects > > >