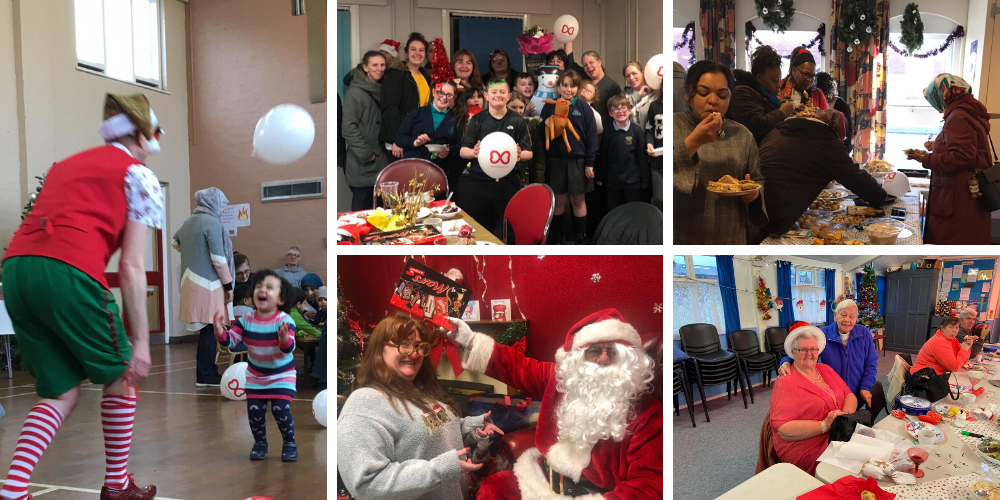 Forever Manchester was delighted to support 201 Christmas Get Togethers over the 2019 festive season.
Thanks to generous donations from local businesses and individuals, we were able to provide £40,200 towards Christmas Get Togethers that brought together over 10,000 people in communities across Greater Manchester.
Forever Manchester believes that connected communities make stronger, happier communities so we were happy to support people who wish to celebrate where they live with a Christmas gathering.
The feedback from the Christmas Get Togethers was very heartwarming and we're glad you all had a great time. Here are some of the highlights:
Our customers @StockportHomes Temporary Accommodation and Sheltered Housing had a wonderful Christmas lunch at Offerton Community Centre this Monday. Thank you @4EVERManchester and our volunteers, everyone had a fantastic time! #ForXmasGetTogethers https://t.co/w72gLhn26n pic.twitter.com/LH4GL7FxBZ

— H3 (@H3homelessness) December 4, 2019
Our women are wishing everyone Merry Christmas. Our Blackley workshop closed today 17/12/19 with Christmas party celebration
Merry Christmas from all our beautiful women❤@McrWF @4EVERManchester @TNLComFund @asda @shewolfmanc @NorthwardsMCR pic.twitter.com/gKubDmt9Z3

— Widows Empowerment Trust (@WidowsEmpTrust) December 17, 2019
A massive thank you to @4EVERManchester for helping us to celebrate #ForXmasGetTogethers From all of us at 'The Shack Coffee Afternoon' #Stockport 🎅🏻🎄🎉🎈🎁🍽🍷🤗 pic.twitter.com/3Zen2NUEox

— Gill Garside (@gillgarside67) December 16, 2019
Very thankful for a funfilled Christmas party & end of year celebration🎈
:
Seeing all the Big smiles on the faces of these young people is priceless as well as how everyone came together to celebrate at this special season @4EVERManchester pic.twitter.com/Otx3NS3XpA

— Reflecteen (@reflecteen) December 17, 2019
In the spirit of Christmas @BoldSt3p hosted Christmas get2gether today with members and friends. It was fun singing, dancing and eating together. Thank you @4EVERManchester for contributing to our community activities. We appreciate🤗🤗🤗 pic.twitter.com/FxXYXnR8fW

— Bold ST3P (@BoldSt3p) December 14, 2019
Watch this inspiring short video that explains to importance of these Get Togethers. Voice-over by Tony Walsh.