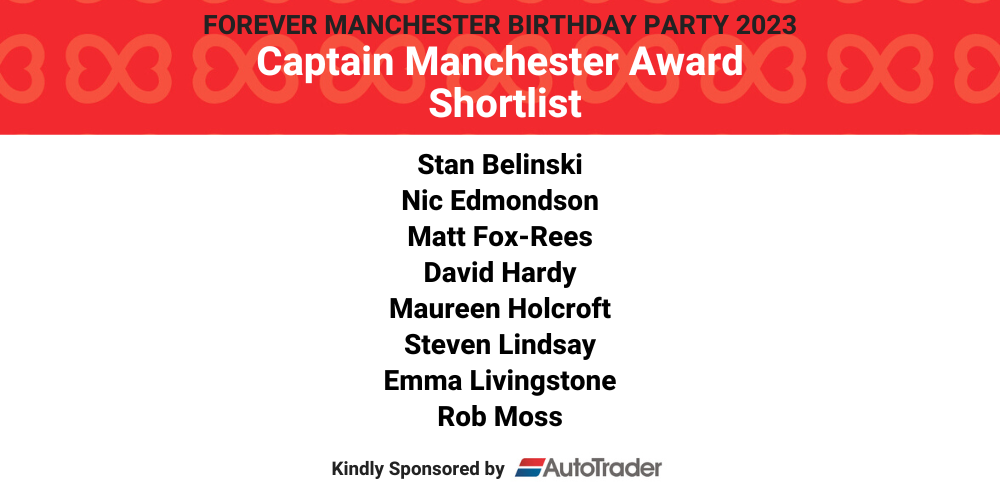 We're delighted to announce the shortlist for the 'Captain Manchester Award' which will be presented at Forever Manchester's Birthday Party on Friday 10th February 2023 at at the Kimpton Clocktower Hotel.
The award has been kindly sponsored by Auto Trader.
The Captain Manchester Award is given in recognition of an individual with true Mancunian spirit. This person has given their time, money, skills or resources to support communities of Greater Manchester; has gone the extra mile and embodies the spirit of Forever Manchester.
The Shortlist is:
Stan Belinski
Stan Belinski set up Trafford Handball Club in 2018 to support the growth of the sport within the Greater Manchester Community and create opportunities for playing, coaching and volunteering in handball. The Club now attracts more than 2,000 young handball players in the Greater Manchester area from different background and nationalities. They provide young people with the opportunity to increase the level of their physical activity and to interact and play with their peers in an active, supportive, and safe environment.
Nic Edmondson
Nic has been a loyal and trusted supporter of Forever Manchester. In 2012, drawing influence from Manchester's revolutionary history, he set up Punk Legal to offer a different way of delivering legal services, and has been on hand to assist the Forever Manchester with any legal advice. Over the last few years Nic has sponsored the Forever Manchester 10K Run T-shirts as well as taking on numerous run challenges to raise money for Forever Manchester. Nic has also recruited his wife and kids into the fold, with wife Jen co-hosting the Forever Manchester Podcast and assisting in the Forever Manchester Shop.
Matt Fox-Rees
Matt has supported Forever Manchester for a number of years helping to raise a huge chunk of money for the charity. His love of Forever Manchester means that he's ever-present at any Forever Manchester fundraising event, helps out in the Forever Manchester Shop and loves putting in a bid or two on the Forever Manchester auction. Last year he also sponsored the Tickets and Drink Reception at the Birthday Party. As owner of a recruitment agency, he has assisted Forever Manchester in helping recruit additional staff and trustees.
David Hardy
David Hardy is an English Chess Federation affiliated coach who also teaches chess in 23 local schools. In 2010, he set up Ashton Community Chess Club, a specialist junior chess club for young people aged 5-18 years old of all abilities in Tameside. The club has now become the centre for children's chess excellence in Greater Manchester and is represented both at a regional, national and even international level.
Maureen Holcroft
Upon reading a local newspaper article about 'Child Poverty', Maureen Holcroft discovered that almost 40% of youngsters in several areas of Wigan were living below the poverty line. This inspired her to found Daffodils Dreams to support children who may miss out on experiences due their circumstances. She believes that all children deserve the right to live happy, healthy and fulfilling lives.
Steven Lindsay
Steven epitomises the definition of an 'adopted Manc'. Born in Glasgow, his enthusiasm, knowledge and dedication for all things Manchester rivals any ardent Mancunian. He has been a big supporter of Forever Manchester since 2015, and due to his vast connections across the region has played a pivotal role in helping to introduce companies to the charity. He's also ran several 10K Run's for Forever Manchester and has encouraged his colleagues at Kay Johnson Gee to get involved too, most notably taking to skies raising money through a sponsored Sky-Dive.
Emma Livingstone
When Forever Manchester launched the Ambassador programme back in 2012, Emma Livingstone was one of the first people to take up the challenge, and has been supporting the charity ever since on a personal and professional basis. Emma was years ahead of Manchester's 'bee' phenomenon, becoming a beekeeper in 2014, and raising money for Forever Manchester by giving people the opportunity to adopt one of 100,000 bees at the Printworks where Emma used to work. She helped design some exclusive Forever Manchester/Hard Rock Café pin badges. Whilst working at AO Arena, Emma was fundamental in strengthening their relationship providing sponsorship and free advertising space for Forever Manchester.
Rob Moss
Rob Moss set up Rammy Men in 2016 to help address the disproportionate suicide rate in Ramsbottom and surrounding areas, particularly among men. Rob suffered with his mental health himself, and wanted to help others. Rammy Men run a range of activities to encourage people get to know their neighbours and build up strong community connections. So, if adversity hits, they have a support network around them to help.
---
Click here to find out more about the Birthday Party:
FIND OUT MORE
---
Date added: 2nd December 2022
---