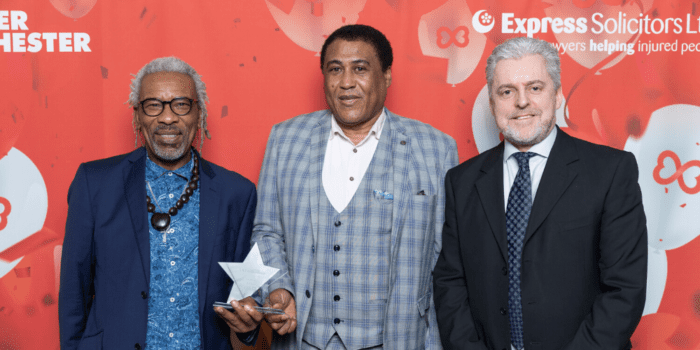 On Friday 7th February at our 30th Birthday Party, we were pleased to announce Can Survive as the winner of the Community Group of the Year Award, kindly sponsored by CDL.
The Community Group of the Year Award was given in recognition of a community group or project that has made a meaningful and significant impact, strengthening communities, making a difference and putting smiles on people's faces.
Winston, pictured above, was delighted with his award: "We felt quite overwhelmed when we arrived – after going up for the award, we felt six feet tall"
Marcella, Founder of Can Survive, told us: "On behalf of the Board of Trustees and service users, I am delighted to accept this award for Community Group of the Year. I would like to dedicate this award to my Mum and Dad who sadly lost their lives to cancer, as it is through their passing, that Can-Survive UK was born. Can-Survive UK provides support to people living with or affected by cancer.
She added: "Our services provide a safe, confidential and welcoming space in which community members can meet other people in a similar position, speak openly, share their cancer experiences and socialise. Can-Survive UK is a much needed community resource, as it reaches out to people who otherwise would be feeling scared, lonely and not sure where to go or what to do. Forever Manchester was CSUK's first Funder and throughout the 5 years, has continued to support the work of the charity.
"Happy 30th Birthday Forever Manchester and 'thank you' for your support."