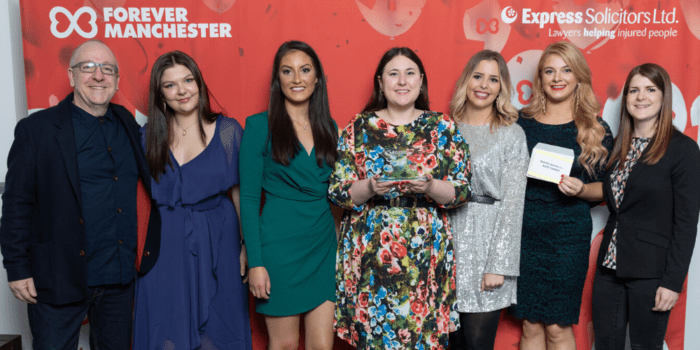 On Friday 7th February 2020 at Forever Manchester's 30th Birthday Party, we were pleased to announce Auto Trader as winner of the Business Supporter of the Year Award, sponsored by Seventy7.
The Business Supporter of the Year Award is given in recognition of a business that has made a significant commitment, support and contribution to the work of Forever Manchester; making a considerable impact in communities throughout Greater Manchester.
The award was presented on the night by John Whalley, Head of Branding and Brand Strategy at Seventy7.
Thank you so very much! We are honoured to have received this award and to be able to #MakeADifference supporting the wonderful @4EVERManchester 🌟🌟🌟 https://t.co/NZj5QlqnFK

— AutoTrader Life (@AutoTraderLife) February 8, 2020
We won "Business Supporter of the Year" at the Forever Manchester 30th birthday party last Friday. Members of our "Make a Difference" Guild picked up the award from Captain Manchester, in recognition of the successful collaboration we have with the charity!#MakeADifference #Proud pic.twitter.com/eh2v1Nsfz4

— AutoTrader Life (@AutoTraderLife) February 11, 2020