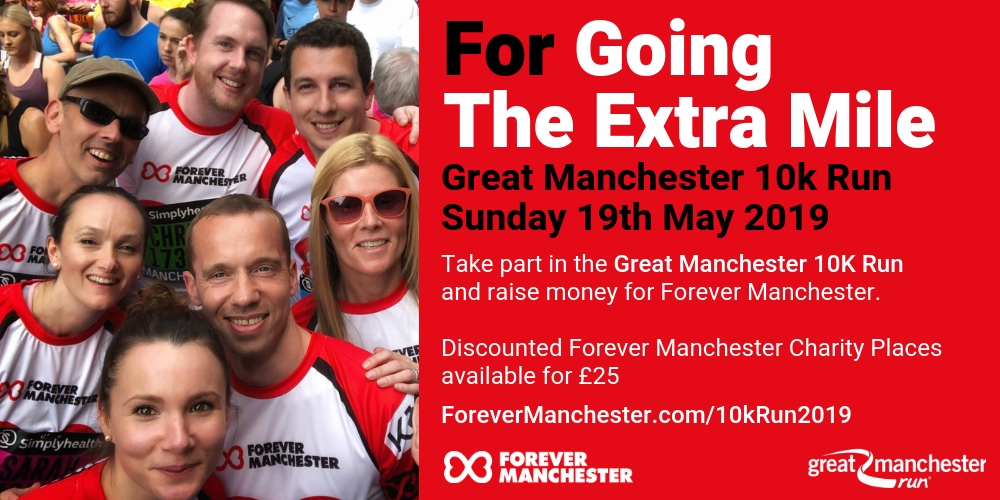 We are delighted to announce that over 100 people have chosen to run for Forever Manchester at this year's Great Manchester 10k Run taking place on Sunday 19th May.
We'd like to say a huge Forever Manchester thank you to staff from the following companies, plus all the individuals who have signed up to raise a minimum of £150 each for us. All money raised will go to fund and support community activity right across Greater Manchester.
If you are taking part in the run please click here for more information about arrangements on the day.
Kay Johnson Gee
---
Fourth Day PR
---
Express Solicitors
---
HSS Hire Oakland House
---
Hall Brown
---
Oscar Technology
---
Pixel Kicks
---
Moda Living
---
Can I still sign up?
All of our discounted charity places have now been taken, but should you wish to run for Forever Manchester you can sign up directly at the Great Manchester Run website.

Once you have signed up all you need to do is to set up your Just Giving page – Head to our handy guide for tips on how to create and maintain your page.
If you are looking for a description of what Forever Manchester does, to add to your Just Giving page, please use the following:
"I am raising money for Forever Manchester – the only charity that funds and supports community activity across Greater Manchester.
In every neighbourhood across Greater Manchester there are thousands of people involved in community activity. In fact, at any given time there are an unbelievable 20,000 local grassroots projects of varying sizes and interests taking place. Forever Manchester works with local people in communities throughout Greater Manchester to inspire and encourage projects that they want to see, to make their neighbourhoods happier and safer places to be.
By sponsoring me, you are helping Forever Manchester to make Greater Manchester's communities become even greater."
Running T-shirts sponsored by Kay Johnson Gee
The Forever Manchester breathable, moisture-wicking Run T-shirts have been kindly paid for and sponsored by Kay Johnson Gee, who are a multi-award winning chartered accounts and business advisors, providing expert advice in taxation, corporate finance, audit, accounts, payroll and insolvency.
Approximately 2 weeks before the 10k Run, all of our runners will receive a breathable, moisture-wicking Forever Manchester running T-shirt, kindly sponsored by Kay Johnson Gee.
Keep us informed
Don't forget to tell us how your training is going. You can tag us on Twitter and Instagram and use the hashtag #FM10k. You can also download the Fit4Change app. This allows you to fundraise for us whilst training!