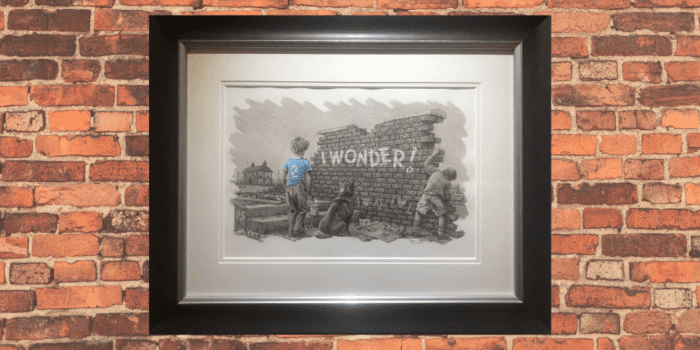 AUCTION NOW ENDED.
Described as 'Northern art at its finest', Paul F Bennett's 'Wonderwall' is a music-inspired and charmingly nostalgic piece that would fit seamlessly into any Manchester home or business.
Paul F Bennett, together with CLK Art Gallery, has very kindly donated 'Wonderwall' to Forever Manchester to auction and to raise money for the charity. The proceeds from the 'Wonderwall' auction will go to help Forever Manchester fund and support community activity across Greater Manchester.
The watercolour and pencil artwork by Bennett depicts the classic track, 'Wonderwall', from Manchester band, Oasis', hit album '(What's the Story) Morning Glory?'.
It perfectly encapsulates the two young brothers, their childhood growing up in Manchester, and their vision of what would become one of the most well-known and loved tracks the world over.
The auctioning of 'Wonderwall' runs from Wednesday 30th September 2020 and ends at midnight on Friday 30th October – the day Oasis fans celebrate the 25 year anniversary since the iconic single's release.
'Wonderwall' by Paul F Bennett
Original Framed Artwork
Media: Watercolour and Pencil
Image Size: 56 x 38 cm
Estimated Framed Size: 66 x 82 cm
---
About the Artist
Paul F Bennett GMA grew up in the North West of England in the 50's and studied Art & Design at Salford School of Art.
Whilst in a Salford gallery at the time, Bennett met and talked for some time to "a man with snowy white hair", Mr L. S. Lowry, who he treasures meeting and who plays a large inspiration in Bennett's art to this day.
Of his life experiences and journey through art and music, Bennett says "this has ended up with me becoming what I consider to be an artist of the 'Northern School'."
---
CLK Art Gallery
CLK Art Gallery, 18 Eagle Brow, Lymm, Cheshire, WA13 0LJ
01925 757799
sales@clkart.co.uk
clkart.co.uk
---
Date added: 28th September 2020
Last updated: 28th October 2020
---